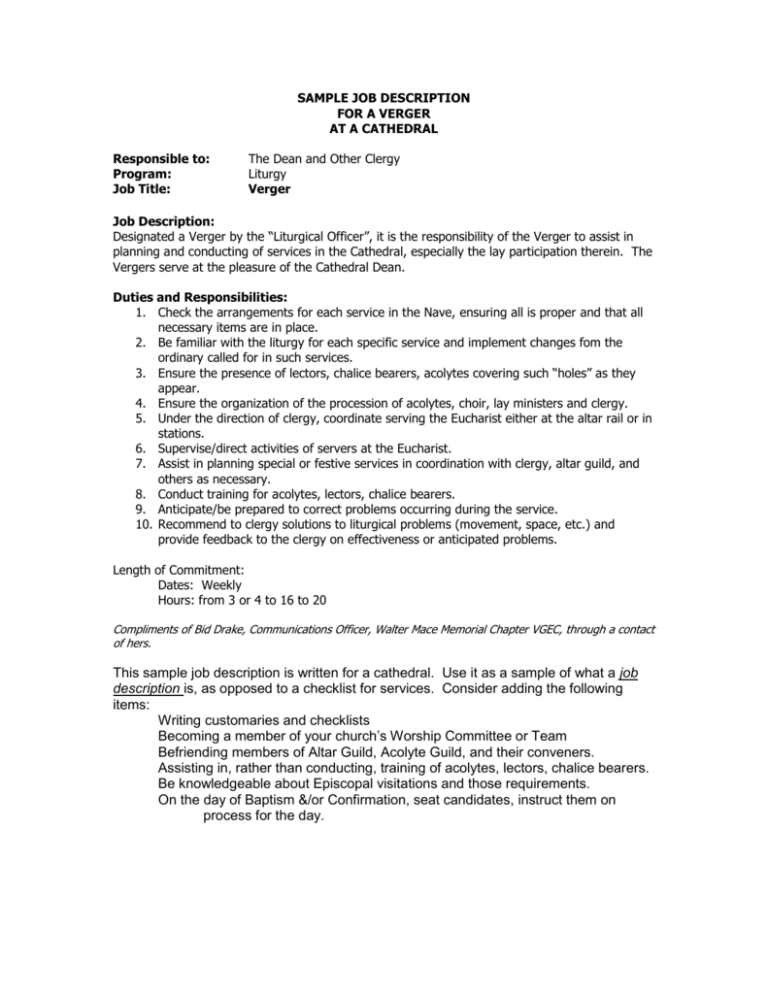 SAMPLE JOB DESCRIPTION
FOR A VERGER
AT A CATHEDRAL
Responsible to:
Program:
Job Title:
The Dean and Other Clergy
Liturgy
Verger
Job Description:
Designated a Verger by the "Liturgical Officer", it is the responsibility of the Verger to assist in
planning and conducting of services in the Cathedral, especially the lay participation therein. The
Vergers serve at the pleasure of the Cathedral Dean.
Duties and Responsibilities:
1. Check the arrangements for each service in the Nave, ensuring all is proper and that all
necessary items are in place.
2. Be familiar with the liturgy for each specific service and implement changes fom the
ordinary called for in such services.
3. Ensure the presence of lectors, chalice bearers, acolytes covering such "holes" as they
appear.
4. Ensure the organization of the procession of acolytes, choir, lay ministers and clergy.
5. Under the direction of clergy, coordinate serving the Eucharist either at the altar rail or in
stations.
6. Supervise/direct activities of servers at the Eucharist.
7. Assist in planning special or festive services in coordination with clergy, altar guild, and
others as necessary.
8. Conduct training for acolytes, lectors, chalice bearers.
9. Anticipate/be prepared to correct problems occurring during the service.
10. Recommend to clergy solutions to liturgical problems (movement, space, etc.) and
provide feedback to the clergy on effectiveness or anticipated problems.
Length of Commitment:
Dates: Weekly
Hours: from 3 or 4 to 16 to 20
Compliments of Bid Drake, Communications Officer, Walter Mace Memorial Chapter VGEC, through a contact
of hers.
This sample job description is written for a cathedral. Use it as a sample of what a job
description is, as opposed to a checklist for services. Consider adding the following
items:
Writing customaries and checklists
Becoming a member of your church's Worship Committee or Team
Befriending members of Altar Guild, Acolyte Guild, and their conveners.
Assisting in, rather than conducting, training of acolytes, lectors, chalice bearers.
Be knowledgeable about Episcopal visitations and those requirements.
On the day of Baptism &/or Confirmation, seat candidates, instruct them on
process for the day.