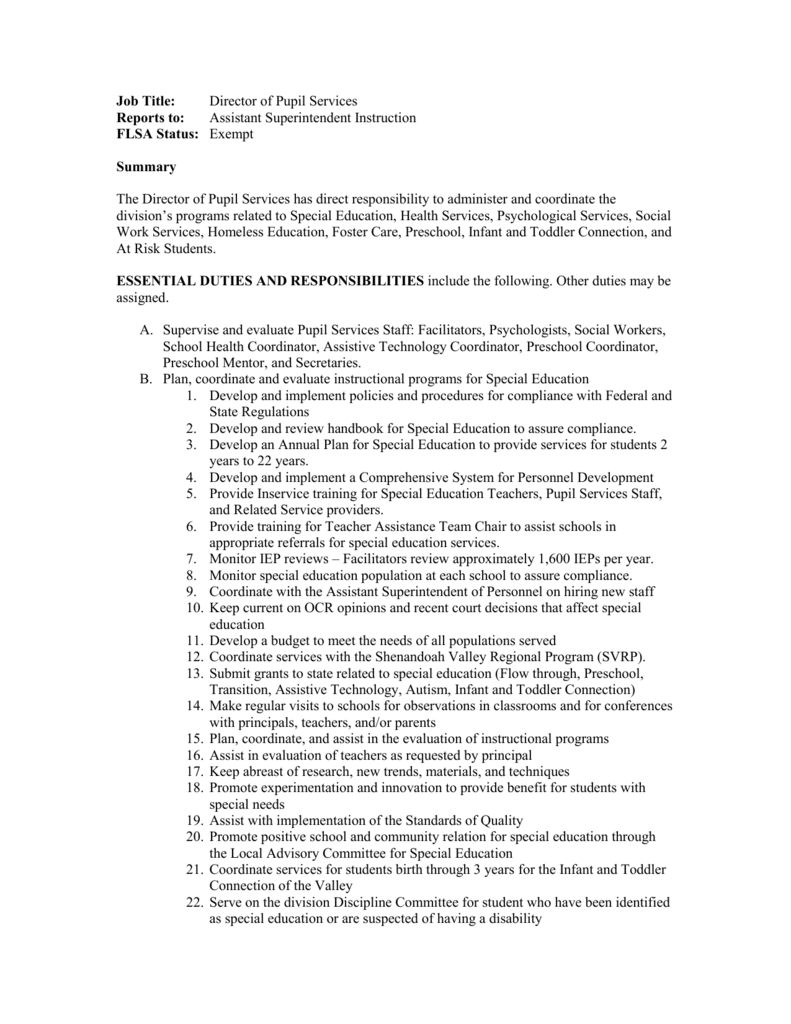 Job Title:
Director of Pupil Services
Reports to:
Assistant Superintendent Instruction
FLSA Status: Exempt
Summary
The Director of Pupil Services has direct responsibility to administer and coordinate the
division's programs related to Special Education, Health Services, Psychological Services, Social
Work Services, Homeless Education, Foster Care, Preschool, Infant and Toddler Connection, and
At Risk Students.
ESSENTIAL DUTIES AND RESPONSIBILITIES include the following. Other duties may be
assigned.
A. Supervise and evaluate Pupil Services Staff: Facilitators, Psychologists, Social Workers,
School Health Coordinator, Assistive Technology Coordinator, Preschool Coordinator,
Preschool Mentor, and Secretaries.
B. Plan, coordinate and evaluate instructional programs for Special Education
1. Develop and implement policies and procedures for compliance with Federal and
State Regulations
2. Develop and review handbook for Special Education to assure compliance.
3. Develop an Annual Plan for Special Education to provide services for students 2
years to 22 years.
4. Develop and implement a Comprehensive System for Personnel Development
5. Provide Inservice training for Special Education Teachers, Pupil Services Staff,
and Related Service providers.
6. Provide training for Teacher Assistance Team Chair to assist schools in
appropriate referrals for special education services.
7. Monitor IEP reviews – Facilitators review approximately 1,600 IEPs per year.
8. Monitor special education population at each school to assure compliance.
9. Coordinate with the Assistant Superintendent of Personnel on hiring new staff
10. Keep current on OCR opinions and recent court decisions that affect special
education
11. Develop a budget to meet the needs of all populations served
12. Coordinate services with the Shenandoah Valley Regional Program (SVRP).
13. Submit grants to state related to special education (Flow through, Preschool,
Transition, Assistive Technology, Autism, Infant and Toddler Connection)
14. Make regular visits to schools for observations in classrooms and for conferences
with principals, teachers, and/or parents
15. Plan, coordinate, and assist in the evaluation of instructional programs
16. Assist in evaluation of teachers as requested by principal
17. Keep abreast of research, new trends, materials, and techniques
18. Promote experimentation and innovation to provide benefit for students with
special needs
19. Assist with implementation of the Standards of Quality
20. Promote positive school and community relation for special education through
the Local Advisory Committee for Special Education
21. Coordinate services for students birth through 3 years for the Infant and Toddler
Connection of the Valley
22. Serve on the division Discipline Committee for student who have been identified
as special education or are suspected of having a disability
C.
D.
E.
F.
G.
H.
23. Collect data on students in Foster Care for annual state report
24. Collaborate with Curriculum Supervisors to assist in providing special education
students access to the general education curriculum
25. Coordinate services for Preschool students
26. Coordinate Homebound Instruction
Plan, coordinate, and evaluate School/Community Health Services Programs
1. Review and/or develop policies and regulations pertaining to Health Care
Services
2. Review plans for Medially Fragile students
3. Coordinate Medicaid billing
4. Coordinate Health Services for students with School/Community Health
Coordinator
5. Develop and oversee budget
6. Coordinate services with SAW Health Department
Plan, coordinate, and evaluate programs for Homeless
1. Develop policies and procedures for education for the Homeless
2. Collect data from schools to monitor Homeless education
3. Develop programs, as necessary, to meet the needs of Homeless students
4. Complete yearly state report on Homeless Education
Plan and coordinate services for students identified as disabled under Section 504 of the
Rehabilitation Act/Americans with Disabilities Act
1. Coordinate with Assistant Superintendent of Administration, Division 504
Coordinator
2. Provide Inservice training for school 504 Coordinators
3. Keep abreast of OCR opinions related to Section 504/ADA
4. Develop and monitor policies related to Section 504/ADA
5. Develop and monitor budget
Plan and coordinate services for students at risk
1. Coordinate services for students place through the Family Assessment and
Planning Team (FAPT) in alternate placements
2. Assign and coordinate district FAPT representative
3. Attend monthly Comprehensive Planning and Management Team (CPMT)
meetings to review funds appropriate for students
4. Review student plans
Promote community collaboration
1. Serve on Commonwealth Center Board
2. Serve on Core Council for Infant and Toddle Connection of the Valley
3. Serve on board of healthy Families of the Blue Ridge
4. Serve on Regional Planners for Prevention Services
Coordinate Preschool Services
1. Coordinate the varied funding sources to provide consistent preschool
programming in Augusta County
2. Monitor and coordinate staff, services, and budget for the Virginia Preschool
Initiative
3. Serve on Regional Committee to coordinate equitable preschool services
SPECIAL REQUIREMENTS
Must possess demonstrated leadership qualities and personal characteristics necessary for
working effectively with students, teachers, and parents as attested to by the Division
Superintendent of Schools. Candidate must possess good moral character.
PHYSICAL DEMANDS/REQUIREMENTS
Duties performed typically in school settings to include: school office, classroom, gym,
cafeteria, auditorium, and recreational areas. Frequent walking, standing, stooping,
lifting, up to approximately 30 pounds, and occasional lifting of equipment and/or
materials weighing up to approximately 40 pounds may be required. Other limited
physical activities are required. Occasional travel with students on field trips may be
necessary. Vocal communication is required for expressing or exchanging ideas by means
of the spoken word; hearing is required to perceive information at normal spoken word
levels; visual acuity is required for preparing and analyzing written or computer data,
determining the accuracy and thoroughness of work, and observing general surroundings
and activities; the worker is subject to inside and outside environmental conditions, noise
and hazards. Occasional movement of students by wheelchairs and other mechanical
devices may be required. Regular contact with special needs children is necessary.
Regular contact with staff members, students, parents, and community members is
required. Frequent contact with parents and medical professionals by phone and in person
is necessary.
SUPERVISORY RESPONSIBILITIES
Supervises and evaluates all aspects of the Pupil Services program.
QUALIFICATIONS
To perform this job successfully, an individual must be able to perform each essential duty
satisfactorily. The requirements listed below are representative of the knowledge, skill, and/or
ability required. Reasonable accommodations may be made to enable individuals with disabilities
to perform the essential functions.
EDUCATION and/or EXPERIENCE

Master's degree (M. A.) or equivalent.

Hold the Postgraduate Professional Certificate with appropriate endorsement.

At least three years of successful, full-time experience as a Special Ed. Teacher

Demonstrated the leadership qualities and personal characteristics necessary for working
effectively with students, teachers and parents.
CERTIFICATES, LICENSES, REGISTRATIONS .
Hold a valid Virginia Teaching License with appropriate endorsement.
PHYSICAL DEMANDS
The physical demands described here are representative of those that must be met by an employee
to successfully perform the essential functions of this job. Reasonable accommodations may be
made to enable individuals with disabilities to perform the essential functions.
While performing the duties of this job, the employee is regularly required to talk or hear. The
employee frequently is required to stand; walk; and use hands to finger, handle, or feel. The
employee is occasionally required to sit and reach with hands and arms. The employee must
occasionally lift and/or move up to 10 pounds. Specific vision abilities required by this job
include ability to adjust focus.
WORK ENVIRONMENT
The work environment characteristics described here are representative of those an employee
encounters while performing the essential functions of this job. Reasonable accommodations may
be made to enable individuals with disabilities to perform the essential functions.
The noise level in the work environment is usually quiet.
TERMS OF EMPLOYMENT
Per contract and Augusta County Policy Manuel
EVALUATION Performance on this job will be evaluated in accordance with school board
policy and administrative regulations on evaluation of administrative personnel.