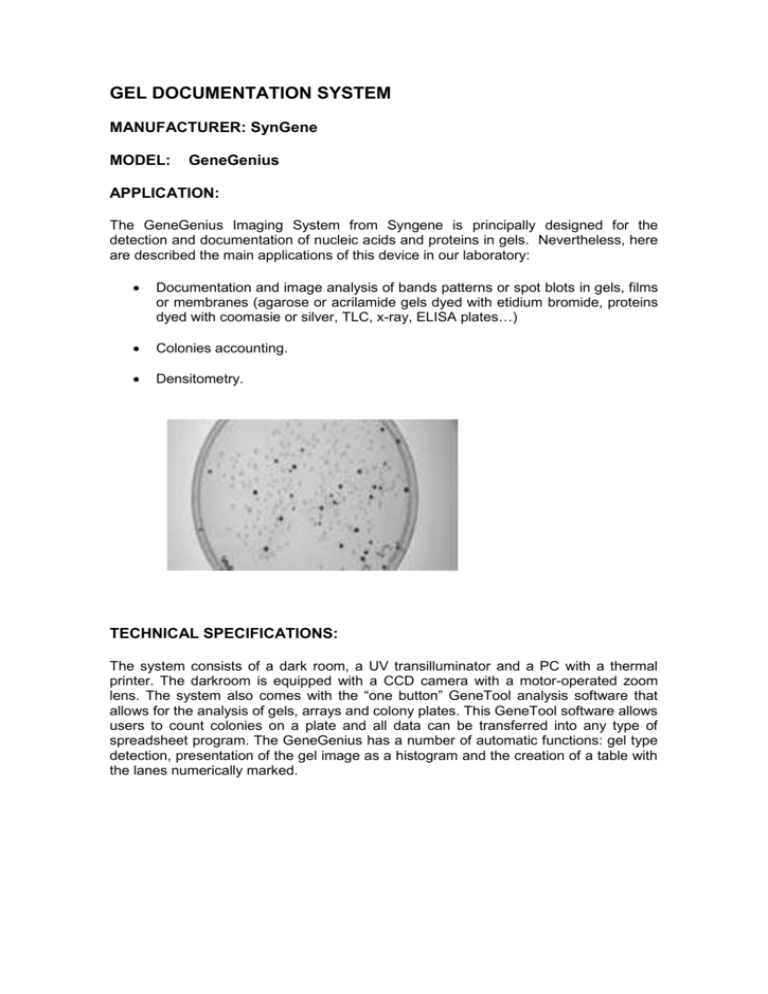 GEL DOCUMENTATION SYSTEM
MANUFACTURER: SynGene
MODEL:
GeneGenius
APPLICATION:
The GeneGenius Imaging System from Syngene is principally designed for the
detection and documentation of nucleic acids and proteins in gels. Nevertheless, here
are described the main applications of this device in our laboratory:

Documentation and image analysis of bands patterns or spot blots in gels, films
or membranes (agarose or acrilamide gels dyed with etidium bromide, proteins
dyed with coomasie or silver, TLC, x-ray, ELISA plates…)

Colonies accounting.

Densitometry.
TECHNICAL SPECIFICATIONS:
The system consists of a dark room, a UV transilluminator and a PC with a thermal
printer. The darkroom is equipped with a CCD camera with a motor-operated zoom
lens. The system also comes with the "one button" GeneTool analysis software that
allows for the analysis of gels, arrays and colony plates. This GeneTool software allows
users to count colonies on a plate and all data can be transferred into any type of
spreadsheet program. The GeneGenius has a number of automatic functions: gel type
detection, presentation of the gel image as a histogram and the creation of a table with
the lanes numerically marked.
More detailed information about the different components of the gel documentation
system is here presented:





CCD Video Camera with UV filter, zoom 12,5 – 75 mm.
UV transilluminator (302 nm) with security dark camera.
Digital card with GeneSnap software.
GeneTools analysis software with automatic bands detection, background
correction, quantity calibration, molecular mass, Rf … etc.
Molecular mass markers library /histograms/ dendograms/ graphs.