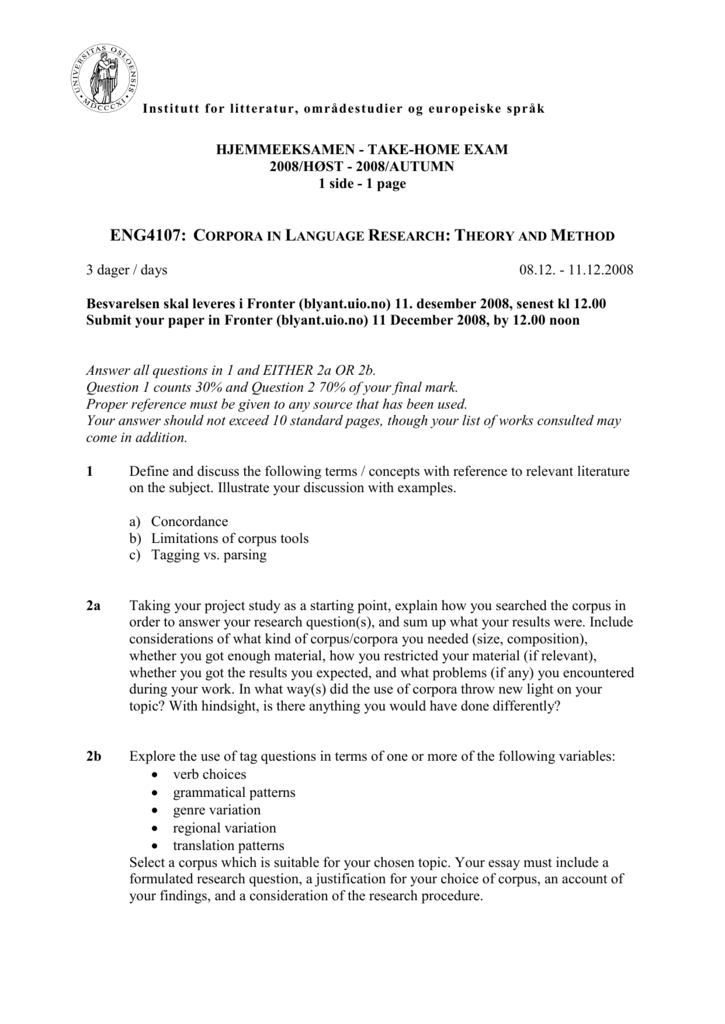 Institutt f or litteratur, områdestudier og europeiske språk
HJEMMEEKSAMEN - TAKE-HOME EXAM
2008/HØST - 2008/AUTUMN
1 side - 1 page
ENG4107: CORPORA IN LANGUAGE RESEARCH: THEORY AND METHOD
3 dager / days
08.12. - 11.12.2008
Besvarelsen skal leveres i Fronter (blyant.uio.no) 11. desember 2008, senest kl 12.00
Submit your paper in Fronter (blyant.uio.no) 11 December 2008, by 12.00 noon
Answer all questions in 1 and EITHER 2a OR 2b.
Question 1 counts 30% and Question 2 70% of your final mark.
Proper reference must be given to any source that has been used.
Your answer should not exceed 10 standard pages, though your list of works consulted may
come in addition.
1
Define and discuss the following terms / concepts with reference to relevant literature
on the subject. Illustrate your discussion with examples.
a) Concordance
b) Limitations of corpus tools
c) Tagging vs. parsing
2a
Taking your project study as a starting point, explain how you searched the corpus in
order to answer your research question(s), and sum up what your results were. Include
considerations of what kind of corpus/corpora you needed (size, composition),
whether you got enough material, how you restricted your material (if relevant),
whether you got the results you expected, and what problems (if any) you encountered
during your work. In what way(s) did the use of corpora throw new light on your
topic? With hindsight, is there anything you would have done differently?
2b
Explore the use of tag questions in terms of one or more of the following variables:
 verb choices
 grammatical patterns
 genre variation
 regional variation
 translation patterns
Select a corpus which is suitable for your chosen topic. Your essay must include a
formulated research question, a justification for your choice of corpus, an account of
your findings, and a consideration of the research procedure.