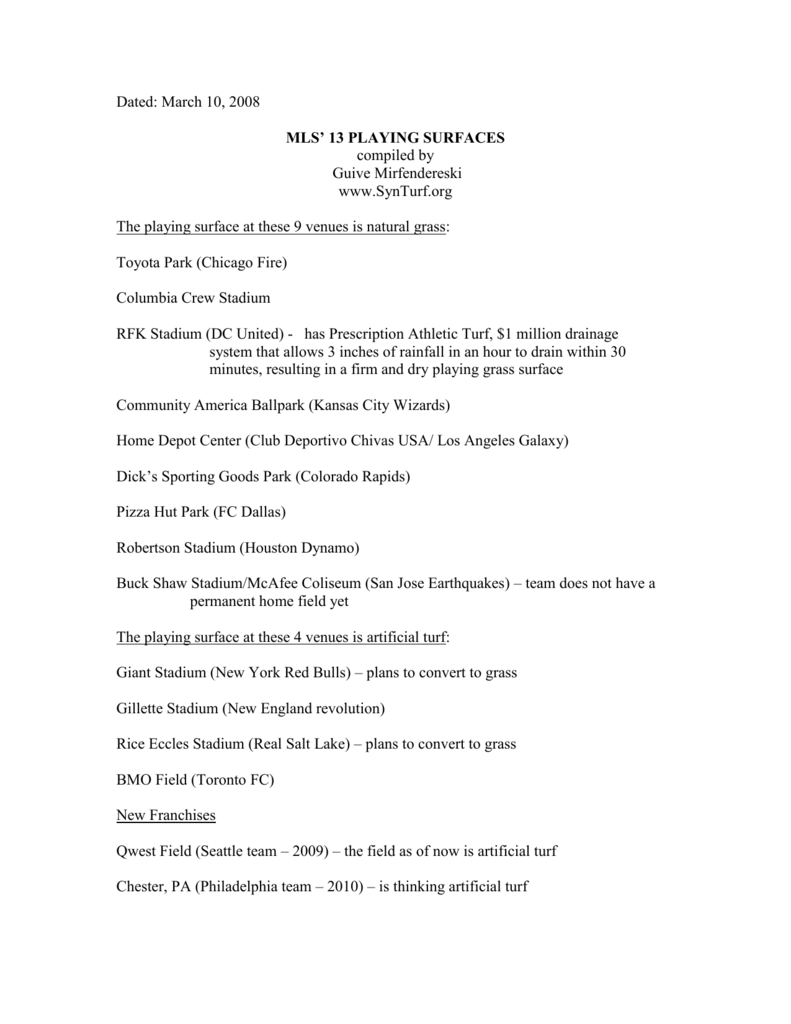 Dated: March 10, 2008
MLS' 13 PLAYING SURFACES
compiled by
Guive Mirfendereski
www.SynTurf.org
The playing surface at these 9 venues is natural grass:
Toyota Park (Chicago Fire)
Columbia Crew Stadium
RFK Stadium (DC United) - has Prescription Athletic Turf, $1 million drainage
system that allows 3 inches of rainfall in an hour to drain within 30
minutes, resulting in a firm and dry playing grass surface
Community America Ballpark (Kansas City Wizards)
Home Depot Center (Club Deportivo Chivas USA/ Los Angeles Galaxy)
Dick's Sporting Goods Park (Colorado Rapids)
Pizza Hut Park (FC Dallas)
Robertson Stadium (Houston Dynamo)
Buck Shaw Stadium/McAfee Coliseum (San Jose Earthquakes) – team does not have a
permanent home field yet
The playing surface at these 4 venues is artificial turf:
Giant Stadium (New York Red Bulls) – plans to convert to grass
Gillette Stadium (New England revolution)
Rice Eccles Stadium (Real Salt Lake) – plans to convert to grass
BMO Field (Toronto FC)
New Franchises
Qwest Field (Seattle team – 2009) – the field as of now is artificial turf
Chester, PA (Philadelphia team – 2010) – is thinking artificial turf
Trends
In the 2008 MLS season only 2 MLS venues will be artificial turf surfaces – BMO Filed
in Toronto and Gillette Stadium (New England Revolution). Real Salt Lake and New
York Red Bulls will be playing on natural grass: the assumption is that the conversion
from playing on artificial turf will be achieved by the venues (Rice-Eccles Stadium and
Giant Stadium, respectively) changing to natural grass. The trend toward natural grass in
soccer is owed to two major factors -- the construction of smaller and dedicated soccerspecific venues and physical strains of playing soccer on artificial turf. The gain of net
two natural grass fields in the 2008 season may be offset in 2010 if the newly franchised
Philadelphia team opts for artificial turf.