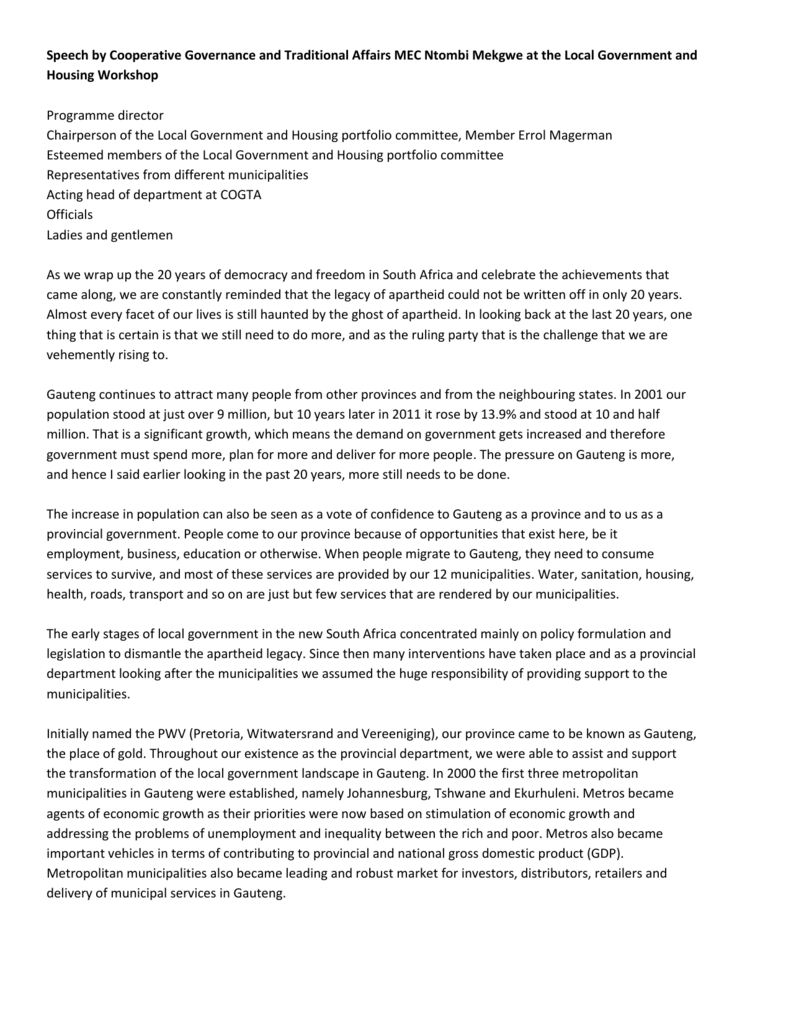 Speech by Cooperative Governance and Traditional Affairs MEC Ntombi Mekgwe at the Local Government and
Housing Workshop
Programme director
Chairperson of the Local Government and Housing portfolio committee, Member Errol Magerman
Esteemed members of the Local Government and Housing portfolio committee
Representatives from different municipalities
Acting head of department at COGTA
Officials
Ladies and gentlemen
As we wrap up the 20 years of democracy and freedom in South Africa and celebrate the achievements that
came along, we are constantly reminded that the legacy of apartheid could not be written off in only 20 years.
Almost every facet of our lives is still haunted by the ghost of apartheid. In looking back at the last 20 years, one
thing that is certain is that we still need to do more, and as the ruling party that is the challenge that we are
vehemently rising to.
Gauteng continues to attract many people from other provinces and from the neighbouring states. In 2001 our
population stood at just over 9 million, but 10 years later in 2011 it rose by 13.9% and stood at 10 and half
million. That is a significant growth, which means the demand on government gets increased and therefore
government must spend more, plan for more and deliver for more people. The pressure on Gauteng is more,
and hence I said earlier looking in the past 20 years, more still needs to be done.
The increase in population can also be seen as a vote of confidence to Gauteng as a province and to us as a
provincial government. People come to our province because of opportunities that exist here, be it
employment, business, education or otherwise. When people migrate to Gauteng, they need to consume
services to survive, and most of these services are provided by our 12 municipalities. Water, sanitation, housing,
health, roads, transport and so on are just but few services that are rendered by our municipalities.
The early stages of local government in the new South Africa concentrated mainly on policy formulation and
legislation to dismantle the apartheid legacy. Since then many interventions have taken place and as a provincial
department looking after the municipalities we assumed the huge responsibility of providing support to the
municipalities.
Initially named the PWV (Pretoria, Witwatersrand and Vereeniging), our province came to be known as Gauteng,
the place of gold. Throughout our existence as the provincial department, we were able to assist and support
the transformation of the local government landscape in Gauteng. In 2000 the first three metropolitan
municipalities in Gauteng were established, namely Johannesburg, Tshwane and Ekurhuleni. Metros became
agents of economic growth as their priorities were now based on stimulation of economic growth and
addressing the problems of unemployment and inequality between the rich and poor. Metros also became
important vehicles in terms of contributing to provincial and national gross domestic product (GDP).
Metropolitan municipalities also became leading and robust market for investors, distributors, retailers and
delivery of municipal services in Gauteng.
The re-configuration of municipalities also resulted in the three districts, namely Sedibeng, West Rand and
Metsweding. The Metsweding district was subsequently done away with, and was incorporated into Tshwane,
making Tshwane the 3rd largest city in the world after New York and Tokyo. The main idea for reconfiguring
municipalities in Gauteng was to make sure that they deliver faster and operate optimally. However, for
municipalities to deliver on their constitutional mandate, stable institutional structures needed to be in place.
Such structures needed to be accompanied by appointed personnel with the required skills and competences,
first at a senior management level and then in all other levels below. Human resources of a municipality and the
skills their personnel bring to the workplace are critical inputs in the delivery of all services as required of a
municipality. All municipalities have approved organisational structures in place.
Municipal finance support is one the key interventions that is central in assisting municipalities to function
better. This intervention manifests in various programmes, one of which is Operation Clean Audits. Operation
Clean Audit (OPCA) targeted support to the disclaimed and qualified Municipalities in order to improve the
outcomes of the AG Audit. The OPCA Targeted Support is a hands on support project focusing on assisting
municipalities that received disclaimers and qualifications in their audit opinions. What OPCA does is to identify
and focus on areas which require critical support in each municipality. Hands-on assistance and resources were
then deployed to the municipalities.
The Department is also assisting municipalities by implementing the Revenue Enhancement and Debtor
Management Program. These are attempts by the department to make sure that municipalities are able to
collect monies that are due to them. The Program has three broad objectives namely:
•
Debt reduction;
•
Billing integrity; and
•
Revenue collection improvement
The Gauteng Department of Cooperative Governance (GDCoGTA) and the Gauteng Department of Finance (GDF)
have embarked on a project to ensure that Gauteng municipalities are paid for the services that they render to
the Gauteng Provincial Departments. We are seeing progress with this programme as more and more
government departments are starting to service their debts to the municipalities. The strategy has three key
objectives:
•
To establish a method for the payment of arrears to municipalities owed by various government
departments both nationally and provincially.
•
To ensure that debtor information on government accounts is cleaned and corrected on the municipal
finance systems.
•
To facilitate regular payment into the future for municipal services rendered.
Since 2007 the Department has undertaken rigorous intergovernmental initiatives to facilitate alignment of
Integrated Development Plans to National and Provincial (IDPs) priorities. Through the department's hand-onsupport, municipalities are now developing IDPs in-house. Since 2009 the department also undertook rigorous
IDP education programmes to assist various stakeholders to identify their role and contribution in the IDP
process in order to enhance participatory democracy.
State of Municipal Finances assessment was undertaken in 2007 which resulted in the development of the
Municipal and Provincial Action Plan of Action. The Department, in conjunction National COGTA, undertook a
Diagnostic Analysis in 2010 and developed the Local Government Turn Around Strategies. As part of continuous
improvement, the department is currently undertaking a Municipal Viability study which will result in the
development of the Municipal specific and Provincial wide Viability strategies and implementation plans.
Some of the interventions by our department include the following;
•
Monitoring and supporting municipalities with the spending of MIG and other key infrastructure grants.
•
Support in the development of the Water Conservation and Water Demand Management Plans and
Programmes
•
Monitor and support municipalities in the refurbishment and upgrades of Waste-Water Treatment
Works to improve bulk capacity.
•
During the period 2000/4 the department facilitated the finalisation of organisational structures and
equity plans in the following municipalities (Westonaria, City of Tshwane Metropolitan, Merafong,
Lesedi, Nokeng Tsa Taemane)
•
In 2008/9 The Department developed a provincial HR framework, strategy and guidelines (piloted in
Emfuleni for implementation in municipalities)
•
Development and implementation of performance management systems in all municipalities, which
enabled the municipalities to compile their annual reports as required by Municipal Systems Act, was
developed.
•
Development of Business Continuity Plans for all municipalities – 2009/2010
One of the key responsibilities of our department is to assist municipalities in increasing quality and access to
basic services. As at 2011, 98.2 % or just 4 million households in Gauteng had access to piped water. Refuse
removal by municipalities stood at 89.8%. Access sanitation increased to 86.5%, while access to electricity stood
at 87.4%. All municipalities are providing free basic water (FBW) and free basic electricity (FBE). The department
also monitored and assisted municipalities in installing solar geysers, and to date a total of 66336 geysers have
been installed across the province. In order to assist the poor and the needy to enjoy access to services, all
municipalities approved their own indigent policies.
One of the top priorities of our government post 1994 was to invest in infrastructure development in order to
improve the quality of lives for all South Africans. Different funding models such as Municipal Infrastructure
Grant (MIG), Human Settlements Development Grant (HSDG), Urban Settlements Development Grant (USDG)
and so on were established. However there exists a problem of co-ordination when these grants are used by the
province and municipalities, particularly with regards to USDG and HSDG. All too often we miss the opportunity
to work smarter and deliver more on our mandate. As we engage in these two days, let us find ways of
integrating our planning and co-ordinating our work to maximise on the output and its associated quality. Much
can be achieved with these two grants.
As a department we have also assisted municipalities in enhancing participatory democracy. Today all
municipalities have ward committees, an achievement that makes sure that ordinary citizens play a meaningful
role in the running of local government. On the other side, we have also assisted in the launch of Municipal
Public Accounts Committees (MPACs). This is an oversight role that will ensure transparency and clean
governance.
Our work as a department could have not been done properly had it not been the oversight and watchdog role
of the portfolio committee on local government and housing. You have kept the department on its toes, but for
all the good reasons. At the same time my department has enjoyed the support and guidance from the portfolio
committee. It is my firm belief that we must strengthen our working relationship in order to improve the service
that we render to our people. I am looking forward to robust engagements here at the workshop, and I hope all
the outcomes will guide us to what we must do in order to strengthen and improve our work towards our
people.
I thank you.