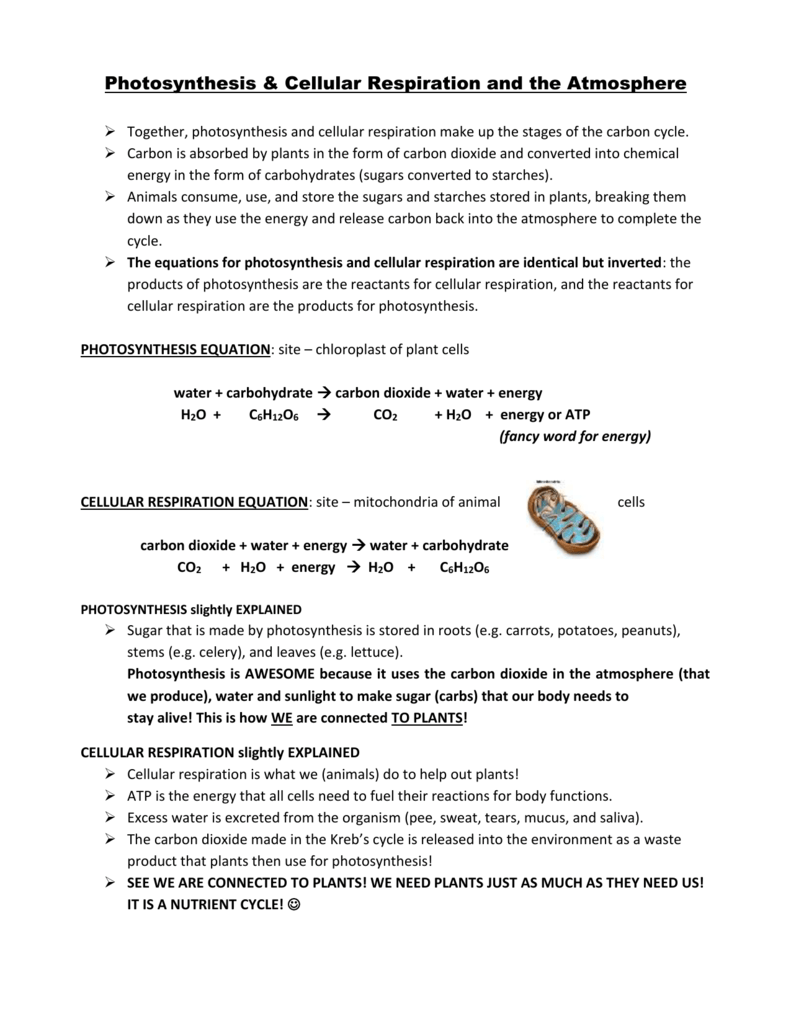 Photosynthesis & Cellular Respiration and the Atmosphere
 Together, photosynthesis and cellular respiration make up the stages of the carbon cycle.
 Carbon is absorbed by plants in the form of carbon dioxide and converted into chemical
energy in the form of carbohydrates (sugars converted to starches).
 Animals consume, use, and store the sugars and starches stored in plants, breaking them
down as they use the energy and release carbon back into the atmosphere to complete the
cycle.
 The equations for photosynthesis and cellular respiration are identical but inverted: the
products of photosynthesis are the reactants for cellular respiration, and the reactants for
cellular respiration are the products for photosynthesis.
PHOTOSYNTHESIS EQUATION: site – chloroplast of plant cells
water + carbohydrate  carbon dioxide + water + energy
H2O +
C6H12O6 
CO2
+ H2O + energy or ATP
(fancy word for energy)
CELLULAR RESPIRATION EQUATION: site – mitochondria of animal
cells
carbon dioxide + water + energy  water + carbohydrate
CO2 + H2O + energy  H2O +
C6H12O6
PHOTOSYNTHESIS slightly EXPLAINED
 Sugar that is made by photosynthesis is stored in roots (e.g. carrots, potatoes, peanuts),
stems (e.g. celery), and leaves (e.g. lettuce).
Photosynthesis is AWESOME because it uses the carbon dioxide in the atmosphere (that
we produce), water and sunlight to make sugar (carbs) that our body needs to
stay alive! This is how WE are connected TO PLANTS!
CELLULAR RESPIRATION slightly EXPLAINED
 Cellular respiration is what we (animals) do to help out plants!
 ATP is the energy that all cells need to fuel their reactions for body functions.
 Excess water is excreted from the organism (pee, sweat, tears, mucus, and saliva).
 The carbon dioxide made in the Kreb's cycle is released into the environment as a waste
product that plants then use for photosynthesis!
 SEE WE ARE CONNECTED TO PLANTS! WE NEED PLANTS JUST AS MUCH AS THEY NEED US!
IT IS A NUTRIENT CYCLE! 
CLOSED SYSTEMS
 A closed system is one in which recycling is continuous, with nothing entering or leaving.
 As a closed system, Earth can produce through cellular respiration an amount of carbon
dioxide close to that used in photosynthesis, and the amount of carbon dioxide in the
atmosphere would remain relatively constant.

THE CARBONIFEROUS PERIOD
 During what scientists call the Carboniferous Period – starting about 300 million years agohuge amounts of carbon became trapped beneath the Earth's surface, as tremendous
pressure by sediment accumulating layers of decaying plant matter gradually compressed it.
 Over millions of years, the sediment became rock and the plant material became fossil
fuels trapped in pockets of the rock.
 Fossil fuels can be refined into coal, natural gas, and oil.
 Since industrialization, the combustion of fossil fuels for energy has resulted in the
release of carbon dioxide into the atmosphere in amounts exceeding what can be
absorbed by plant matter for photosynthesis.
 Consequently, the carbon cycle has been disrupted, creating an imbalance of carbon in the
atmosphere.