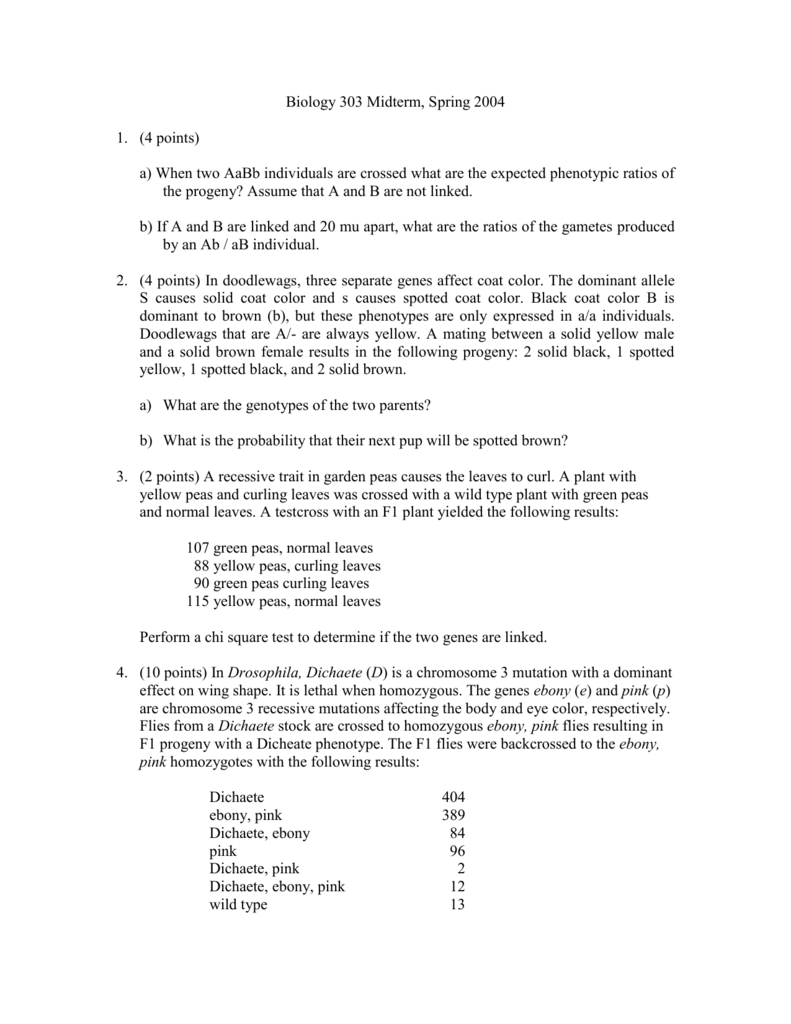 Biology 303 Midterm, Spring 2004
1. (4 points)
a) When two AaBb individuals are crossed what are the expected phenotypic ratios of
the progeny? Assume that A and B are not linked.
b) If A and B are linked and 20 mu apart, what are the ratios of the gametes produced
by an Ab / aB individual.
2. (4 points) In doodlewags, three separate genes affect coat color. The dominant allele
S causes solid coat color and s causes spotted coat color. Black coat color B is
dominant to brown (b), but these phenotypes are only expressed in a/a individuals.
Doodlewags that are A/- are always yellow. A mating between a solid yellow male
and a solid brown female results in the following progeny: 2 solid black, 1 spotted
yellow, 1 spotted black, and 2 solid brown.
a) What are the genotypes of the two parents?
b) What is the probability that their next pup will be spotted brown?
3. (2 points) A recessive trait in garden peas causes the leaves to curl. A plant with
yellow peas and curling leaves was crossed with a wild type plant with green peas
and normal leaves. A testcross with an F1 plant yielded the following results:
107 green peas, normal leaves
88 yellow peas, curling leaves
90 green peas curling leaves
115 yellow peas, normal leaves
Perform a chi square test to determine if the two genes are linked.
4. (10 points) In Drosophila, Dichaete (D) is a chromosome 3 mutation with a dominant
effect on wing shape. It is lethal when homozygous. The genes ebony (e) and pink (p)
are chromosome 3 recessive mutations affecting the body and eye color, respectively.
Flies from a Dichaete stock are crossed to homozygous ebony, pink flies resulting in
F1 progeny with a Dicheate phenotype. The F1 flies were backcrossed to the ebony,
pink homozygotes with the following results:
Dichaete
ebony, pink
Dichaete, ebony
pink
Dichaete, pink
Dichaete, ebony, pink
wild type
404
389
84
96
2
12
13
a) What is the order of the three genes?
b) Calculate the recombination frequencies for each gene pair.
c) Calculate the coefficient of coincidence. (observed/expected)
5. (6 points) A fruit fly with the genotype p+ q1 r+ / p- q2 r- was testcrossed and 12 p+
q+ r- progeny were observed among 6000 progeny.
a) If the gene order is p - q - r, what is the order of q1 and q2 with respect to p and r?
Explain your reasoning.
b) What is the genetic distance between q1 and q2?
6. (10 points) The following results are ordered tetrad pairs from a cross between strain
p+ and strain +q:
1
p+
p+
+q
+q
41
2
p+
pq
++
+q
15
Tetrad Class
3
4
pq
+q
pq
p+
++
p+
++
+q
1
3
5
p+
++
pq
+q
4
6
pq
++
pq
++
3
7
p+
+q
pq
++
2
They are summarized by tetrad classes.
a)
b)
c)
d)
Name the ascus type of each class from 1 to 7 (P, NP, or T).
Calculate the gene-centromere distance for each locus.
Calculate the distance between the two linked loci.
Draw a linkage map, including the centromere.
7. (2 points) A phenotypically normal couple has two children. The daughter is
phenotypically normal and the son has sickle cell disease. The daughter marries a
phenotypically normal man whose mother suffered from sickle cell disease. What is
the probability that their first child will have sickle cell disease?
8. (2 points) In fruit flies, allele l is sex-linked and recessive lethal. If a heterozygous
female (L/l) is crossed with a normal male, what is the probability that the first two
surviving progeny will be male?