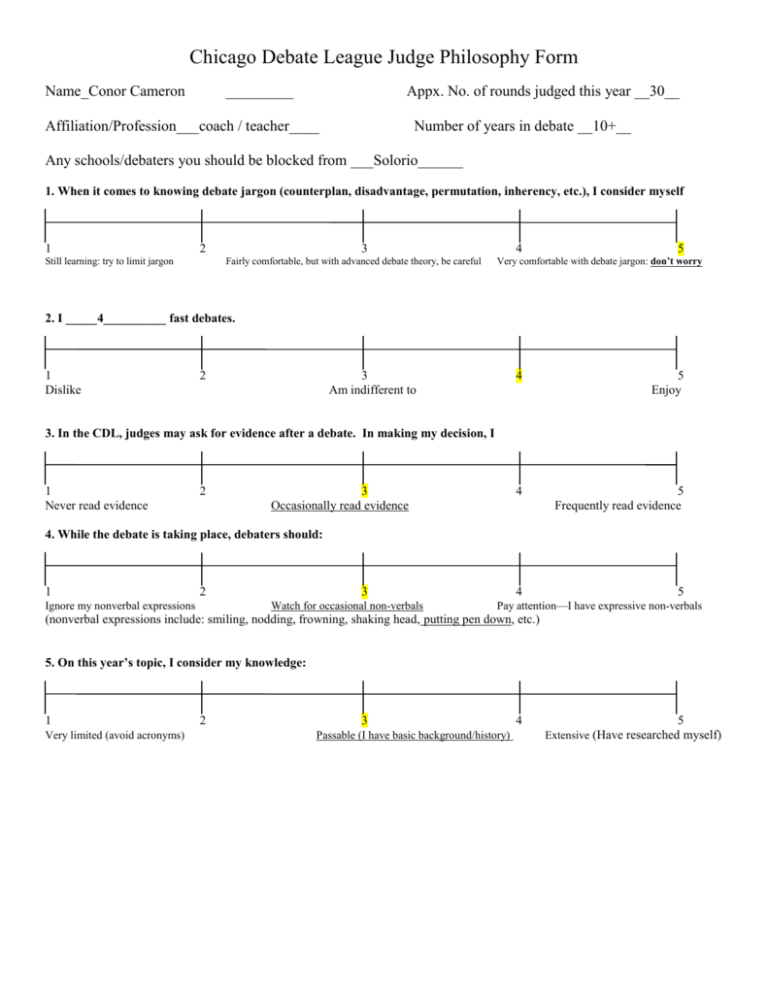 Chicago Debate League Judge Philosophy Form
Name_Conor Cameron
_________
Appx. No. of rounds judged this year __30__
Affiliation/Profession___coach / teacher____
Number of years in debate __10+__
Any schools/debaters you should be blocked from ___Solorio______
1. When it comes to knowing debate jargon (counterplan, disadvantage, permutation, inherency, etc.), I consider myself
1
2
Still learning: try to limit jargon
3
Fairly comfortable, but with advanced debate theory, be careful
4
5
Very comfortable with debate jargon: don't worry
2. I _____4__________ fast debates.
1
Dislike
2
3
Am indifferent to
4
5
Enjoy
4
5
Frequently read evidence
4
5
3. In the CDL, judges may ask for evidence after a debate. In making my decision, I
1
Never read evidence
2
3
Occasionally read evidence
4. While the debate is taking place, debaters should:
1
2
Ignore my nonverbal expressions
3
Watch for occasional non-verbals
Pay attention—I have expressive non-verbals
(nonverbal expressions include: smiling, nodding, frowning, shaking head, putting pen down, etc.)
5. On this year's topic, I consider my knowledge:
1
Very limited (avoid acronyms)
2
3
Passable (I have basic background/history)
4
5
Extensive (Have researched myself)
6. Advice for JV debaters:
Be able to tell me what the round comes down. "We win the round because…" is a sentence you should be able to complete.
You will not do well if you are not flowing.
If I give you feedback at the end of the round, write it down.
7. Advice for Varsity debaters:
One note on speed :
Clarity is key, but even if you are super clear, there is a limit to how quickly anyone's pen moves. Moreover, your judges do not get
to see your arguments / evidence during the round as do your opponents. So just because your opponents can respond does NOT
mean that your judge can flow your speech.
8. Please list any arguments you dislike and are especially inclined not to vote for.
I am not a huge fan of the kritik. Too often, teams are not great at explaining these arguments. The burden of explaining an argument
is on the team. It is not the judge's responsibility to re-read all of your evidence to try to figure out what it says. I have no problem
voting against an argument I do not understand.
I prefer to resolve the debate on substantive issues. I do not think topicality / theory should be a primary strategy. An affirmative is
topical until proven otherwise. A negative advocacy is theoretically legitimate until proven otherwise. Those burdens of proof are
high, not low.