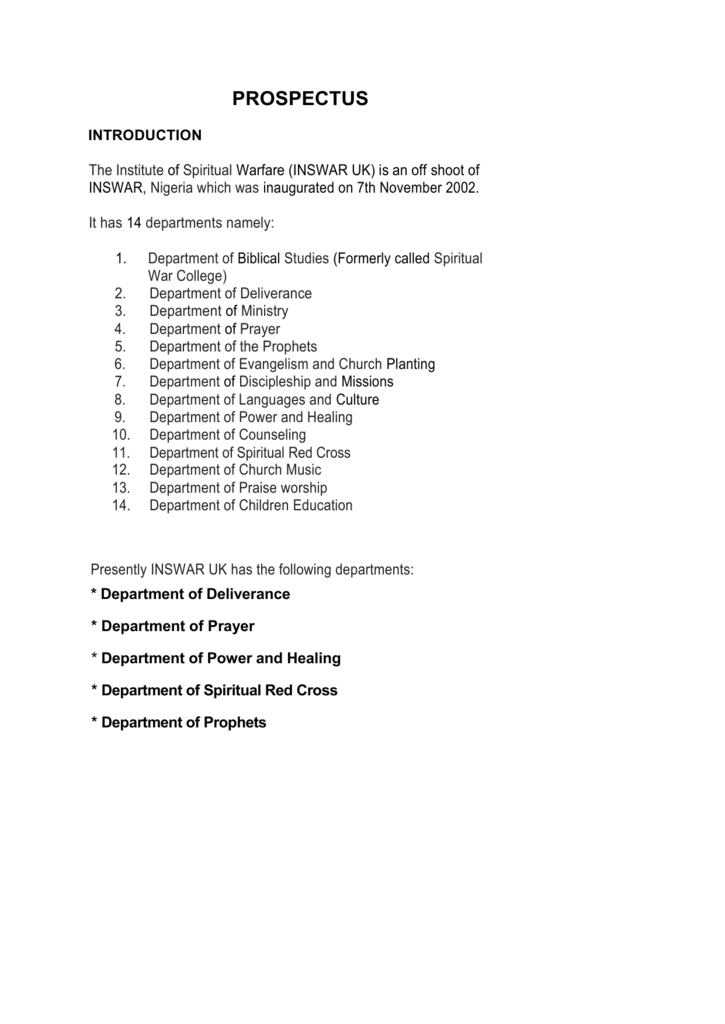 PROSPECTUS
INTRODUCTION
The Institute of Spiritual Warfare (INSWAR UK) is an off shoot of
INSWAR, Nigeria which was inaugurated on 7th November 2002.
It has 14 departments namely:
1.
2.
3.
4.
5.
6.
7.
8.
9.
10.
11.
12.
13.
14.
Department of Biblical Studies (Formerly called Spiritual
War College)
Department of Deliverance
Department of Ministry
Department of Prayer
Department of the Prophets
Department of Evangelism and Church Planting
Department of Discipleship and Missions
Department of Languages and Culture
Department of Power and Healing
Department of Counseling
Department of Spiritual Red Cross
Department of Church Music
Department of Praise worship
Department of Children Education
Presently INSWAR UK has the following departments:
* Department of Deliverance
* Department of Prayer
* Department of Power and Healing
* Department of Spiritual Red Cross
* Department of Prophets
IMS
The Institute of Spiritual Warfare is the training arm of MFM where
people are trained as spiritual soldiers/ambassadors for the end time.
Anything that has to do with training in MFM must of necessity pass
through the Institute.
Every student of INSWAR is taught how to combat the forces of
darkness at all times through spiritual warfare. Prayer forms an
integral part of the Institute. In addition, every student of INSWAR
must be ready at all times to display loyalty, honesty, dedication,
discipline, integrity, holiness within and without, humility, readiness to
serve, purity in words and deeds.
STRUCTURE
The President of the Institute is Dr. D.K. Olukoya, the General
Overseer of MFM Ministries (Worldwide). He holds a first class Honors
degree in microbiology from University of Lagos, Nigeria and a Ph.D.
in Molecular Genetics from University of Reading, United Kingdom. As
a researcher, he has over seventy scientific publications to his credit.
The Institute has a Registrar, Heads of departments, Bursar and a
Secretary. There is a committee which serves as an advisory board to
the Institute
MOTTO
The Motto of the Institute which is its guiding principle is
"Depopulating Hell Through Spiritual Warfare".
COURSE DURATION
All Courses in INSWAR UK has duration of 12 weeks requiring seven
hours a week. This represents 10 weeks of training and two weeks of
examination.
LECTURE PERIODS
Lectures are held in the different centres at the same time of the day
on Tuesdays, Thursday and Saturdays.
The morning session is as follows:Tuesday 10am - 12noon, Thursday 10am - 12noon and Saturday
l0am- 1pm.
The evening sessions are:Tuesday 7pm - 9pm, Thursday 7pm - 9pm and Saturday 6pm 9pm.
VENUE FOR LECTURES
The lecture venues are as listed below:
DEPARTMENT
VENUE
Deliverance
12, Princess Parade
Dagenham, Essex
RM10 9LS
Spiritual Red Cross
12, Princess Parade
Dagenham, Essex
RM10 9LS
Power and Healing
25 Rothbury Road
Stratford, E9 5HA
Prayer
Unit 1, Industrial Estate
71/73, Nathan way, Thamesmead
London SE28 OBQ
Prophets
25 Rothbury Road
Stratford, E9 5HA
Fast Track
Unit 1, Industrial Estate
71/73, Nathan way, Thamesmead
London SE28 OBQ
TUITION
At the moment, tuition fee for a 12 week course is £300.00 only. There
is also a non-refundable administrative fee of £20.00
EXAMINATION AND ASSESSMENT
To gain admission into the Institute, candidates will be taken through a selection
process.
There is no separate re-sit examination for anyone who misses an examination or fails
it. However such a person is advised to sit the exam with the next set of students.
ASSESSMENT CRITERIA
Continuous assessment tests are administered. They carry 40% of the total grading,
while the examination carries 60%.
At the end of each course, successful candidates receive a certificate from the
International Headquarters.
REQUIREMENTS FOR GRADUATION
1.
2.
3.
4.
70% minimum attendance at the course lectures.
Evidence of full payment of fees.
All exams taken and passed.
Satisfactory behavior throughout the session.
THE INSTITUTE'S POLICIES
1.
2.
3.
4.
5.
6.
7.
Students of the Institute must be ready to live a life of true brokenness and
absolute Christ-like humility.
Ceaseless prayer life must be part of every student/staff of the institute.
No student shall be allowed to register in more than one department at any
particular time.
Lateness and absenteeism shall not be tolerated.
Examination malpractice in any form will not be acceptable.
All students must possess an ID Card of the Institute. It is compulsory and not
optional.
All students and staff of the Institute must be born-again and spirit-filled.
LONDON
The Institute also runs a fast track programme for student living outside of London who
wants to receive training from the Institute.
The programme is very intensive, and flexible. The cost is £500.00 - only. For more
details, please contact the INSWAR (UK) Secretariat or email:
[email protected]
OTHERS
Each Department has its entry qualifications. However, the basic qualification applicable
to all Departments is being born again. For other departmental requirements, students
are advised to contact the Secretariat.
INSWAR ANTHEM
DEPARTMENT OF CHURCH MUSIC
Chorus
We shall make it, Yes, we conquer satan
By the word of God, by the blood of Jesus
We have victory by Holy Ghost power
In Jesus name, in Jesus name.
, in le-sus name.
1. We are warriors of Mountain of Fire,
Institute of Spiritual Warfare
We are set to depopulate hell,
And through warfare set captives free
4. Our armour, the sword of the spirit,
The Holy Bible, the greatest armour
We shall turn the world around for
And by His grace populate heaven.
2.
5.
We shall conquer principalities and powers,
Rulers of darkness, spiritual wickedness
Our weapons are truth and righteousness Jesus
To deliver all captives of Satan.
We shall watch keenly and pray without ceasing
For we know that Satan is our foe
By the blood of Jesus and by our testimony
We conquer Satan in Jesus name.
3. Heaven is our greatest focus,
We shall get there in Jesus name
Holiness and prayer is our occupation,
With fervent praise and worship to our God.
DEPARTMENT OF CHURCH MUSIC
INSTITUTE OF SPIRITUAL WARFARE, MOUNTAIN OF FIRE AND MIRACLES MINISTRIES
LAGOS, NIGERIA.