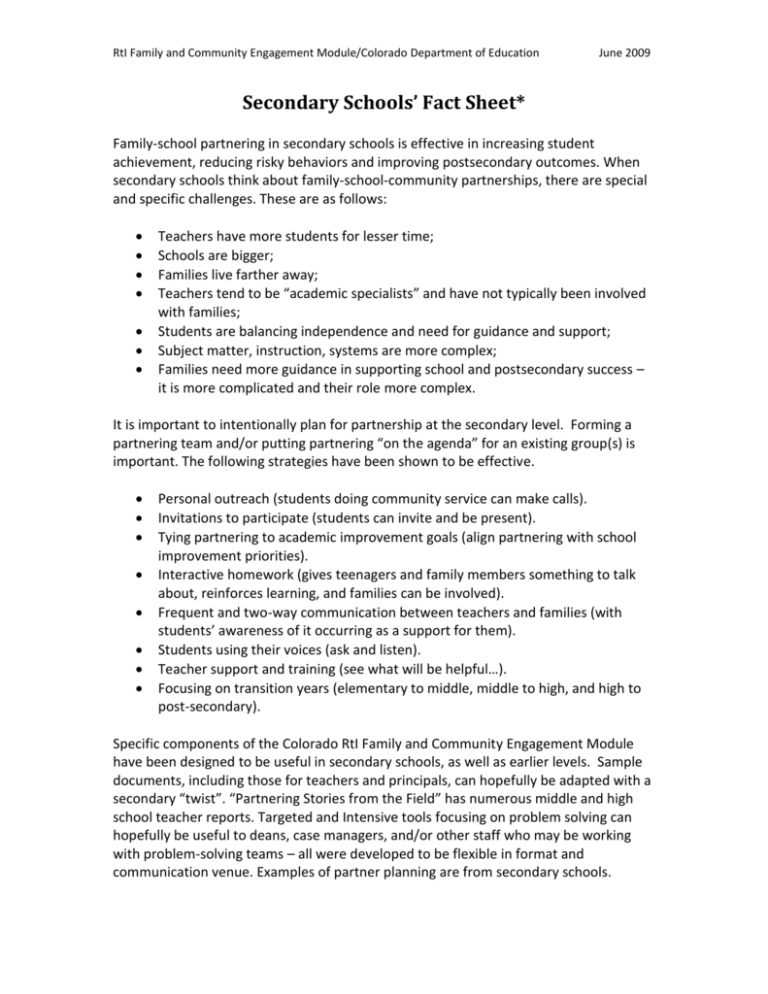 RtI Family and Community Engagement Module/Colorado Department of Education
June 2009
Secondary Schools' Fact Sheet*
Family-school partnering in secondary schools is effective in increasing student
achievement, reducing risky behaviors and improving postsecondary outcomes. When
secondary schools think about family-school-community partnerships, there are special
and specific challenges. These are as follows:







Teachers have more students for lesser time;
Schools are bigger;
Families live farther away;
Teachers tend to be "academic specialists" and have not typically been involved
with families;
Students are balancing independence and need for guidance and support;
Subject matter, instruction, systems are more complex;
Families need more guidance in supporting school and postsecondary success –
it is more complicated and their role more complex.
It is important to intentionally plan for partnership at the secondary level. Forming a
partnering team and/or putting partnering "on the agenda" for an existing group(s) is
important. The following strategies have been shown to be effective.








Personal outreach (students doing community service can make calls).
Invitations to participate (students can invite and be present).
Tying partnering to academic improvement goals (align partnering with school
improvement priorities).
Interactive homework (gives teenagers and family members something to talk
about, reinforces learning, and families can be involved).
Frequent and two-way communication between teachers and families (with
students' awareness of it occurring as a support for them).
Students using their voices (ask and listen).
Teacher support and training (see what will be helpful…).
Focusing on transition years (elementary to middle, middle to high, and high to
post-secondary).
Specific components of the Colorado RtI Family and Community Engagement Module
have been designed to be useful in secondary schools, as well as earlier levels. Sample
documents, including those for teachers and principals, can hopefully be adapted with a
secondary "twist". "Partnering Stories from the Field" has numerous middle and high
school teacher reports. Targeted and Intensive tools focusing on problem solving can
hopefully be useful to deans, case managers, and/or other staff who may be working
with problem-solving teams – all were developed to be flexible in format and
communication venue. Examples of partner planning are from secondary schools.
RtI Family and Community Engagement Module/Colorado Department of Education
June 2009
Resources with specific reference to strengthening family and community partnerships
at the secondary level are listed below.
Constantino, S.M., (2008). 101 ways to create real family engagement. Galax,
VA: ENGAGE! Press.
Bridgeland, J.M., Dilulio, J.J., Streeter, R.T. & Mason, J.R. (2008). One dream,
two realities: Perspectives of parents on America's high schools.
Retrieved April 8, 2009, from
http://www.civicenterprises.net/pdfs/onedream.pdf
Constantino, S.M. (2003). Engaging all families: Creating a positive school
culture by putting research into practice. Lanham, MD: Scarecrow
Education.
Epstein, J.L., Sanders, M.V., Simon, B.S., Salinas, K.C., Jansorn, N.R., & Van
Voorhis, F.L. (2002). School, family, and community partnerships: Your
handbook for action. Thousands Oaks, CA: Corwin Press.
National Network of Partnering Schools
http://www.csos.jhu.edu/p2000/Research/researchpubs.htm middleandhighschools
TIPS: Teachers Involving Parents in Homework
http://www.csos.jhu.edu/p2000/tips/index.htm
* Material in this fact sheet was adapted from Epstein et al., 2002 .