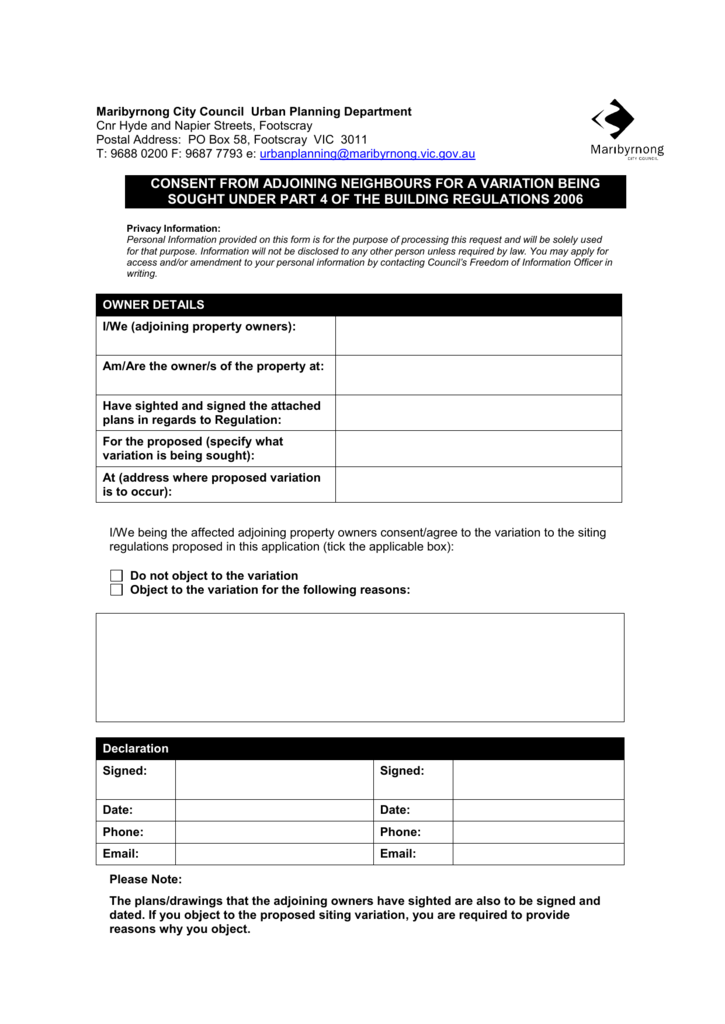 Maribyrnong City Council Urban Planning Department
Cnr Hyde and Napier Streets, Footscray
Postal Address: PO Box 58, Footscray VIC 3011
T: 9688 0200 F: 9687 7793 e: [email protected]
CONSENT FROM ADJOINING NEIGHBOURS FOR A VARIATION BEING
SOUGHT UNDER PART 4 OF THE BUILDING REGULATIONS 2006
Privacy Information:
Personal Information provided on this form is for the purpose of processing this request and will be solely used
for that purpose. Information will not be disclosed to any other person unless required by law. You may apply for
access and/or amendment to your personal information by contacting Council's Freedom of Information Officer in
writing.
OWNER DETAILS
I/We (adjoining property owners):
Am/Are the owner/s of the property at:
Have sighted and signed the attached
plans in regards to Regulation:
For the proposed (specify what
variation is being sought):
At (address where proposed variation
is to occur):
I/We being the affected adjoining property owners consent/agree to the variation to the siting
regulations proposed in this application (tick the applicable box):
Do not object to the variation
Object to the variation for the following reasons:
Declaration
Signed:
Signed:
Date:
Date:
Phone:
Phone:
Email:
Email:
Please Note:
The plans/drawings that the adjoining owners have sighted are also to be signed and
dated. If you object to the proposed siting variation, you are required to provide
reasons why you object.