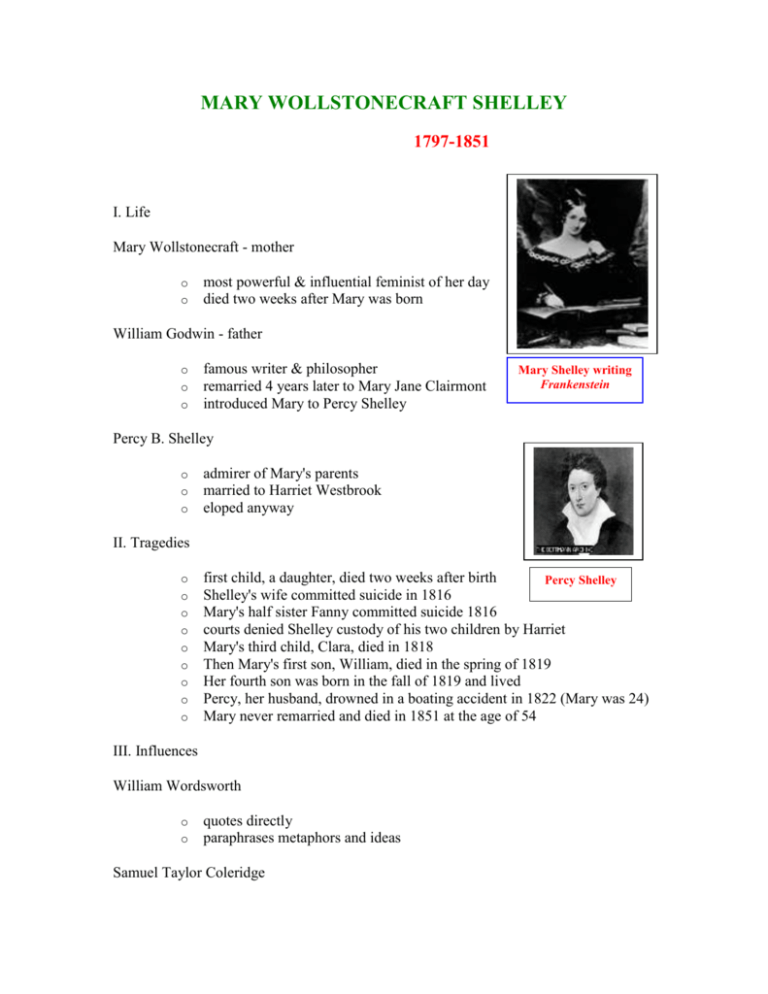 MARY WOLLSTONECRAFT SHELLEY
1797-1851
I. Life
Mary Wollstonecraft - mother
o
o
most powerful & influential feminist of her day
died two weeks after Mary was born
William Godwin - father
o
o
o
famous writer & philosopher
remarried 4 years later to Mary Jane Clairmont
introduced Mary to Percy Shelley
Mary Shelley writing
Frankenstein
Percy B. Shelley
o
o
o
admirer of Mary's parents
married to Harriet Westbrook
eloped anyway
II. Tragedies
o
o
o
o
o
o
o
o
o
first child, a daughter, died two weeks after birth
Percy Shelley
Shelley's wife committed suicide in 1816
Mary's half sister Fanny committed suicide 1816
courts denied Shelley custody of his two children by Harriet
Mary's third child, Clara, died in 1818
Then Mary's first son, William, died in the spring of 1819
Her fourth son was born in the fall of 1819 and lived
Percy, her husband, drowned in a boating accident in 1822 (Mary was 24)
Mary never remarried and died in 1851 at the age of 54
III. Influences
William Wordsworth
o
o
quotes directly
paraphrases metaphors and ideas
Samuel Taylor Coleridge
o
Rime of the Ancient Mariner is one of the central metaphors of the novel
William Godwin & Mary Wollstonecraft (parents)
Percy B. Shelley (husband)
Lord Byron (friend)
o
suggested horror story contest
Frankenstein
Mary Shelley's drawing of
her creature
I. Gothic Horror Story Genre
A. Author emphasizes:
o
o
o
o
o
o
grotesque elements
the mysterious
desolate environment
the horrible
the ghostly
fear that can be aroused in the reader
o
sense of remoteness and uncertainty (setting in
foreign/unknown country & time is contemporary because
of modern science element)
favors intuition and emotion
 intuitive:
 monster is born with emotions & feelings,
but must learn how to read and write
 emotional:
 adoption of underprivileged children
 rejection of a marriage vow in favor of true
love
 death of sweet William
 devotion of Victor & Elizabeth
characters possess some sort of psychic communication
(monster tends to appear out of nowhere in order to
advance the plot)
B. Characteristics
o
o
o
emphasize the strange, the bizarre, the unusual, and the
unexpected (i.e. – living corpses, characters who refuse to
die, frightening experiences)
II. The Novel


Sources
o other gothic novels
o William Godwin
 views concerning the innate goodness of man, the rational structure
of ideal, and the idea of the hounded person
o Coleridge's "Rime of the Ancient Mariner"
 quoted and paraphrased throughout the novel
 suggests the device of the obsessive teller of a tale
o Milton's Paradise Lost
 female version "in which Victor & the monster…play neo-biblical
parts"
 i.e. – the monster compares himself to Adam, but realizes that in
actuality, he is the fallen angel
o Legend of Prometheus
 idea of a violated contract between God and man
Form
o The Frame Device
o tale is told to us by someone who reads or hears it from
someone else
o
o
o
o
o
function is to give credibility to an otherwise implausible
event or clear the narrator and/or author from responsibility
for the events
Theme of Corruption
the monster
 begins innocent
 turns to murder after being rejected
Victor Frankenstein
 creates the monster in a mood of mad pride
 abandons his creation
Hollywood's movie
 does not fulfill his duty
society as a whole
creature
 loss of innocence
 lack of responsibility
 lack of commitment
 no sense of duty
Gothic Fiction

The reader passes from the reasoned order of the everyday world into a dark
region governed by:
1. Supernatural beings
2. Decay
3. Dread and horror

Much of the inspiration for Gothic fiction was drawn from medieval buildings and
ruins which featured castles and monasteries equipped with subterranean
passages, hidden panels, chambers of torture, and dark towers.

There are 2 styles of Gothic fiction:
1. Detective or mystery
2. Horror

In Gothic fiction forces of evil predominate, usually in the person of a great
villain. Opposed to these is a virtuous maiden who is at once repelled and
attracted by the evil around her. In some novels virtue triumphs; in others the evil
is so monumental that everything good in its path is destroyed, and then it
destroys itself.

Mary Shelley's Frankenstein also has elements of science and horror fiction.
Stephen King has also used Gothic settings very successfully in recent times.