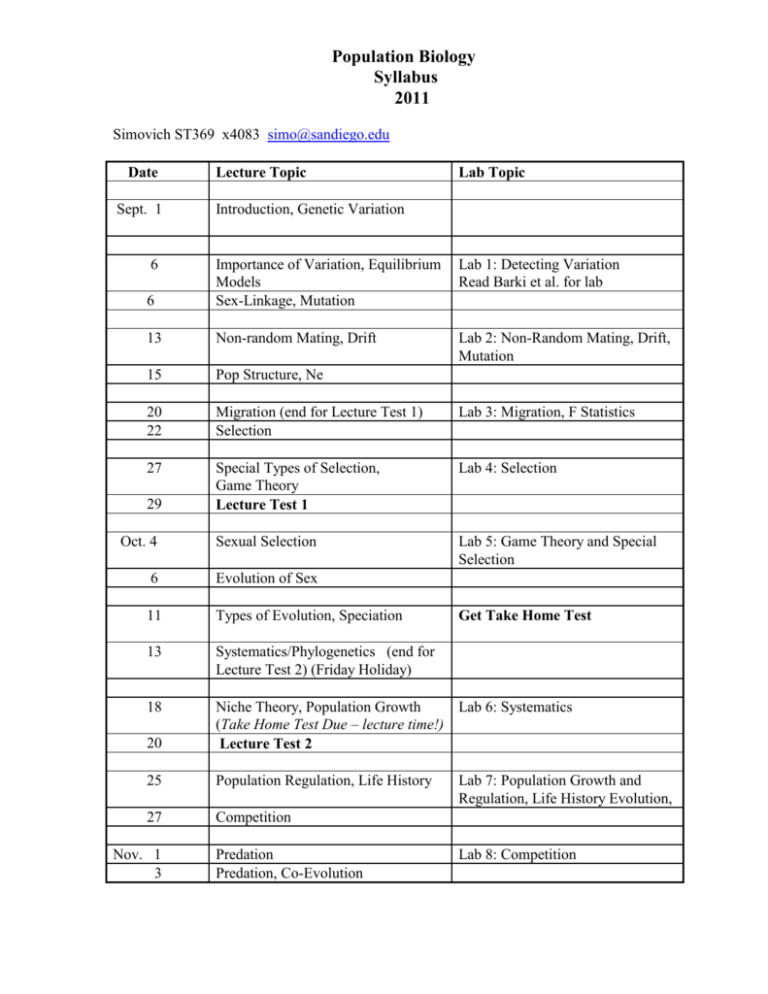 Population Biology
Syllabus
2011
Simovich ST369 x4083 simo@sandiego.edu
Date
Sept. 1
6
Lecture Topic
Lab Topic
Introduction, Genetic Variation
Lab 1: Detecting Variation
Read Barki et al. for lab
6
Importance of Variation, Equilibrium
Models
Sex-Linkage, Mutation
13
Non-random Mating, Drift
Lab 2: Non-Random Mating, Drift,
Mutation
15
Pop Structure, Ne
20
22
Migration (end for Lecture Test 1)
Selection
Lab 3: Migration, F Statistics
27
Special Types of Selection,
Game Theory
Lecture Test 1
Lab 4: Selection
Oct. 4
Sexual Selection
Lab 5: Game Theory and Special
Selection
6
Evolution of Sex
11
Types of Evolution, Speciation
13
Systematics/Phylogenetics (end for
Lecture Test 2) (Friday Holiday)
18
20
Niche Theory, Population Growth
Lab 6: Systematics
(Take Home Test Due – lecture time!)
Lecture Test 2
25
Population Regulation, Life History
27
Competition
29
Nov. 1
3
Predation
Predation, Co-Evolution
Get Take Home Test
Lab 7: Population Growth and
Regulation, Life History Evolution,
Lab 8: Competition
Date
8
Lecture Topic
Community Ecology
10
Conservation Biology
15
PVA (end for Lecture Test 3)
(demo simulation)
17
Papers only (at lecture time)
22
24
Lecture Test 3 (FIXED)
Thanksgiving Holiday
Lab 11: TBA
Talks (3)
Talks (3)
Talks (5)
6
8
Talks (3)
Talks (3)
Talks (3) Torrey Pines Field Trip
15
Final Thursday 8-10 am
Please note date and time!!
29
Dec. 1
Organization
Three Lecture Tests @ 100 pts each
Special Topic Lecture & Bibliography
Final (On Special Topics and Field Trips)
Take Home Lab Test
Lab/Field Assignments 10 @ 10pts each
Lead Paper Discussion 2@ 25pts each
Summaries 10 @ 5 pts each
Participation & homework
Total
Lab Topic
Lab 9: Predation
Lab 10: Metapopulations, Island
Biogeography, Community
Ecology, "Lord of the Ants"
Points
300
100
50
50
100
50
50
ec
700
Homework is not mandatory. However, the questions are very similar to test questions.
Extra credit will be given for turning in homework at the beginning of the lab after the
topic has been covered in lecture.
Final is questions from student talks and field trips
Field trips are mandatory. Missing a trip will result in a loss of 25 pts.
Grading 90 80 70 60
Lecture Texts: None required. I will have a few reference texts on reserve in the Library.
Lab Text: Please print out lab materials from Web CT and bring to lab as needed
There are no make-up tests, paper discussions or talks
WebCT: The lectures include a lot of math as well as graphs and figures that are time
consuming to draw in class. All lecture outlines including the figures are on Web CT. You are
encouraged to print out the outlines and bring them to class to take notes on. Alternatively, you
can download them and bring your own laptop. Your name on the class list should allow you
access. Bring one lecture ahead in case we have time to start it.
The readings are available on e-reserves using the password "population"
Special Topics Suggestions: By approval only
GM Foods
PVA Case Studies
Captive Breeding Case Studies
Evolution of Invasive Species
Invasive Species Case Studies
Transgene Escape
Evolution of Pathogens
Species Jumping Pathogens
Pertinence of ESUs in the ESA
Pertinence of ESUs in Restoration
Historical Implications of Epidemics
Forensic Genetics
Genetics of Endangered Species
Genetics and Ecology of Transplanting Populations
Genetics of Human Founders Effects or Inbreeding
Effects of Habitat Loss on Co-evolved Species
The Effect of Climate Change on Populations
The Gulf Spill Population Effects
Hurricane Katrina Population Effects
Population Biology Student Learning Objectives
By the end of this course students should be able to:
 Describe how genetic variation in populations originates, is distributed and changes
 Explain how organism's life history evolves in adaptation to their environment
 Interpret how species within a community interact
 Recognize how human activities affect natural systems
 Apply the math models of population genetics and ecology to make predictions about
changes and perturbations in natural populations
 Formulate and test hypotheses based on population math models using computer
simulations
 Read, understand and evaluate the hypotheses, data analysis and conclusions of scientific
papers.