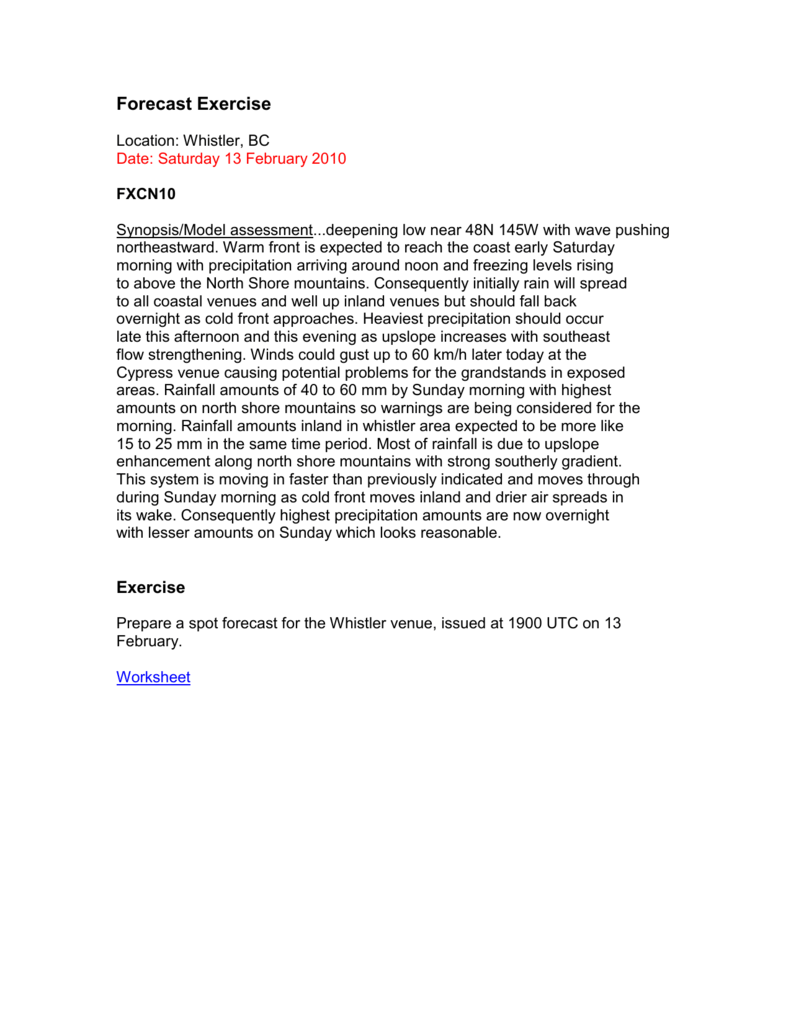 Forecast Exercise
Location: Whistler, BC
Date: Saturday 13 February 2010
FXCN10
Synopsis/Model assessment...deepening low near 48N 145W with wave pushing
northeastward. Warm front is expected to reach the coast early Saturday
morning with precipitation arriving around noon and freezing levels rising
to above the North Shore mountains. Consequently initially rain will spread
to all coastal venues and well up inland venues but should fall back
overnight as cold front approaches. Heaviest precipitation should occur
late this afternoon and this evening as upslope increases with southeast
flow strengthening. Winds could gust up to 60 km/h later today at the
Cypress venue causing potential problems for the grandstands in exposed
areas. Rainfall amounts of 40 to 60 mm by Sunday morning with highest
amounts on north shore mountains so warnings are being considered for the
morning. Rainfall amounts inland in whistler area expected to be more like
15 to 25 mm in the same time period. Most of rainfall is due to upslope
enhancement along north shore mountains with strong southerly gradient.
This system is moving in faster than previously indicated and moves through
during Sunday morning as cold front moves inland and drier air spreads in
its wake. Consequently highest precipitation amounts are now overnight
with lesser amounts on Sunday which looks reasonable.
Exercise
Prepare a spot forecast for the Whistler venue, issued at 1900 UTC on 13
February.
Worksheet
1. Reference Material
Map of British Columbia
Map of Southwestern BC
GE Map of Whistler
2. Observed Weather to 13 Feb 1800 UTC
Surface Analysis 1200 UTC
850mb
500mb
250mb
Soundings
13 /12Z
Q12
P12
T12
CYQQ
CEWP
CYZT
Surface weather
VOA
VOB
VOC
VOL
VOT
All
Radar
Radar Angles
Cross Sections
Doppler V
Reflectivity
PPI
Satellite
57 Deg
Anim_VR_57
Anim_LogZ_57
73 Deg
Anim_VR_73
Anim_LogZ_73
360 Deg
Anim_VR_360
Anim_LogZ_360
LogZ
VR
IR Large sector
WV Large sector
Wind Profiler
Basic profile to 2500 m
Profile to 1500 m
3. Model Guidance
GEM REG
4 panel
Clds_QPF
Pcpn_thckns
GFS loops
500mb Vorticity
Sfc_pcpn
850t_wind
GEM LAM 2.5km
QPF
Snow Density
Visibility
X-Section
Prog Soundings (animations) - LAM issue: ddhh
VOA
VOC
WSK
YVR
1 km LAM 1311
A1
C1
K1
R1
2.5 km LAM 1306
A2
C2
K2
R2
2.5 km LAM 1315
A2
C2
Meteograms
VOA
VOB
VOL
WSK
YVR
Precipitation
A1
B1
L1
K1
R1
Snow
Wind
A2
B2
L2
K2
R2
Temp
A3
B3
L3
K3
R3
A4
B4
L4
K4
R4
MOS Guidance
Issue 0300Z
Issue 1500Z
Appendix
Morning Forecast from PSPC
CPCN30 CWVR 131300
FORECASTS FOR THE WHISTLER - ALPINE VENUES ISSUED BY
ENVIRONMENT CANADA AT 5.00 AM PST SATURDAY 13 FEBRUARY 2010
FOR TODAY AND SUNDAY WITH AN OUTLOOK FOR MONDAY TO FRIDAY .
THE NEXT SCHEDULED FORECAST WILL BE ISSUED AT 11.00 AM.
WHISTLER - ALPINE VENUES
TODAY.. CLOUDY. FLURRIES AND RAIN SHOWERS BEGINNING LATE THIS
MORNING CHANGING TO RAIN THIS AFTERNOON.
FOG PATCHES THIS MORNING. FOG LATE THIS AFTERNOON.
HIGH PLUS 3.
TONIGHT.. RAIN CHANGING TO PERIODS OF SNOW MIXED WITH RAIN
OVERNIGHT. RAINFALL AMOUNT 10 TO 15 MM EXCEPT SNOWFALL
AMOUNT 2 CM. 15 CM AT THE TOP OF THE COURSE. FOG.
LOW PLUS 1.
SUNDAY.. PERIODS OF SNOW MIXED WITH RAIN CHANGING TO RAIN AT
TIMES MIXED WITH SNOW NEAR NOON AND ENDING IN THE
AFTERNOON THEN CLOUDY. SNOWFALL AMOUNT 5 CM. RAINFALL
AMOUNT 10 MM. FOG DISSIPATING IN THE MORNING.
HIGH PLUS 3.