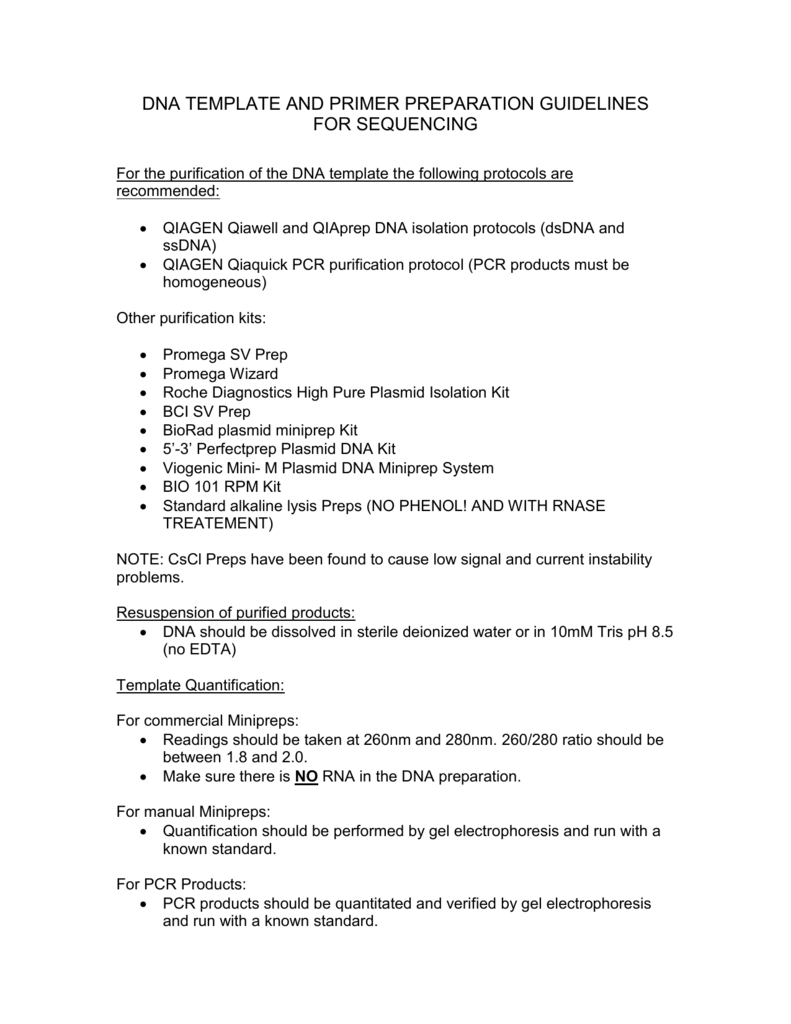 DNA TEMPLATE AND PRIMER PREPARATION GUIDELINES
FOR SEQUENCING
For the purification of the DNA template the following protocols are
recommended:


QIAGEN Qiawell and QIAprep DNA isolation protocols (dsDNA and
ssDNA)
QIAGEN Qiaquick PCR purification protocol (PCR products must be
homogeneous)
Other purification kits:









Promega SV Prep
Promega Wizard
Roche Diagnostics High Pure Plasmid Isolation Kit
BCI SV Prep
BioRad plasmid miniprep Kit
5'-3' Perfectprep Plasmid DNA Kit
Viogenic Mini- M Plasmid DNA Miniprep System
BIO 101 RPM Kit
Standard alkaline lysis Preps (NO PHENOL! AND WITH RNASE
TREATEMENT)
NOTE: CsCl Preps have been found to cause low signal and current instability
problems.
Resuspension of purified products:
 DNA should be dissolved in sterile deionized water or in 10mM Tris pH 8.5
(no EDTA)
Template Quantification:
For commercial Minipreps:
 Readings should be taken at 260nm and 280nm. 260/280 ratio should be
between 1.8 and 2.0.
 Make sure there is NO RNA in the DNA preparation.
For manual Minipreps:
 Quantification should be performed by gel electrophoresis and run with a
known standard.
For PCR Products:
 PCR products should be quantitated and verified by gel electrophoresis
and run with a known standard.
Contaminants affecting the DNA sequencing:
Sequencing reactions will fail if there is more than:
1.
2.
3.
4.
5.
6.
7.
8.
1 mg of RNA
0.3 % of PEG
0.5 mM of sodium acetate
1.25% of ethanol
0% Phenol
0% Chloroform
5 mM CsCl
5 mM EDTA
Primer considerations:
When designing your primers, there are several conditions that should be
considered:
 Have a size of 20-24 bases
 GC content should be around 50%
 Tm should be greater than 500C with an optimum of 600C
 The primer should be situated at 40 bp before the sequence of interest
 Avoid primer dimerization (The recommended software is OLIGO 6.0)
 Purifications by HPLC or OCP columns is highly recommended
 Working primer stock of 3-5 uM is satisfactory for the DNA sequencing
 Make sure that there is only one annealing site for the primer used
 Verify that there are not any known polymorphisms in the annealing site of
your primer.