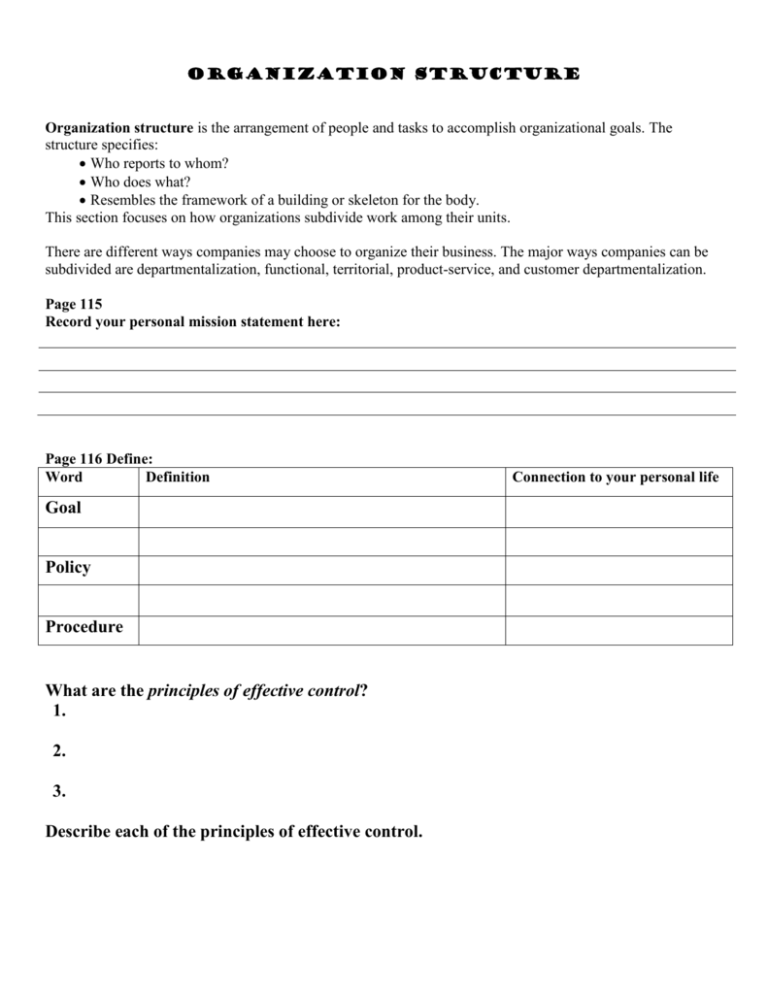 Organization Structure
Organization structure is the arrangement of people and tasks to accomplish organizational goals. The
structure specifies:
 Who reports to whom?
 Who does what?
 Resembles the framework of a building or skeleton for the body.
This section focuses on how organizations subdivide work among their units.
There are different ways companies may choose to organize their business. The major ways companies can be
subdivided are departmentalization, functional, territorial, product-service, and customer departmentalization.
Page 115
Record your personal mission statement here:
Page 116 Define:
Word
Definition
Goal
Policy
Procedure
What are the principles of effective control?
1.
2.
3.
Describe each of the principles of effective control.
Connection to your personal life
Organizational
Structure
1.Functional
Description
Advantages
Disadvantages
2.Matrix
5. How will the appearance of an organizational chart for a business using a functional
organization structure be different from one using a matrix organizational structure? What should
you be able to learn about a business by studying the organization chart?
1. A local business owner has asked you to prepare an organization chart that illustrates the business's
operations and management. The owner provides you with the following information. Draw a chart that reflects
the information provided. Fondy CarMax Mall
a) The owner of the business is JM Gray
b) The business consists of a service station, a used car sales, department, a report department, and a
parts department.
c) Mr. Gray's daughter, Joan, acts as his assistant but also management the parts department and
supervises to a certain extent all the other functions.
d) BL O'Hara and three assistants operate the repair department.
e) OP Thompson is in charge of the used-car sales, but an employee by the name of Linda Williams
spends most of her time selling the cars.
f) Gray's nephew, Jim Blake, takes care of the service station with the assistance of two part-time
employees, Bo Jakes and Rundell Brown.
DRAW YOUR CHART IN THE SPACE BELOW or SEPARATE SHEET.
2. Assume you have hired at least two full-time and four part-time employees to help you operate your
business. Consider the operation and activities that must be completed in your business. Then prepare an
organizational chart for the business in which you list job titles and duties for each employee. Why do you
believe that structure will be most effective?
Business Name ____________________________
Industry _________________________________
3. Many schools using a functional organizational structure. Teachers are organized into departments such as
English, Math, Science, and Business. How could a school be organized using a matrix structure? Design an
organization chart that illustrates that structure for your school. Describe the advantages and disadvantages
of that structure.