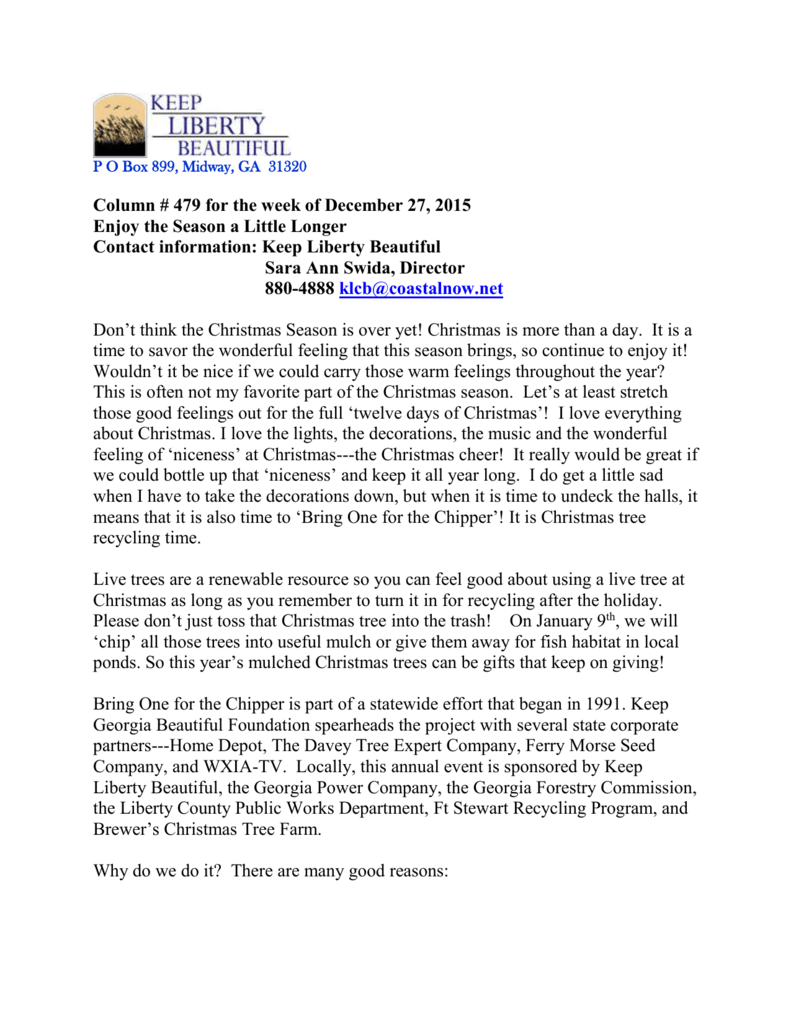 P O Box 899, Midway, GA 31320
Column # 479 for the week of December 27, 2015
Enjoy the Season a Little Longer
Contact information: Keep Liberty Beautiful
Sara Ann Swida, Director
880-4888 [email protected]
Don't think the Christmas Season is over yet! Christmas is more than a day. It is a
time to savor the wonderful feeling that this season brings, so continue to enjoy it!
Wouldn't it be nice if we could carry those warm feelings throughout the year?
This is often not my favorite part of the Christmas season. Let's at least stretch
those good feelings out for the full 'twelve days of Christmas'! I love everything
about Christmas. I love the lights, the decorations, the music and the wonderful
feeling of 'niceness' at Christmas---the Christmas cheer! It really would be great if
we could bottle up that 'niceness' and keep it all year long. I do get a little sad
when I have to take the decorations down, but when it is time to undeck the halls, it
means that it is also time to 'Bring One for the Chipper'! It is Christmas tree
recycling time.
Live trees are a renewable resource so you can feel good about using a live tree at
Christmas as long as you remember to turn it in for recycling after the holiday.
Please don't just toss that Christmas tree into the trash! On January 9th, we will
'chip' all those trees into useful mulch or give them away for fish habitat in local
ponds. So this year's mulched Christmas trees can be gifts that keep on giving!
Bring One for the Chipper is part of a statewide effort that began in 1991. Keep
Georgia Beautiful Foundation spearheads the project with several state corporate
partners---Home Depot, The Davey Tree Expert Company, Ferry Morse Seed
Company, and WXIA-TV. Locally, this annual event is sponsored by Keep
Liberty Beautiful, the Georgia Power Company, the Georgia Forestry Commission,
the Liberty County Public Works Department, Ft Stewart Recycling Program, and
Brewer's Christmas Tree Farm.
Why do we do it? There are many good reasons:
 To promote awareness about the benefits of trees. Trees help clean the air
and keep the air cool. So we also give out tree seedlings for planting for each
tree turned in for recycling.
 To raise awareness about environmental concerns and solutions. Recycling
is one of the easiest ways that local citizens can make a positive difference
for our environment every day. So, if you have never recycled, start with
your Christmas tree!
 To increase citizen involvement in solutions that help to reduce solid waste.
You--and I---are the solution to waste reduction. Our everyday choices about
what we buy and what we use and then how we dispose of items determine
how much waste is accumulated. I don't think you want to live in a 'trash
world' any more than I do.
 To produce useful mulch for home and community projects for soil
enhancement and erosion control. By mulching the trees that are turned in,
we can offer free mulch to local citizens to enhance their landscape and to
prevent soil erosion (after the mulch has 'baked" a little).
 To give out tree seedlings---and vegetable seeds this year, courtesy of FerryMorse--- for planting in exchange for recycled trees to beautify our
community and to encourage planting.
Between December 26th and January 9th, we will have a number of locations
around the county for turning in the trees for recycling. Citizens in Hinesville can
have their undecorated trees picked up by OMI. If you are unable to join us on
our main 'Mulch Day' on January 9th, you can also deposit your tree in the
designated location at any Liberty County Solid Waste Convenience Center or
Recycling Drop off Center during normal operation hours between December 26th
and January 9th. These locations are:
 25 South Dairy Road (SR 196W, GumBranch)
 156 Pate Rogers Road (Fleming)
 836 Limerick Road (near Lake George)
 64 Left Field Road (Hwy 84, Miller Park)
 619 J V Road (west of Hinesville)
 50 Isle of Wight Road (Midway area)
 344 Ft Morris Road (East End near Sunbury)
 111 Carter Road (behind Poole's Deli)
 129 Sandy Run (off Hwy 84)
 941 E G Miles Parkway ( SR 196W at Training Center)
 Walthourville Public Works site
 4000 Coastal Hwy (Hwy 17 in Riceboro)
 Ft Stewart PX
 Main location: The Liberty County Health Department
At our Chipper Mulch site at the Liberty County Health Department at the corner
of Hwy 84 and Patriot's Trail, we will have our annual chipping day from 9am
until 1pm on Saturday, January 9th. The Mulch Day is a fun day for everyone, so
please drop by and bring your tree. All participants will receive dogwood tree
seedlings and vegetable and flower seeds in exchange for each tree brought in,
while our supplies last. Remember: all trees dropped off must be 'undecorated'
and free of any binding! Georgia Power Company graciously provides the
equipment and manpower to mulch all the trees for our county and those
decorations can really be a problem when the trees are going through the chipper.
Decorations do not make good mulch, so please remember to 'undecorate' those
trees.
There are two more actions that you can take that will continue to make this season
more joyous. Remember to nominate a deserving business for the quarterly Windex Awards. Our local businesses are there most attractive during this season
when they are decorated for our community's enjoyment, so send in your
nomination before the end of the month. For more information, contact KLB at
880-4888 or [email protected] .
Also remember when you are packing up the trash from your holiday celebrations,
to secure your garbage bags tightly and make sure you close the lid on your
garbage can or polycart, so that your celebration trash does not become litter on
our roads! Also remember if you carry your garbage for drop off to secure your
bags or containers in your vehicle so that you do not inadvertently 'decorate' our
roads with your litter!
And remember: the Chipper program has significant environmental benefits for our
county and the 120 other Georgia communities that participate each year. The
Chipper recycling is a simple and effective program that benefits all of us. Please
give this gift to nature this year. It is one present that will not need any wrapping!
For information, contact Keep Liberty Beautiful at 880-4888 or
[email protected] or check out information on www.keeplibertybeautiful.org .