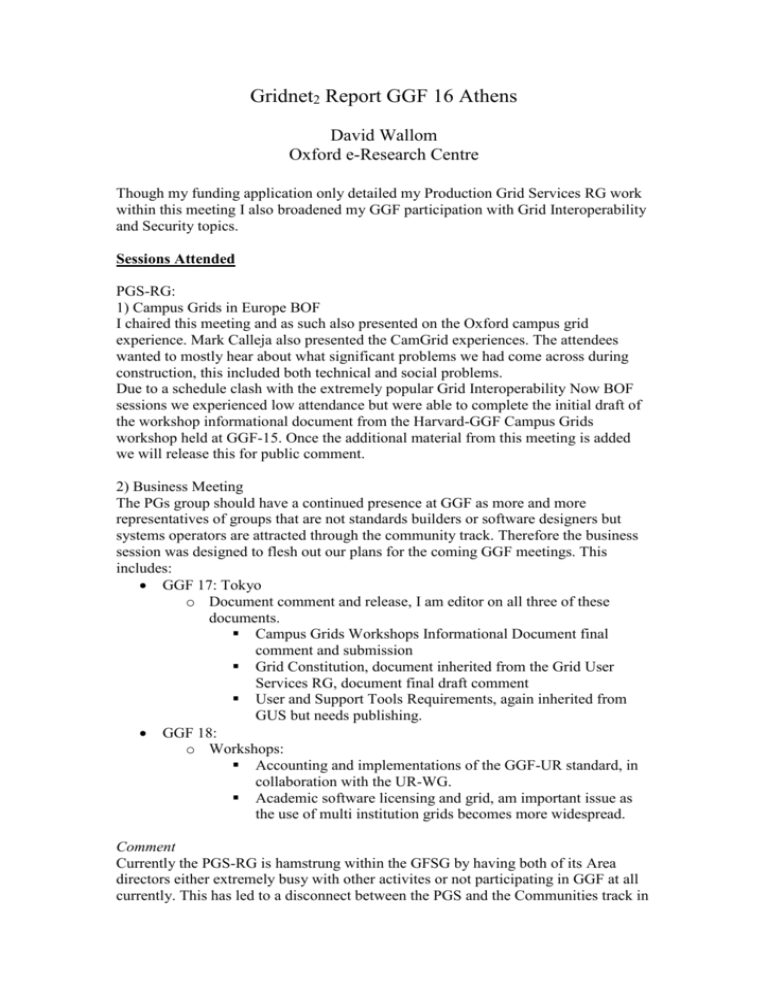 Gridnet2 Report GGF 16 Athens
David Wallom
Oxford e-Research Centre
Though my funding application only detailed my Production Grid Services RG work
within this meeting I also broadened my GGF participation with Grid Interoperability
and Security topics.
Sessions Attended
PGS-RG:
1) Campus Grids in Europe BOF
I chaired this meeting and as such also presented on the Oxford campus grid
experience. Mark Calleja also presented the CamGrid experiences. The attendees
wanted to mostly hear about what significant problems we had come across during
construction, this included both technical and social problems.
Due to a schedule clash with the extremely popular Grid Interoperability Now BOF
sessions we experienced low attendance but were able to complete the initial draft of
the workshop informational document from the Harvard-GGF Campus Grids
workshop held at GGF-15. Once the additional material from this meeting is added
we will release this for public comment.
2) Business Meeting
The PGs group should have a continued presence at GGF as more and more
representatives of groups that are not standards builders or software designers but
systems operators are attracted through the community track. Therefore the business
session was designed to flesh out our plans for the coming GGF meetings. This
includes:
 GGF 17: Tokyo
o Document comment and release, I am editor on all three of these
documents.
 Campus Grids Workshops Informational Document final
comment and submission
 Grid Constitution, document inherited from the Grid User
Services RG, document final draft comment
 User and Support Tools Requirements, again inherited from
GUS but needs publishing.
 GGF 18:
o Workshops:
 Accounting and implementations of the GGF-UR standard, in
collaboration with the UR-WG.
 Academic software licensing and grid, am important issue as
the use of multi institution grids becomes more widespread.
Comment
Currently the PGS-RG is hamstrung within the GFSG by having both of its Area
directors either extremely busy with other activites or not participating in GGF at all
currently. This has led to a disconnect between the PGS and the Communities track in
which it should be very involved (i.e our AD should be pointing out in GFSG that
these community meetings should all be in association with PGS).
Grid Interoperability Now
A new activity to ensure that as the spread of production grids is made across the
world there is a sufficient level of basic interoperability between then has just started.
As chair of the ETF it is important that I am involved in this so that we can plan for
the future work of the ETF with knowledge of the production interoperability efforts
that are ongoing.
The work is split into four work packages:
 Authentication
o General agreement to use the standard IGTF list of CAs
 Information Systems
o Considered that as most grids were mostly using GLUE already that
this would be the best place to start
 Data Management
o It was concluded that SRM form the best basis for interoperation
between the various storage mechanisms that are already in place.
 Job submission, accounting
o Each production system stood and explained which resources it would
be submitting to the overall effort.
Various discussions were had for each WP to which generally the UK based people
contributed most successfully. These sessions managed to run for nearly three days
during which time most of the participants we were expecting in the PGS sessions
were present, this was the major cause of our lack of participation.
Virtualisation and Security
The Trusted Computing-RG held a birds of a feather session on virtualisation. This
was intended to be focused on the technologies of virtual machines, there were three
talks, one by Andrew Cooper (Oxford Comlab) "Virtualisation and the Grid", Wembo
Mao (HP) "Secure virtualisation with Trusted Computing" and myself "Virtualisation
in Campus Grids".
Several comments by other groups that are already using VM technologies and the
problems of management of these VMs was a large subject. This moved onto what
would be the way forward for this group, which included:
 Need for standard technology agnostic API for VMs which could be the
subject of a GGF WG.
 Need for workshop on best practice for use of VMs in grid environments, this
will be done in conjunction with the PGS-RG
It will be important that both strands of the activity from this session are kept in close
contact so that levels of interest are maintained.
Conclusions on GGF 16
The GGF meeting as a whole was very useful with the GIN meetings being a
dominant force on how the production systems will move forward to make sure they
are interoperable at least at the basic level.
The PGS sessions were unfortunately under attended but the group continued working
and has the opportunity with the virtualisation work to hold further workshops on best
practice as defined in our charter. We are also near to release for public comment of
our workshop informational document.