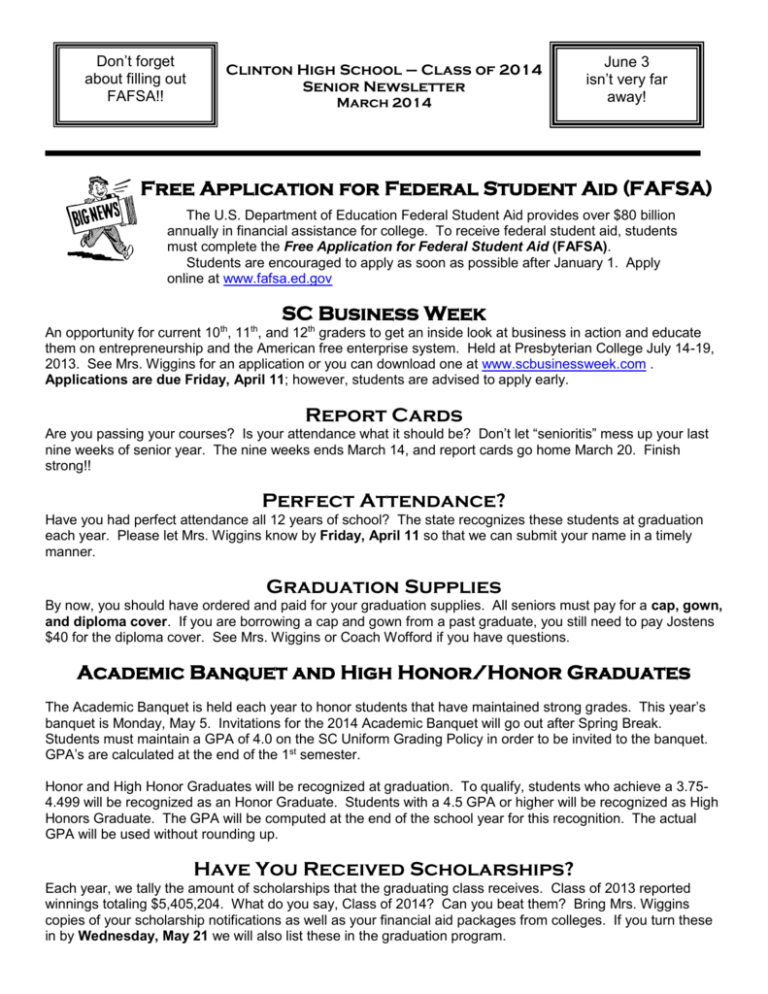 Don't forget
about filling out
FAFSA!!
Clinton High School – Class of 2014
Senior Newsletter
March 2014
June 3
isn't very far
away!
Free Application for Federal Student Aid (FAFSA)
The U.S. Department of Education Federal Student Aid provides over $80 billion
annually in financial assistance for college. To receive federal student aid, students
must complete the Free Application for Federal Student Aid (FAFSA).
Students are encouraged to apply as soon as possible after January 1. Apply
online at www.fafsa.ed.gov
SC Business Week
th
th
An opportunity for current 10 , 11 , and 12th graders to get an inside look at business in action and educate
them on entrepreneurship and the American free enterprise system. Held at Presbyterian College July 14-19,
2013. See Mrs. Wiggins for an application or you can download one at www.scbusinessweek.com .
Applications are due Friday, April 11; however, students are advised to apply early.
Report Cards
Are you passing your courses? Is your attendance what it should be? Don't let "senioritis" mess up your last
nine weeks of senior year. The nine weeks ends March 14, and report cards go home March 20. Finish
strong!!
Perfect Attendance?
Have you had perfect attendance all 12 years of school? The state recognizes these students at graduation
each year. Please let Mrs. Wiggins know by Friday, April 11 so that we can submit your name in a timely
manner.
Graduation Supplies
By now, you should have ordered and paid for your graduation supplies. All seniors must pay for a cap, gown,
and diploma cover. If you are borrowing a cap and gown from a past graduate, you still need to pay Jostens
$40 for the diploma cover. See Mrs. Wiggins or Coach Wofford if you have questions.
Academic Banquet and High Honor/Honor Graduates
The Academic Banquet is held each year to honor students that have maintained strong grades. This year's
banquet is Monday, May 5. Invitations for the 2014 Academic Banquet will go out after Spring Break.
Students must maintain a GPA of 4.0 on the SC Uniform Grading Policy in order to be invited to the banquet.
GPA's are calculated at the end of the 1st semester.
Honor and High Honor Graduates will be recognized at graduation. To qualify, students who achieve a 3.754.499 will be recognized as an Honor Graduate. Students with a 4.5 GPA or higher will be recognized as High
Honors Graduate. The GPA will be computed at the end of the school year for this recognition. The actual
GPA will be used without rounding up.
Have You Received Scholarships?
Each year, we tally the amount of scholarships that the graduating class receives. Class of 2013 reported
winnings totaling $5,405,204. What do you say, Class of 2014? Can you beat them? Bring Mrs. Wiggins
copies of your scholarship notifications as well as your financial aid packages from colleges. If you turn these
in by Wednesday, May 21 we will also list these in the graduation program.
Scholarships
Continue to check the CHS Guidance Website regularly for new scholarship information. Many scholarship
opportunities can be found through scholarship databases like www.fastweb.com Adhere to scholarship
deadlines. If you need a transcript or letter of recommendation, give your teacher/counselor ample time to
meet deadlines as well.
A listing of new scholarships in addition to the ones below will be on the school website!
Current Scholarships Available





Piedmont Technical College Scholarships
o Several scholarships available to students planning to attend Piedmont Tech in the Fall
o Applications available in guidance
o Deadline: Friday, April 11
"My Books Cost How Much?!" Book Assistance Scholarship 2014
o Eligibility: first-generation college student, single parent household, B average, community service.
Scholarship will pay for first semester books in college
o Applications available in guidance.
o Deadline: Friday, April 11
McAlister Foundation Scholarship 2014
o FULL scholarship awarded to one graduating member of the CHS Class of 2014 – student must
demonstrate financial need and be attending a public institution in South Carolina in the Fall
o Applications available in guidance
o Deadline: Friday, April 11
Charles L. Cummins, Jr./Mae B. Wham Scholarship
o Applicants must be current seniors and residents of Laurens County, demonstrate financial need, have
a 2.4/4.0 or better GPA, demonstrate leadership qualities, and participate in extracurricular school and
community activities.
o Applications available in guidance
o Deadline: Friday, April 11
Mercer Silas Bailey Memorial Scholarship
o One Clinton High student will be awarded a $20,000 scholarship ($5,000 per year for up to 4 years).
o To be eligible, an applicant must be a graduating senior at Clinton High, must be accepted into a 4-year
degree granting college or university, must show need for financial assistance, and must file a
completed application by the deadline.
o Applications available in Guidance
o Deadline: Friday, April 11
2014
Remember:
 To have transcripts and school information sent for college
applications, you must complete a transcript release form and
include $1 for postage.
 If you have not applied to college, please see Mrs. Wiggins right
away for some direction.
 Pay attention to scholarship deadlines. Some deadlines in this
newsletter are intentionally earlier than the actual deadline in
order to give counselors time to complete paperwork and have
postmarked on time.