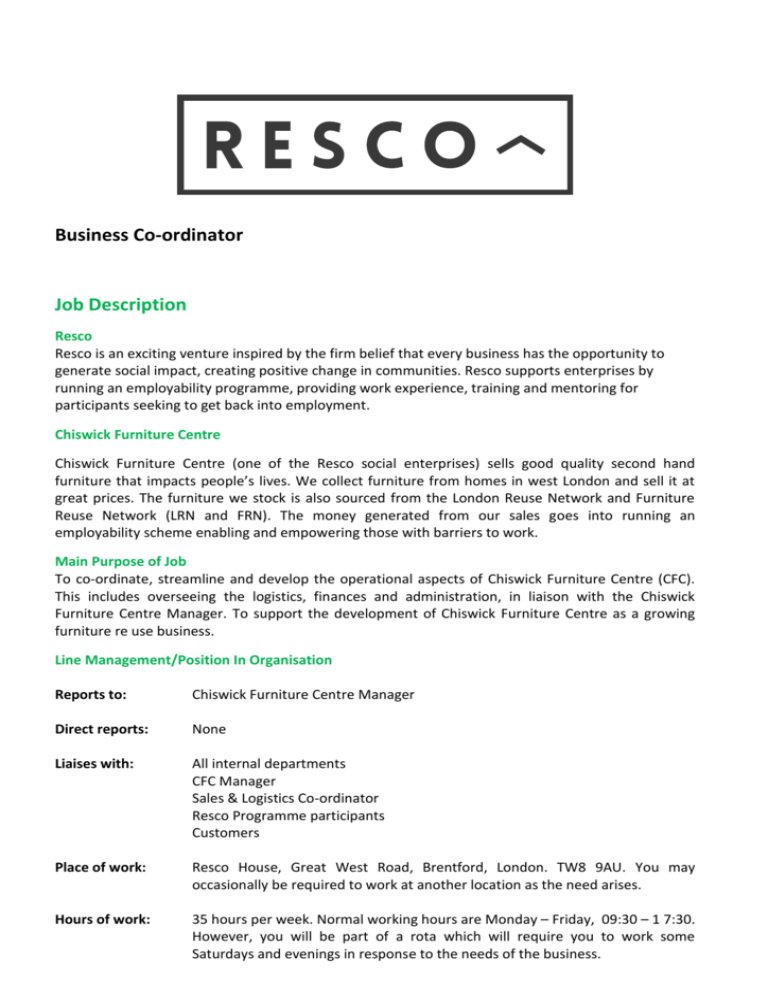 Business Co-ordinator
Job Description
Resco
Resco is an exciting venture inspired by the firm belief that every business has the opportunity to
generate social impact, creating positive change in communities. Resco supports enterprises by
running an employability programme, providing work experience, training and mentoring for
participants seeking to get back into employment.
Chiswick Furniture Centre
Chiswick Furniture Centre (one of the Resco social enterprises) sells good quality second hand
furniture that impacts people's lives. We collect furniture from homes in west London and sell it at
great prices. The furniture we stock is also sourced from the London Reuse Network and Furniture
Reuse Network (LRN and FRN). The money generated from our sales goes into running an
employability scheme enabling and empowering those with barriers to work.
Main Purpose of Job
To co-ordinate, streamline and develop the operational aspects of Chiswick Furniture Centre (CFC).
This includes overseeing the logistics, finances and administration, in liaison with the Chiswick
Furniture Centre Manager. To support the development of Chiswick Furniture Centre as a growing
furniture re use business.
Line Management/Position In Organisation
Reports to:
Chiswick Furniture Centre Manager
Direct reports:
None
Liaises with:
All internal departments
CFC Manager
Sales & Logistics Co-ordinator
Resco Programme participants
Customers
Place of work:
Resco House, Great West Road, Brentford, London. TW8 9AU. You may
occasionally be required to work at another location as the need arises.
Hours of work:
35 hours per week. Normal working hours are Monday – Friday, 09:30 – 1 7:30.
However, you will be part of a rota which will require you to work some
Saturdays and evenings in response to the needs of the business.
Duties and Key Responsibilities
Co-ordination of the business
 To coordinate the smooth running of Chiswick Furniture Centre.
 To ensure accurate records of sales, collections and deliveries are maintained and record
keeping processes developed as required.
 To complete business related administration including finance reporting, maintaining local
authority grant records.
 To manage the safe, petty cash and travel bursaries.
 To respond to customer enquiries, complaints and bookings; face to face, by telephone and email.
 To assist in capturing and maintaining the customer database and booking system.
 To streamline business activities, creating improvements to business processes and
procedures where necessary to ensure the smooth operation of the business.
 To manage the Electronic Point of Sale (EPOS) systems.
Marketing and business development
 In liaison with the Chiswick Furniture Centre Manager, initiate strategies for generating new
business, increasing sales in line with set targets.
 To work with the Chiswick Furniture Centre Manager to develop the brand and execute
marketing projects.
 To assist with the design of marketing materials and development of marketing strategies to
raise the profile of CFC.
 To market the business through various media channels.
Social Impact/Co-ordination of the Resco Programme participants
 In liaison with the Resco Programme Manager and other key stakeholders to co-ordinate the
day to day running of the Resco Programme to retain, manage and develop the participants,
ensuring strong communication channels are kept with the wider team.
 To work with the Sales and Logistics Co-ordinator to create an environment conducive to a
positive social impact experience for Resco Programme participants.
 To demonstrate a coaching/mentoring approach to ensure Resco Programme participants
become work ready; developing skills, confidence and a professional mindset for graduating
into employment or further training.
General
 To attend and participate in Resco events as required.
 To undertake ad hoc tasks as required.
 To be committed to personally outworking Resco's Christian values.
 The post holder will be required to lead and participate in spiritual sessions of worship,
prayer, Bible teaching and reflection.
Person Specification
Education
(Eg: degree/professional
qualification)
Willing to undertake
relevant training as
necessary
Experience
Skills/Abilities
Essential
 GCSE or equivalent including
Maths and English.

Experience of project
management and operations.

Experience in using Microsoft
Office programmes, with a
particular emphasis on Excel.







Personal Qualities




Excellent organisational skills
Excellent verbal and written
communication skills.
Ability to use initiative to adapt to
different work pressures and meet
deadlines.
Proactive approach and
commitment to see projects
through to completion.
Excellent customer interaction
and care skills.
Creative thinker with good project
management skills.
Marketing skills.
Ability to support, assist and
motivate other team members.
Relates effectively with people of
all ages and walks of life in large
groups, small groups or one to
one settings.
Committed Christian.
An understanding and
commitment to personally
outworking the Christian values of
Resco.
Desirable
 Further education or
degree.

Experience of
working with
marginalised and
vulnerable adults or
a good
understanding of the
context.

Knowledge of social
media.

Experience or an
aptitude to develop
skills in social media
and on line sales.