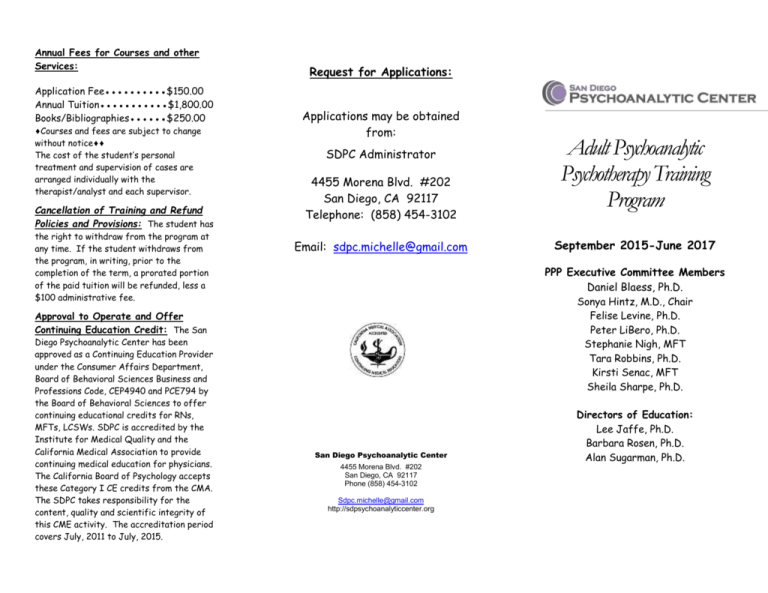 Annual Fees for Courses and other
Services:
Application Fee●●●●●●●●●●$150.00
Annual Tuition●●●●●●●●●●●$1,800.00
Books/Bibliographies●●●●●●$250.00
♦Courses and fees are subject to change
without notice♦♦
The cost of the student's personal
treatment and supervision of cases are
arranged individually with the
therapist/analyst and each supervisor.
Cancellation of Training and Refund
Policies and Provisions: The student has
the right to withdraw from the program at
any time. If the student withdraws from
the program, in writing, prior to the
completion of the term, a prorated portion
of the paid tuition will be refunded, less a
$100 administrative fee.
Request for Applications:
Applications may be obtained
from:
SDPC Administrator
4455 Morena Blvd. #202
San Diego, CA 92117
Telephone: (858) 454-3102
Email: sdpc.michelle@gmail.com
September 2015-June 2017
PPP Executive Committee Members
Daniel Blaess, Ph.D.
Sonya Hintz, M.D., Chair
Felise Levine, Ph.D.
Peter LiBero, Ph.D.
Stephanie Nigh, MFT
Tara Robbins, Ph.D.
Kirsti Senac, MFT
Sheila Sharpe, Ph.D.
Approval to Operate and Offer
Continuing Education Credit: The San
Diego Psychoanalytic Center has been
approved as a Continuing Education Provider
under the Consumer Affairs Department,
Board of Behavioral Sciences Business and
Professions Code, CEP4940 and PCE794 by
the Board of Behavioral Sciences to offer
continuing educational credits for RNs,
MFTs, LCSWs. SDPC is accredited by the
Institute for Medical Quality and the
California Medical Association to provide
continuing medical education for physicians.
The California Board of Psychology accepts
these Category I CE credits from the CMA.
The SDPC takes responsibility for the
content, quality and scientific integrity of
this CME activity. The accreditation period
covers July, 2011 to July, 2015.
Adult Psychoanalytic
Psychotherapy Training
Program
San Diego Psychoanalytic Center
4455 Morena Blvd. #202
San Diego, CA 92117
Phone (858) 454-3102
Sdpc.michelle@gmail.com
http://sdpsychoanalyticcenter.org
Directors of Education:
Lee Jaffe, Ph.D.
Barbara Rosen, Ph.D.
Alan Sugarman, Ph.D.
ADULT PSYCHOANALYTIC
PSYCHOTHERAPY
TRAINING PROGRAM:
The San Diego Psychoanalytic Center
("SDPC") announces the Advanced
Psychoanalytic Psychotherapy Training
Program for clinicians who want to acquire
expertise in psychoanalytically oriented
psychotherapy and apply a psychodynamic
perspective to clinical work in all treatment
settings In this training program, the
student will investigate the mind from the
perspectives of current psychoanalytic
theories of normal and pathological
development and function. He or she will
also explore how the developing individual
acquires the capacity to know and care for
others, attains a gender identity, develops
standards and ideals, and balances working,
loving, and living throughout the life cycle.
Individuals who successfully complete the
two-year didactic curriculum and concurrent
individual consultation with faculty members,
receive from SDPC a certificate in Adult
Psychoanalytic Psychotherapy.
Hours of Classes: Classes meet on
Thursday evenings from 5:15 p.m. to 8:30
p.m. for a total of 33 weeks from September
through May, for two years. Didactic
readings emphasize the application of
psychoanalytic thought to the practice of
psychotherapy.
Suitability for Training: A fundamental
requirement for psychoanalytic
psychotherapy education and clinical training
is an established identity as a professional
whose conduct assures a firm and enduring
commitment to responsible and ethical
patient care. The suitable applicant gives
evidence of character, integrity, and ethical
conduct. Evaluation of suitability is based on
interviews with faculty members, as well as
letters of reference.
Applicants are asked to include in their
application a written case report and a
personal statement conveying the
development of interest in psychoanalytic
psychotherapy.
Admission Requirements: Licensed
mental health clinicians in the State of
California are eligible for application for the
clinical certificate. Unlicensed applicants
with at least a Masters level of training are
eligible for application on a case-by-case
basis. Applicants must provide proof of
malpractice insurance.
Course Content: The academic portion of
the program includes two years of class work
in the following topics:
-Advanced Psychodynamic Concepts
-Clinical Technique: Beginning a
Psychotherapy; Advanced Therapeutic
Interventions; Applications to Brief, Couple,
and Family Work, and Work with the
Seriously Ill
-Development: Becoming Who We Are, from
Birth to Old Age
-Psychodynamic Diagnosis: Neurotic and
Borderline Personality Organization
-Contemporary Psychoanalytic Theory
-Case Conferences: Assessment;
Formulation; Psychotherapy Process
Concurrent Consultation: Students will
participate in individual case consultation
during the two-year program. Consultants
are chosen from the SDPC faculty; nonfaculty consultants must be approved on a
case-by-case waiver from the PPP Executive
Committee. Fifty hours of total consultation
are required for completion of the program.
Consultation hours are spent with at least
two different consultants. Consultation may
address intensive individual therapy cases in
the student's caseload, or any other type of
clinical work performed by the student.
Personal Treatment: Students are
encouraged to engage in their own personal
psychoanalysis or psychoanalytic
psychotherapy. Intensive psychodynamic
work with patients typically calls for a level
of self-knowledge in the therapist that is
best attained with the assistance of
intensive personal psychoanalytic therapy.
Progression: The student's work is
evaluated semiannually by the Progressions
Committee of the Psychotherapy Executive
Committee and discussed with the student
by a designated faculty member.
Progression standards include attendance
and completion of written case formulations
and other assignments.
Leave of Absence Policies: A student
may request, in writing, a temporary leave of
absence from the program.