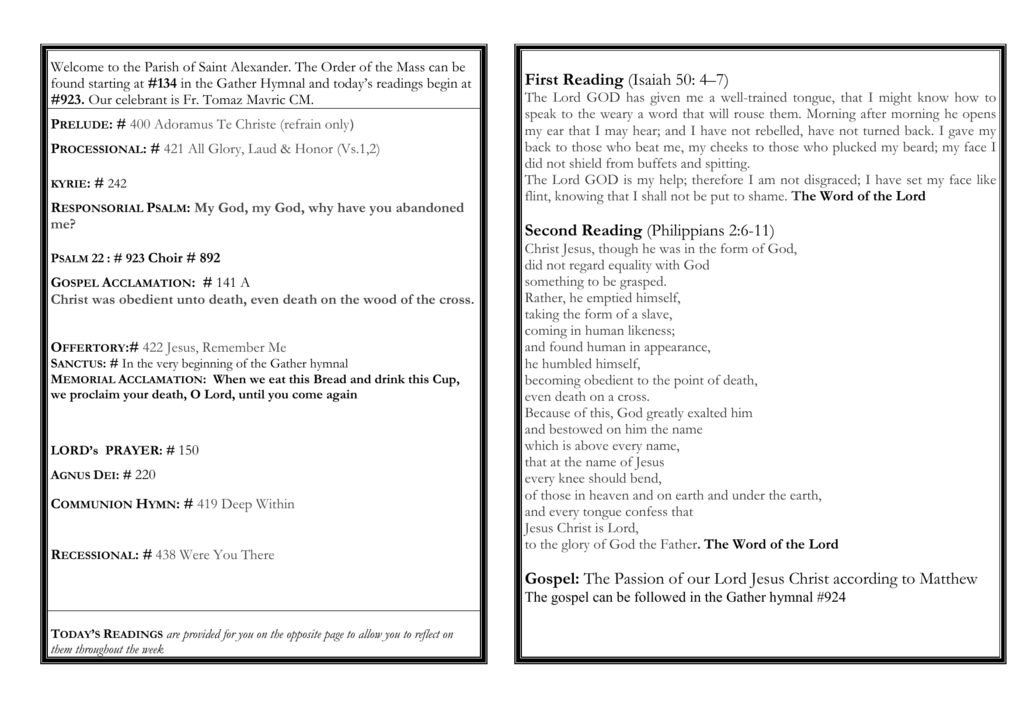 Welcome to the Parish of Saint Alexander. The Order of the Mass can be
found starting at #134 in the Gather Hymnal and today's readings begin at
#923. Our celebrant is Fr. Tomaz Mavric CM.
PRELUDE: # 400 Adoramus Te Christe (refrain only)
PROCESSIONAL: # 421 All Glory, Laud & Honor (Vs.1,2)
KYRIE:
# 242
RESPONSORIAL PSALM: My God, my God, why have you abandoned
me?
PSALM 22 : # 923 Choir # 892
GOSPEL ACCLAMATION: # 141 A
Christ was obedient unto death, even death on the wood of the cross.
OFFERTORY:# 422 Jesus, Remember Me
SANCTUS: # In the very beginning of the Gather hymnal
MEMORIAL ACCLAMATION: When we eat this Bread and drink this Cup,
we proclaim your death, O Lord, until you come again
LORD's PRAYER: # 150
AGNUS DEI: # 220
COMMUNION HYMN: # 419 Deep Within
RECESSIONAL: # 438 Were You There
First Reading (Isaiah 50: 4–7)
The Lord GOD has given me a well-trained tongue, that I might know how to
speak to the weary a word that will rouse them. Morning after morning he opens
my ear that I may hear; and I have not rebelled, have not turned back. I gave my
back to those who beat me, my cheeks to those who plucked my beard; my face I
did not shield from buffets and spitting.
The Lord GOD is my help; therefore I am not disgraced; I have set my face like
flint, knowing that I shall not be put to shame. The Word of the Lord
Second Reading (Philippians 2:6-11)
Christ Jesus, though he was in the form of God,
did not regard equality with God
something to be grasped.
Rather, he emptied himself,
taking the form of a slave,
coming in human likeness;
and found human in appearance,
he humbled himself,
becoming obedient to the point of death,
even death on a cross.
Because of this, God greatly exalted him
and bestowed on him the name
which is above every name,
that at the name of Jesus
every knee should bend,
of those in heaven and on earth and under the earth,
and every tongue confess that
Jesus Christ is Lord,
to the glory of God the Father. The Word of the Lord
Gospel: The Passion of our Lord Jesus Christ according to Matthew
The gospel can be followed in the Gather hymnal #924
TODAY'S READINGS are provided for you on the opposite page to allow you to reflect on
them throughout the week
Easter Sunday Mass in English will be at
11.30am, here at St. Alexander's. It will be
celebrated by the Apostolic Nuncio to
Ukraine, Archbishop Thomas Gullickson.
Palm Sunday of the Lord's Passion
April 13th, 2014
Holy Week services in Ukrainian at St Alexander's.
Holy Thursday, Evening Mass of the Lord's Supper (17th April) 19.00
Good Friday, (18th April) 19.00
Holy Saturday, Easter Vigil (19th April) 20.00
Jesus enters Jerusalem in order to die on the Cross. And it is here that his
kingship shines forth in godly fashion: his royal throne is the wood of the Cross!
Jesus says: "I am a King"; but his power is God's power which confronts the
world's evil and the sin that disfigures man's face. Jesus takes upon himself the
evil, the filth, the sin of the world, including our own sin, and he cleanses it, he
cleanses it with his blood, with the mercy and the love of God.(Pope Francis'
Palm Sunday meditation )
HOLY ROSARY: The Rosary is recited in English each Sunday
at 8:20 a.m., before our English Mass.
beginning
CONFESSIONS: The Sacrament of Reconciliation is available in English each Sunday
for 30 minutes, before our English Mass.
KRASNODONSKA
1b ASSISTANCE
[email protected]
FOR HELP & SPIRITUAL
, CONTACT:
www.catholickiev.com.
Fr. Tomaz Mavric CM
GSM: +380 972 555 615
"Behold, your king comes to you,
meek and riding on a colt"
The Parish of Saint Alexander
Kiev, Ukraine
This is my Beloved Son, listen to him!