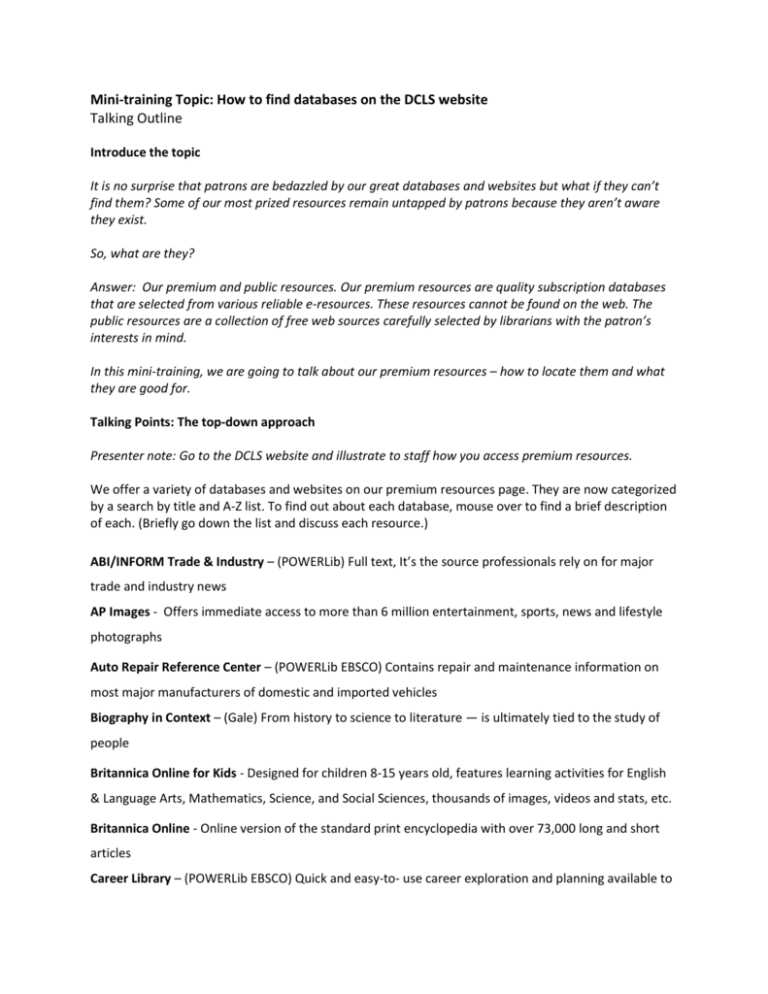 Mini-training Topic: How to find databases on the DCLS website
Talking Outline
Introduce the topic
It is no surprise that patrons are bedazzled by our great databases and websites but what if they can't
find them? Some of our most prized resources remain untapped by patrons because they aren't aware
they exist.
So, what are they?
Answer: Our premium and public resources. Our premium resources are quality subscription databases
that are selected from various reliable e-resources. These resources cannot be found on the web. The
public resources are a collection of free web sources carefully selected by librarians with the patron's
interests in mind.
In this mini-training, we are going to talk about our premium resources – how to locate them and what
they are good for.
Talking Points: The top-down approach
Presenter note: Go to the DCLS website and illustrate to staff how you access premium resources.
We offer a variety of databases and websites on our premium resources page. They are now categorized
by a search by title and A-Z list. To find out about each database, mouse over to find a brief description
of each. (Briefly go down the list and discuss each resource.)
ABI/INFORM Trade & Industry – (POWERLib) Full text, It's the source professionals rely on for major
trade and industry news
AP Images - Offers immediate access to more than 6 million entertainment, sports, news and lifestyle
photographs
Auto Repair Reference Center – (POWERLib EBSCO) Contains repair and maintenance information on
most major manufacturers of domestic and imported vehicles
Biography in Context – (Gale) From history to science to literature — is ultimately tied to the study of
people
Britannica Online for Kids - Designed for children 8-15 years old, features learning activities for English
& Language Arts, Mathematics, Science, and Social Sciences, thousands of images, videos and stats, etc.
Britannica Online - Online version of the standard print encyclopedia with over 73,000 long and short
articles
Career Library – (POWERLib EBSCO) Quick and easy-to- use career exploration and planning available to
students 24 hours a day, 7 days a week
Consumer Health Complete – (POWERLib EBSCO) Resource for consumer-oriented health content
covering all areas of health and wellness
Contemporary Authors – (POWERLib GALE) Full text, biographies for more than 120,000 modern
writers in fiction, general nonfiction, poetry, journalism, drama, motion pictures, television, and other
fields
Grants Information Center – Resources for nonprofits including fundraising, government grants, and
business management
GreenFILE – (POWERLib EBSCO) Its collection of scholarly, government and general-interest titles
includes content on the environmental effects of individuals, corporations and local/national
governments, and what can be done at each level to minimize these effects
Heritage Quest – (PROQUEST) American genealogical sources—rich in unique primary sources, local and
family histories, and finding aids
Influenza Evidence-based Information (POWERLib EBSCO) Information on influenza and thousands of
other clinical topics
InfoTrac Newsstand – (POWERLib GALE) Provides access to more than 1,000 major U.S. regional,
national and local newspapers as well as titles from around the world
Job Help Center – Resources on job searching including local and national job search sites
Learning Express Library - Free online practice tests, online computer courses, writing courses, math
courses, job preparation, and free ebooks
LISTA – (POWERLib EBSCO) Resource to anyone interested in libraries and information management
Medline Plus - National Institute of Health's Web site for free information about diseases, conditions,
and wellness issues
MorningStar - Provides investment research, including stock and fund analysis, reports, and tools, as
well as company, investing, and financial news
netLibrary – (POWERLib EBSCO) Provides eContent collection for ebooks
Newsbank - Electronic editions of local, regional, and national U.S. newspapers, including The Patriot
News and America's News Magazines
OmniFile Mega – (POWERLib WilsonWeb) Cross-disciplinary journal database in abstract and full text
formats
OmniFile Select (POWERLib WilsonWeb) Full text, cross-disciplinary journal database
Readers' Guide Select – (POWERLib WilsonWeb) Full text, current events coverage, curriculum support,
or access to quality periodicals
Reference USA - Resource for business and residential information – excellent for new business
opportunities and job searching
Science Full Text Select – (POWERLib WilsonWeb) Features graphs, charts, diagrams, photos, and
illustrations that convey an abundance of scientific information
Science in Context – (GALE) Provides detailed coverage of popular subjects from earth science and life
science, to space, technology, mathematics and science history and biography
SIRS Discoverer – (POWERLib) Resource helps students grades 1-9 develop their research, writing,
language, and computer skills
TumbleBook Library - Online collection of TumbleBooks – animated, talking picture books which teach
kids to read
**Ask if they have any questions about any of the databases at this point
Talking Points: What can a database do for a patron
A patron asks where she can find college test prep materials for the CLEP on our website.
Guide them to the Learning Express Library database and search under the heading "college
preparation". Show them the variety of tests, courses and ebook resources for college-bound
high school students.
If possible, show them another database for additional college prep help. Use Career Library
under the heading "activity center" for ACT/SAT quizzes.
*Make sure they understand that these are two separate databases.
A patron asks for a listing of housing authorities in the Harrisburg and surrounding areas.
Guide them to Reference USA and do a custom search in the U.S. Businesses database.
A patron asks for genealogical information for a family member by the name of Jacob Hertzler, who lived
in Berks County, Pennsylvania, during the 18th-century.
Guide them to Heritage Quest to get started with a genealogy question.
**Remind them that if they draw a blank, not to panic…call the reference staff and we'll guide them to
the resource they need.