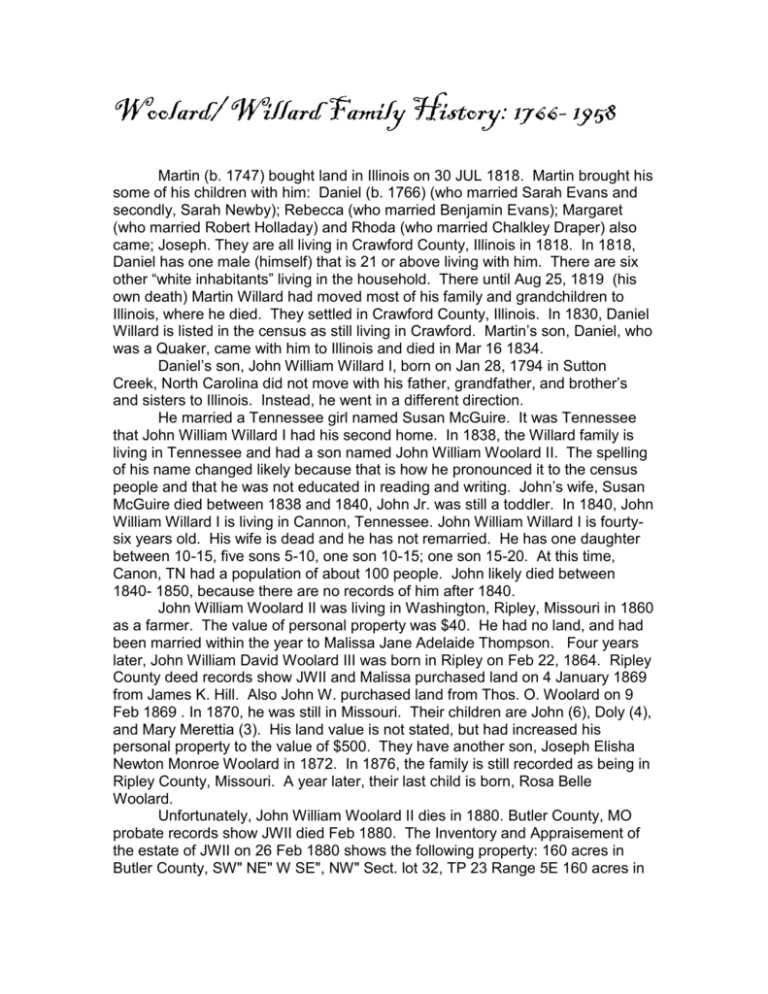 Woolard/ Willard Family History: 1766- 1958
Martin (b. 1747) bought land in Illinois on 30 JUL 1818. Martin brought his
some of his children with him: Daniel (b. 1766) (who married Sarah Evans and
secondly, Sarah Newby); Rebecca (who married Benjamin Evans); Margaret
(who married Robert Holladay) and Rhoda (who married Chalkley Draper) also
came; Joseph. They are all living in Crawford County, Illinois in 1818. In 1818,
Daniel has one male (himself) that is 21 or above living with him. There are six
other "white inhabitants" living in the household. There until Aug 25, 1819 (his
own death) Martin Willard had moved most of his family and grandchildren to
Illinois, where he died. They settled in Crawford County, Illinois. In 1830, Daniel
Willard is listed in the census as still living in Crawford. Martin's son, Daniel, who
was a Quaker, came with him to Illinois and died in Mar 16 1834.
Daniel's son, John William Willard I, born on Jan 28, 1794 in Sutton
Creek, North Carolina did not move with his father, grandfather, and brother's
and sisters to Illinois. Instead, he went in a different direction.
He married a Tennessee girl named Susan McGuire. It was Tennessee
that John William Willard I had his second home. In 1838, the Willard family is
living in Tennessee and had a son named John William Woolard II. The spelling
of his name changed likely because that is how he pronounced it to the census
people and that he was not educated in reading and writing. John's wife, Susan
McGuire died between 1838 and 1840, John Jr. was still a toddler. In 1840, John
William Willard I is living in Cannon, Tennessee. John William Willard I is fourtysix years old. His wife is dead and he has not remarried. He has one daughter
between 10-15, five sons 5-10, one son 10-15; one son 15-20. At this time,
Canon, TN had a population of about 100 people. John likely died between
1840- 1850, because there are no records of him after 1840.
John William Woolard II was living in Washington, Ripley, Missouri in 1860
as a farmer. The value of personal property was $40. He had no land, and had
been married within the year to Malissa Jane Adelaide Thompson. Four years
later, John William David Woolard III was born in Ripley on Feb 22, 1864. Ripley
County deed records show JWII and Malissa purchased land on 4 January 1869
from James K. Hill. Also John W. purchased land from Thos. O. Woolard on 9
Feb 1869 . In 1870, he was still in Missouri. Their children are John (6), Doly (4),
and Mary Merettia (3). His land value is not stated, but had increased his
personal property to the value of $500. They have another son, Joseph Elisha
Newton Monroe Woolard in 1872. In 1876, the family is still recorded as being in
Ripley County, Missouri. A year later, their last child is born, Rosa Belle
Woolard.
Unfortunately, John William Woolard II dies in 1880. Butler County, MO
probate records show JWII died Feb 1880. The Inventory and Appraisement of
the estate of JWII on 26 Feb 1880 shows the following property: 160 acres in
Butler County, SW" NE" W SE", NW" Sect. lot 32, TP 23 Range 5E 160 acres in
Ripley County, SE SE , , lot 24, Township Block 23 Range 3,E. NE, NE, Section
25 Township Block 23 Range 3,E. Lot 2 N.W. Sect lot 30 Township Block 4, E.
A Note on J. D. Barton for $27.50 plus .21 interest. Other items besides land
listed in the will are: Three horses, $52.00; One mule, $15.00; Two farm wagons,
$30.00 ; Three head of horned cattle, $14.00; 33 head of stock hogs, $15.00 ;
Three plows, $3.00 ; 250 bushels of corn, $37.50; Household and kitchen
furniture, $10.00 ; One $15.00 note against the estate.The widow's name is
spelled; Malissa A.Woolard. She made her mark (x) on the documents. The
witnesses were; Mathew Urling, V. B. Simpson, David Hart and (undec). The
official shown on the documents was; Y B. Walters, a Justice of the Peace for
Neeley Township, Butler County.
By 1880, Malissa is widowed. Her son, John Woolard III, is helping her on
the farm as a laborer. She has a another unrelated farm laborer and a servant
working for her to help her on the estate that her husband left her. She has lost
her husband and one child named Doly. At thirty-eight, she can not write but can
read. She is carrying for four children by herself. On Feb 24, 1881, Malissa
marries V. B. Simpson in Ripley, Missouri. He was a witness to her dead
husband's estate and likely a friend of the family. Her son, John William David
Woolard III, a twenty-one year old blacksmith, married fourteen year old Nancy
Ann Oglin ( also known as Susan Alwilda Ogden) in Missouri of May 3 1885.
In Nov of 1886, the couple have a child name Priscilla Belle in Doniphan,
Ripley, Missouri. In 1888, Melissa Ellen is born to John and Nancy. By Dec
1889, the family has made their way to Poplar Bluffs, Butler , Missouri. Here they
have Minnie Melvina Jane. Here, they suffer the loss of their daughter, Melissa
Ellen, who died at age two. They remained there and had John William Thomas
Woolard in December of 1891 before moving to Oklahoma.
The family including mother, Malissa, and J.W.'s siblings moved to OK in
March of 1893. According to their daughter Prescilla Belle Woolard, "When we
left Missouri we left in a covered wagon. It was drawn by a yoke of oxen. We
got as far as Fort Smith, Arkansas and the oxen died. Papa had to buy a team of
horses to finish our trip." "We got as far a Wewoka, Oklahoma which was then
Indian Territory. Wewoka meant "barking waters" to the Seminole Indians
because of some tiny falls on the Wewoka Creek just north of the city. Here lived
Seminole "Freedmen". The Wewoka Trading Company was one of the pioneer
business concerns of the Indian Territory. It was established, in the 1880's and
rose in importance until it was rated one of the greatest commercial undertakings
of the southwest. The big store carried everything from knitting needles to
threshing machines. The company made it's own paper money, called "Choka
Sodka." by the Seminoles. It was redeemable at the company store. This is likely
the place that the Woolards resupplied themselves since this is the first stop in
Oklahoma that they made. The family would pass by a place in the middle of the
where trials took place before the Council and if found guilty, the convicted was
either seated at the foot of the "Execution Tree" and shot to death or tied to the
"Whipping Tree" and whipped according to the sentence. The culprit had his
hands and feet tied together, the hands tied over the lower branch of the tree and
between his feet was placed a pole. The whipping was done by a Lighthorseman,
and the groans and cries could be heard for many blocks. It would have been a
gruesome sight and a bad first impression of Oklahoma. "The Woolard Family
was the third white family to settle in Indian Creek Territory." On Sept. 7, 1893,
Bessie Woolard was born in Oklahoma. It wasn't too long before Susan Alwidla
Ogden, A.K.A. Nancy Oglin, passed away on April 14, 1894. It is said that she
died in the attempt to homestead the Cherokee Strip during the land rush in
Oklahoma. Priscilla Belle stated, "It was there Mother took very ill and passed
away. There was no white Preacher for the funeral, so an Indian Preacher,
preached her funeral. The Indian people (Creek Indians) sang two songs,
neither of which we could understand. Mother was buried in Oklahoma."
Sometime between her birth in Indian Territory in 1893 and 1900, Bessie
Woolard, J W III's daughter, is lost during the homestead rush of the Cherokee
Strip and found and taken by the Indians and lived and raised by the chief of the
Indian tribe and playing with the chief's son. She fit right in with them because of her
beautiful black hair. Bessie Woolard was only a few years old when she became
lost in the lively action and chaos of the landrush. Thankfully the Cherokee
Indians took her in to live with them for several years in Hamon, Oklahoma, until
her family found her sister named Rosa or Priscilla Belle found her and took her
in between 1900 and 1910. [Rosa (Priscilla Bell Woolard) was married to
Emmett Colliers; they had two children : Everett Collier and Myrtle Sellers.
Priscilla Belle is the daughter of JW III. Rosa also married Herschel Kidwell who
died without giving her any children and Ross (John Ross) Arnett.]
The Woolards had a history of attaching long names to their children that
they never actually used, but memorized.
Prescilla Belle stated, "When Oklahoma came into statehood, Dad filed a
claim and there was where I grew up. Dad's mother took care of us for four
years." On 22 September 1898 at the Land Office at Kingfisher, Oklahoma
Territory, J.W. III applied for homestead of 160 acres under Application No.
15316. J.W. paid a $14.00 fee. The property was the South half of the NW
quarter and the North half of the SE quarter of Section 8, Township 15 North,
Range 20 West. At the time of application J.W.'s address was shown as
Arlington, OK. On the Homestead Affidavit J.W. stated he was a widower.
The 1900 US census of Barnitz Township, Custer County, Oklahoma
Territory has J.W.'s family in dwelling 319 and as family 321, last name is spelled
"Willard". J.W. is listed as a widower with two daughters, Prescilla and Minnie,
and a son, Tommy. They are living next door to Rosa Belle Woolard (JWII's
Aunt). That family is in dwelling 320 and includes Rosa Belle, her husband
Emmitt Collier, adopted daughter Bessie Bert (Burt) as family 322. In the next
house over is Malissa A. Williard (Woolard), mother-in-law, as family 323. The
family was very close-nit and spent much time together. That year, he made
improvements to his house which consisted of an 12 by 14 & 12 by 16 area, a
Crib, a Barn, a Hog lot, a Well, 50 acres in cultivation, an Orchard, and a Fence
on 3 sides of the yard. Value of house and improvements are listed as $400.00.
JW III remarried around 1902 to a woman named Minnie. They had a
daughter named Dora in 1903.
JW III lived in Deer Creek, Custer, Oklahoma in 1910. The fourty-six year
old man is living with his daughter Priscilla Belle and her husband Art Bailey in
dwelling 68, family 69. Art Bailey. Their son, Llyod, and daughter Ivy live with
them. They have just recently moved from Nebraska where they had Avril who is
a son that is 15 months old in the census. JW's second wife, twenty-two year old
Minnie is still alive and so is their seven year old daughter Dora. They are living
in the household, as well. There is also a nineteen year old Tom, relation
unknown, living there.
By 1910, Bessie Woolard was not living on the Indian Tribal ground
anymore. Though, for the rest of her life she would be mistaken for one by her
long braided hair and her clothing. She married John William Fine on August 28,
1910 in Rogers Mill, Oklahoma. According to a marriage certificate, "John W.
Fine and Bessie Woolard were united in Holy Matrimony on the 28th day of Aug.
in the year of out Lord 1910 at Cheyenne Oklahoma, Rogers Mills County by
Judge Frasy. Witness: Minnie Willard. Witness: J. W. Willard." Sometime
between 1900 and 1910, Bessie is reunited with her family. Her father and stepmother are witnesses at her wedding to John William Fine.
On 10 November 1915, JWIII
purchased property in Cooperton, Kiowa
County, OK.
In 1919, JWIII was living in Hobard
(Hobart), OK.
Bessie's white husband, John
William Fine, was born Nov. 14, 1885 in
Sulphur Springs, Texas. He spent most of
his life retired, but was a carpenter.
The couple had nine children: Esther
Melissa Josephine (Dec. 14 1911), William
Carl (March 8, 1912), Rosa Viola Pearl
John W. Woolard III and his second wife
(Dec. 30, 1914), Hershel H. Henry (Dec. 27,
Minnie. This picture was taken between
1916), Minnie Bill (Nov. 27, 1918), Everett
1910- 1920.
Lee (Oct 16, 1920), Virginia Imogue (Nov. 18
1922), Earnest Eugene (Dec. 15, 1923), and
Mottie L. (Oct 27, 1926).
In 1920, Malissa Woolard is living with her granddaughter Bessie Woolard
and Bessie's husband John W. Fine. They reside in Hitchcock, Blaine, OK. John
William Woolard III, in 1920 is living alone, using last name Williard in Barnitz,
Custer, Oklahoma Barnitz. He is a farmer on a general farm.
In 1930, Bessie Woolard and John W. Fine have two homes. One in
Hitchcock and one in Lawton. Both were in the same county, Blaine, OK.
In 1932, John William Woolard III passed away in Oklahoma on Nov. 6
and was buried in Choctaw, Oklahoma Co., OK.
Family albums state Bessie Woolard's death as April 16, 1958, age 55.
She was buried at Enid Park Cemetery, Enid, Oklahoma. Within the last three
years of her life, she was living in Leedy, OK and she took her a trip to Hamon,
OK to see her childhood playmate, the Indian Chief's son. He still recognized her
voice after 50 years. During her one to two hour visit with the Cherokee Indian
Chief, her son Ernest Fine witnessed her praying with the man. John William
Fine died in 1975 on Jan. 6 in Enid, Garfield Co., Oklahoma at St. Mary's
Hospital at 8:30 P.M. He was buried January 12, 1975 in Enid Cemetery.