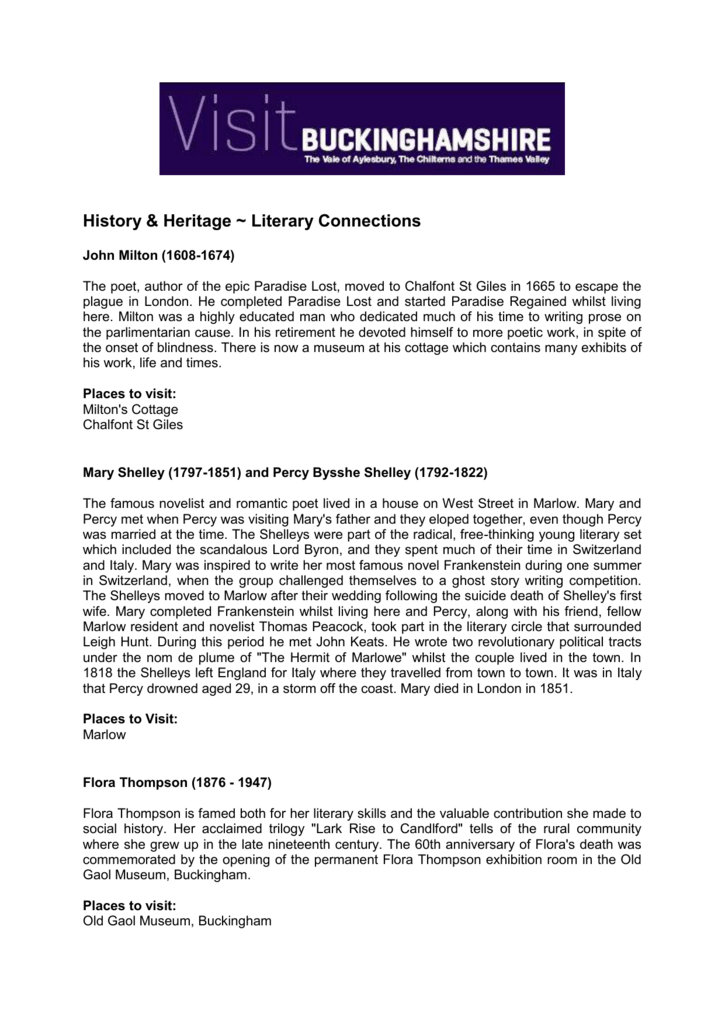 History & Heritage ~ Literary Connections
John Milton (1608-1674)
The poet, author of the epic Paradise Lost, moved to Chalfont St Giles in 1665 to escape the
plague in London. He completed Paradise Lost and started Paradise Regained whilst living
here. Milton was a highly educated man who dedicated much of his time to writing prose on
the parlimentarian cause. In his retirement he devoted himself to more poetic work, in spite of
the onset of blindness. There is now a museum at his cottage which contains many exhibits of
his work, life and times.
Places to visit:
Milton's Cottage
Chalfont St Giles
Mary Shelley (1797-1851) and Percy Bysshe Shelley (1792-1822)
The famous novelist and romantic poet lived in a house on West Street in Marlow. Mary and
Percy met when Percy was visiting Mary's father and they eloped together, even though Percy
was married at the time. The Shelleys were part of the radical, free-thinking young literary set
which included the scandalous Lord Byron, and they spent much of their time in Switzerland
and Italy. Mary was inspired to write her most famous novel Frankenstein during one summer
in Switzerland, when the group challenged themselves to a ghost story writing competition.
The Shelleys moved to Marlow after their wedding following the suicide death of Shelley's first
wife. Mary completed Frankenstein whilst living here and Percy, along with his friend, fellow
Marlow resident and novelist Thomas Peacock, took part in the literary circle that surrounded
Leigh Hunt. During this period he met John Keats. He wrote two revolutionary political tracts
under the nom de plume of "The Hermit of Marlowe" whilst the couple lived in the town. In
1818 the Shelleys left England for Italy where they travelled from town to town. It was in Italy
that Percy drowned aged 29, in a storm off the coast. Mary died in London in 1851.
Places to Visit:
Marlow
Flora Thompson (1876 - 1947)
Flora Thompson is famed both for her literary skills and the valuable contribution she made to
social history. Her acclaimed trilogy "Lark Rise to Candlford" tells of the rural community
where she grew up in the late nineteenth century. The 60th anniversary of Flora's death was
commemorated by the opening of the permanent Flora Thompson exhibition room in the Old
Gaol Museum, Buckingham.
Places to visit:
Old Gaol Museum, Buckingham
T. S. Eliot (1888-1965)
American born poet Thomas Stearns Eliot was educated at Harvard where he gained a
masters degree and was awarded a scholarship to Merton College, Oxford. He married Vivien
Haigh-Wood in 1915 and settled in England. Eliot taught for a time at the Royal Grammer
School in High Wycombe in 1915 before he found more permanent employment with Lloyds
Bank. He and Vivien moved to Marlow for a short period in 1917. Through his friend, Bertrand
Russell, Eliot had access to the British intellectual set and, along with the publication of his
first two books, he became well respected in the world of art and literature. The publication of
The Waste Land in 1921 ensured his fame.
Places to visit:
Marlow
Roald Dahl (1916-1990)
Roald Dahl was born in near Cardiff in 1916 to Norwegian parents. His boarding school
education was not a happy one but many of his experiences there gave him the inspiration to
write some of his best-loved children's books. After finishing school he worked for Shell Oil
and then joined the RAF. It was his account of his time during the war that first got him noticed
as a writer. In 1953 Dahl married the actress Patricia Neal and they had five children together.
The bedtime stories he told them were to become children's classics, such as James and the
Giant Peach. In 1954 the Dahls moved to Gypsy House in Great Missenden where Roald had
a shed built in the garden, his writing hut, in which he would write most of his unforgettable
stories for both adults and children, including Charlie and the Chocolate Factory, The Witches
and Matilda. After 30 years of marriage, Roald and Patricia divorced and Roald married
Felicity 'Liccy' Crosland in 1983. Roald Dahl lived in Great Missenden until his death in 1990.
Liccy set up the Roald Dahl Foundation in his memory, which gives grants to children in the
fields of neurology (a cause which Roald became passionate about after his young son
suffered brain damage in a road accident), haematology and literacy. The Roald Dahl
Museum and Story Centre in Great Missenden commemorates the author's great work.
Places to visit:
Great Missenden
The Roald Dahl Museum and Story Centre
Roald Dahl Children's Gallery
Kenneth Grahame (1859-1932)
The Wind in the Willows is Kenneth Grahame's charming tale of the animals who inhabit the
river is set on and around the River Thames. Grahame was born in Edinburgh in 1859 but was
sent to live with his Grandmother in Cookham Dean, Buckinghamshire after his mother died
and his father became an alcoholic. Grahame came to love the river and the countryside
around it and years later it would be here that he would set his most famous book. Ratty and
Mole live in the banks of the Thames and nearby Quarry Wood was probably the inspiration
for Badger's home, The Wild Wood. Cliveden was one of the inpirations for Toad Hall and
when Toad escapes from jail he follows the road to Bourne End where the Red Lion pub
"reminded him that he had not breakfasted that day".
Places to visit:
Cookham
Cliveden
The River & Rowing Museum
Enid Blyton (1897-1968)
Enid Blyton, one of the most successful children's authors of the last century moved to a
house named Old Thatch on Coldmoorholme Lane in Bourne End in 1929 with her husband,
Hugh Pollock. Place names from around about Bourne End provided inspiration for places in
some of her books. For example, places called Marlow, Maidenhead and Sheepridge (the
name of the road opposite Coldmoorholme Lane) appear in her 'Mystery' series. In 1938 the
family (now with two young daughters) moved to a larger house in Beaconsfield which was
called Green Hedges after she invited readers to suggest a name. It was here that Enid wrote
some of her most famous books, including the Famous Five and Secret Seven series. Green
Hedges is immortalised in minature at Bekonscot Model Village, a place which itself featured
in Enid's story The Enchanted Village, and which inspired the Noddy Towtown stories.
Although Green Hedges no longer exists, there is an Enid Blyton Room nearby within The
Red Lion pub in Knotty Green, which has a gallery of photographs and original prints along
with a library of the author's books, donated by members of the Enid Blyton Society.
Places to visit:
Old Thatch, Bourne End
Bekonscot Model Village
The Red Lion, Knotty Green
G. K. Chesterton (1874-1936)
G. K. Chesterton wrote poems, essays, novels, short stories and witicisms. He is best known
for his Father Brown series of short stories. He wrote most of his best work in a house called
Overroads in Grove Road, Beaconsfield which he moved to in 1909 with his wife, where he
lived until his death in 1936. He is buried in the Roman Catholic Cemetry in Beaconsfield.
Thomas Gray (1716-1771)
The poet's mother lived at West End Farm in Burnham and it is this area which is described in
his famous poem Elegy in a Country Churchyard. He is buried in his immortalised churchyard
of St Giles in Stoke Poges and nearby is the yew tree under which he is said to have written
the poem.