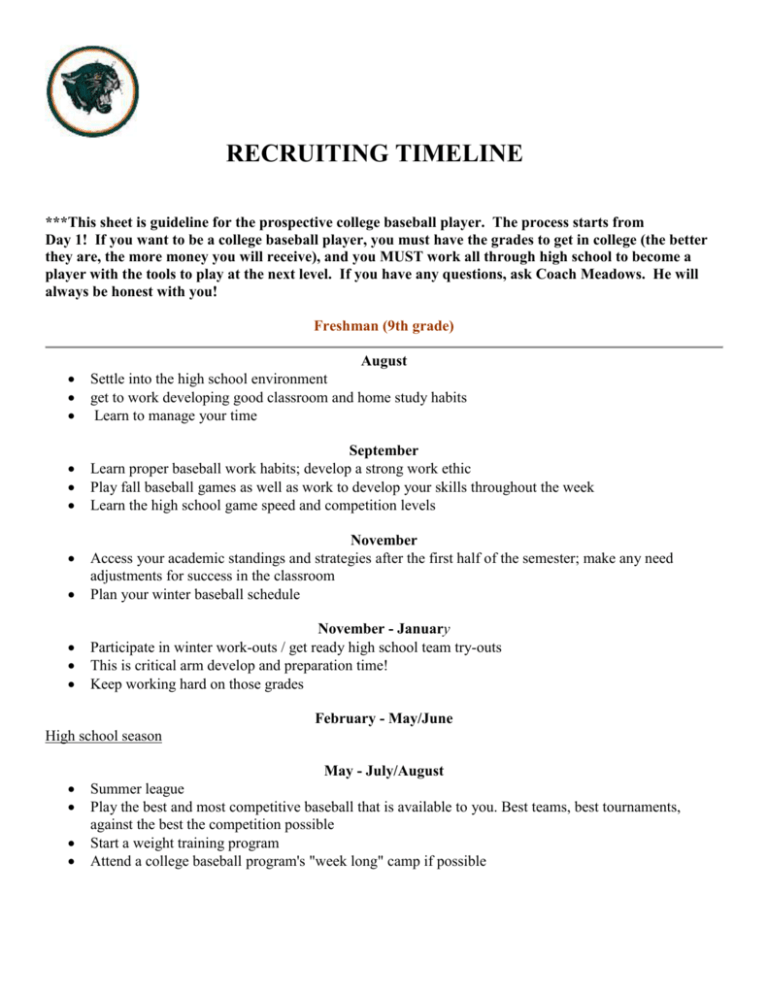 RECRUITING TIMELINE
***This sheet is guideline for the prospective college baseball player. The process starts from
Day 1! If you want to be a college baseball player, you must have the grades to get in college (the better
they are, the more money you will receive), and you MUST work all through high school to become a
player with the tools to play at the next level. If you have any questions, ask Coach Meadows. He will
always be honest with you!
Freshman (9th grade)
August



Settle into the high school environment
get to work developing good classroom and home study habits
Learn to manage your time



September
Learn proper baseball work habits; develop a strong work ethic
Play fall baseball games as well as work to develop your skills throughout the week
Learn the high school game speed and competition levels

November
Access your academic standings and strategies after the first half of the semester; make any need
adjustments for success in the classroom
Plan your winter baseball schedule



November - January
Participate in winter work-outs / get ready high school team try-outs
This is critical arm develop and preparation time!
Keep working hard on those grades

February - May/June
High school season




May - July/August
Summer league
Play the best and most competitive baseball that is available to you. Best teams, best tournaments,
against the best the competition possible
Start a weight training program
Attend a college baseball program's "week long" camp if possible
RECRUITING TIMELINE
Sophomore (10th grade)








Continue to "hit the books" hard. Your grades this year count as much as any other year.
Make sure that you are in at least one Physical Fitness class this year; TWO is better, one for each
semester!
Follow the same off - season schedule as last year, except increase intensity and frequency of training!
Meet with your high school guidance counselor -- tell him/her of your desire to play college baseball ...
you want to be "on track" with the required core courses, as well as other needs, such as foreign
languages.
Follow the same spring and summer schedule as last year.
Tryout for NC Region I State Games team if nominated by Coach Meadows
Play as many summer baseball games as possible ... the more you play the more experience that you will
get .. and the more you should improve.
Continue to weight train over the summer
Junior (11th grade)







September
Prepare to have a great junior year; this is the most important year that colleges look at in the classroom
and on the field!
Send out contact letters to colleges in which you are interested– ask Coach Meadows for help. Be
realistic. We will create a player profile sheet for you if you have prospect ability.
SEPTEMBER 1
Written contact by college coaches is allowed
Register with the NCAA Initial - Eligibility Clearinghouse (guidance counselor will have these forms)
Register for the fall ACT / SAT standardized tests ... most students take these tests at least twice ... try to
avoid the spring dates, as they may conflict with your high school season. Request that your ACT/SAT
test scores be sent to the NCAA Clearinghouse (there is a box on the application form that you check for
this).
Continue the fall and winter schedule as you did for your freshman and sophomore years; it becomes
more important every year! Also, your leadership skills will start to show here. You're now a leader of
our high school program, something college coaches ask about.
Attend a high-level baseball fall showcase
DO NOT LET UP ON ACADEMICS!!!

Know NCAA admission / eligibility requirements NCAA Online or check with a NPHS guidance
counselor
RECRUITING TIMELINE








Feb -March
March 1---this is the first day that a college can make contact with you. They may make one contact
with player (text, phone call, etc.) The player may contact them as much as they would like. If the
player is one campus, they may talk to them as much as they would like.
Tryout for NC Region I State Games team if nominated by Coach Meadows
Send out your spring high school schedule – or contact Coach Meadows and I'll do it
Plan visits to as many schools as possible this spring and summer
Some schools have "Junior Days" during the spring season ... ask about them!
All of these visits are "unofficial" this means that the college can not pay for any part of the visit.
Summer
Send out letters to college programs – Coach Meadows will help
Player make contact with desired schools
Focus this summer should be on attending "Select or Advanced" College Camps
The summer between a player's junior and senior year of high school is very important

JULY 1st
Phone/Text contact from college coaches is permissible---one per week now allowed from coaches
Senior (12th grade)




July - August
DO NOT LET UP ACADEMICALLY
Review core academic requirements with your guidance counselor. Make sure you are "on track"
Send out your fall baseball schedule – Coach Meadows will help
Check early National Letter of Intent period – usually the 2nd week of November
Request information on Christmas camps ... especially from schools that you are most interested in


November
Early signing period -- dates vary slightly from year to year
Continue your fall and winter schedule as you have in previous years

Official Visits
If you are offered an official visit -- prepare for your visit with a list of prepared questions. Be prepared
for any questions the college may have for you.
***REMEMBER, THIS TIMELINE IS JUST A SUGGESTION. THERE ARE MANY WAYS TO
PREPARE YOURSELF AND EXPOSE YOURSELF IN ORDER TO PLAY COLLEGE BASEBALL.
HOWEVER, NO WAY IS POSSIBLE WITHOUT COUNTLESS HOURS OF HARD WORK!