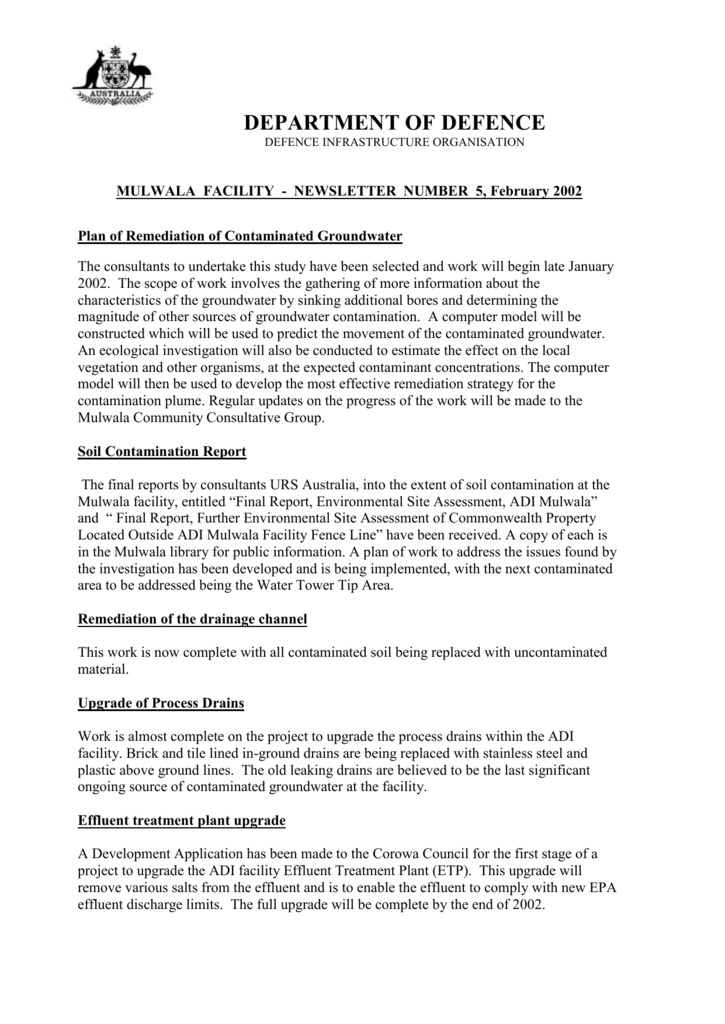 DEPARTMENT OF DEFENCE
DEFENCE INFRASTRUCTURE ORGANISATION
MULWALA FACILITY - NEWSLETTER NUMBER 5, February 2002
Plan of Remediation of Contaminated Groundwater
The consultants to undertake this study have been selected and work will begin late January
2002. The scope of work involves the gathering of more information about the
characteristics of the groundwater by sinking additional bores and determining the
magnitude of other sources of groundwater contamination. A computer model will be
constructed which will be used to predict the movement of the contaminated groundwater.
An ecological investigation will also be conducted to estimate the effect on the local
vegetation and other organisms, at the expected contaminant concentrations. The computer
model will then be used to develop the most effective remediation strategy for the
contamination plume. Regular updates on the progress of the work will be made to the
Mulwala Community Consultative Group.
Soil Contamination Report
The final reports by consultants URS Australia, into the extent of soil contamination at the
Mulwala facility, entitled "Final Report, Environmental Site Assessment, ADI Mulwala"
and " Final Report, Further Environmental Site Assessment of Commonwealth Property
Located Outside ADI Mulwala Facility Fence Line" have been received. A copy of each is
in the Mulwala library for public information. A plan of work to address the issues found by
the investigation has been developed and is being implemented, with the next contaminated
area to be addressed being the Water Tower Tip Area.
Remediation of the drainage channel
This work is now complete with all contaminated soil being replaced with uncontaminated
material.
Upgrade of Process Drains
Work is almost complete on the project to upgrade the process drains within the ADI
facility. Brick and tile lined in-ground drains are being replaced with stainless steel and
plastic above ground lines. The old leaking drains are believed to be the last significant
ongoing source of contaminated groundwater at the facility.
Effluent treatment plant upgrade
A Development Application has been made to the Corowa Council for the first stage of a
project to upgrade the ADI facility Effluent Treatment Plant (ETP). This upgrade will
remove various salts from the effluent and is to enable the effluent to comply with new EPA
effluent discharge limits. The full upgrade will be complete by the end of 2002.