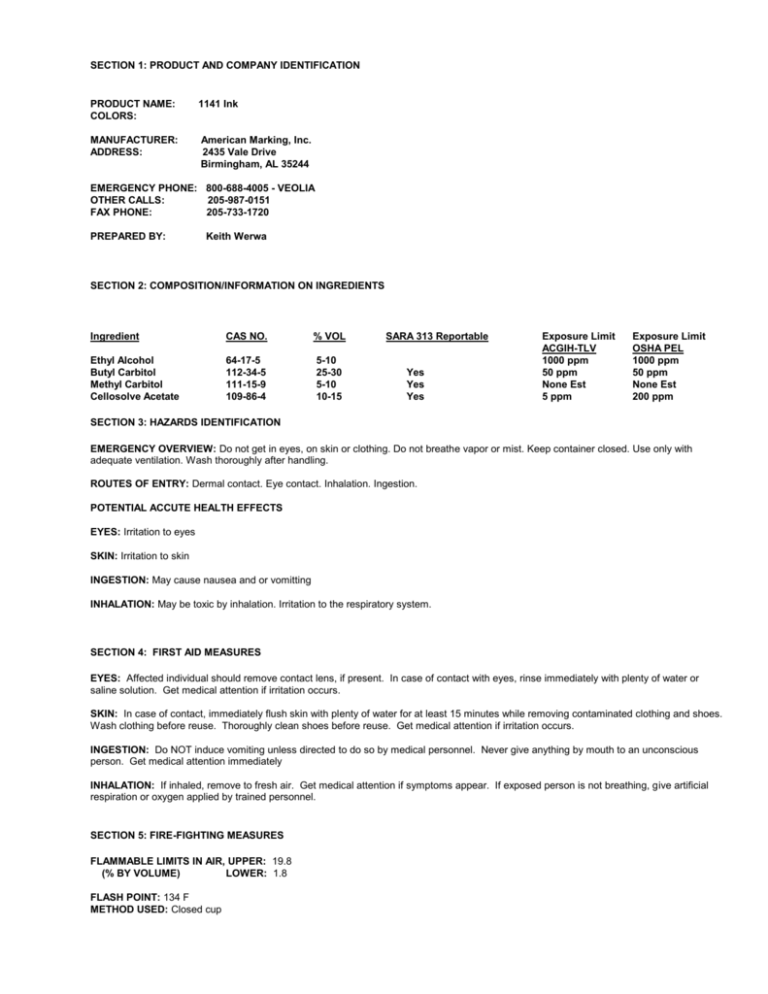 SECTION 1: PRODUCT AND COMPANY IDENTIFICATION
PRODUCT NAME:
COLORS:
1141 Ink
MANUFACTURER:
ADDRESS:
American Marking, Inc.
2435 Vale Drive
Birmingham, AL 35244
EMERGENCY PHONE: 800-688-4005 - VEOLIA
OTHER CALLS:
205-987-0151
FAX PHONE:
205-733-1720
PREPARED BY:
Keith Werwa
SECTION 2: COMPOSITION/INFORMATION ON INGREDIENTS
Ingredient
CAS NO.
% VOL
Ethyl Alcohol
Butyl Carbitol
Methyl Carbitol
Cellosolve Acetate
64-17-5
112-34-5
111-15-9
109-86-4
5-10
25-30
5-10
10-15
SARA 313 Reportable
Yes
Yes
Yes
Exposure Limit
ACGIH-TLV
1000 ppm
50 ppm
None Est
5 ppm
Exposure Limit
OSHA PEL
1000 ppm
50 ppm
None Est
200 ppm
SECTION 3: HAZARDS IDENTIFICATION
EMERGENCY OVERVIEW: Do not get in eyes, on skin or clothing. Do not breathe vapor or mist. Keep container closed. Use only with
adequate ventilation. Wash thoroughly after handling.
ROUTES OF ENTRY: Dermal contact. Eye contact. Inhalation. Ingestion.
POTENTIAL ACCUTE HEALTH EFFECTS
EYES: Irritation to eyes
SKIN: Irritation to skin
INGESTION: May cause nausea and or vomitting
INHALATION: May be toxic by inhalation. Irritation to the respiratory system.
SECTION 4: FIRST AID MEASURES
EYES: Affected individual should remove contact lens, if present. In case of contact with eyes, rinse immediately with plenty of water or
saline solution. Get medical attention if irritation occurs.
SKIN: In case of contact, immediately flush skin with plenty of water for at least 15 minutes while removing contaminated clothing and shoes.
Wash clothing before reuse. Thoroughly clean shoes before reuse. Get medical attention if irritation occurs.
INGESTION: Do NOT induce vomiting unless directed to do so by medical personnel. Never give anything by mouth to an unconscious
person. Get medical attention immediately
INHALATION: If inhaled, remove to fresh air. Get medical attention if symptoms appear. If exposed person is not breathing, give artificial
respiration or oxygen applied by trained personnel.
SECTION 5: FIRE-FIGHTING MEASURES
FLAMMABLE LIMITS IN AIR, UPPER: 19.8
(% BY VOLUME)
LOWER: 1.8
FLASH POINT: 134 F
METHOD USED: Closed cup
AUTOIGNITION TEMPERATURE: 715 F
HMIS HAZARD CLASSIFICATION
HEALTH: 2
FLAMMABILITY: 2
PROTECTION: B
REACTIVITY: 0
EXTINGUISHING MEDIA: Carbon dioxide. Dry chemical. Alcohol Foam. Water spray.
SPECIAL FIRE FIGHTING PROCEDURES: Firefighters should wear appropriate protective equipment and self contained breathing
apparatus (SCBA) with a full facepiece operated in positive pressure mode.
SECTION 5 NOTES: Avoid heat, sparks and open flame. Slightly flammable to flammable in presence of heat. Use an extinguishing agent
suitable for surrounding fires .
SECTION 6: ACCIDENTAL RELEASE MEASURES
ACCIDENTAL RELEASE MEASURES: Keep unnecessary personnel away. Use suitable protective equipment (Section 8). Remove sources
of ignition. Ventilate.
ENVIRONMENTAL PRECAUTIONS: Avoid dispersal of spilled material and runoff and contact with soil, waterways, drains and sewers.
METHODS FOR CLEANING UP:
Small spill and leak: Absorb with an inert material and place in an appropriate waste disposal container.
Large spill and leak: Contain and cover spill with an absorbent material. Collect and dispose in chemical waste drum. Use appropriate
containment to avoid environmental contamination. Place spilled material in an appropriate container for disposal.
SECTION 7: HANDLING AND STORAGE
HANDLING: Do not ingest. Do not get in eyes, on skin or on clothing. Keep container closed. Use only with adequate ventilation. Do not
breathe vapor or mist. Wash thoroughly after handling.
STORAGE: Keep container tightly closed. Keep container in a cool, well ventilated area.
STORAGE TEMPERATURE: 40-80 F
SHELF LIFE: Pigment; 9 months from date of manufacture. Dye; 12 months from date of manufacture
SECTION 8: EXPOSURE CONTROLS/PERSONAL PROTECTION
ENGINEERING CONTROLS: Provide exhaust ventilation or other engineering controls to keep the airborne concentrations of vapors below
their respective occupational exposure limits. Ensure that eyewash stations and safety showers are proximal to the work-station location
PERSONAL PROTECTION:
RESPIRATORY PROTECTION: Use a properly fitted, air-purifying or air-fed respirator complying with an approved standard if a risk
assessment indicates this is necessary. Respirator selection must be based on known or anticipated exposure levels, the hazards of the
product and the safe working limits of the selected respirator.
EYE PROTECTION: Safety eyewear complying with an approved standard should be use when a risk assessment indicates this is necessary
to avoid exposure to liquid splashes, mists or dusts.
SKIN PROTECTION: Personal protective equipment for the body should be selected based on the task being performed and the risks
involved and should be approved by a specialist before handling this product.
PERSONAL PROTECTION IN CASE OF LARGE SPILL: Splash goggles. Full suit. Boots. Gloves. Suggested protective clothing might not
be sufficient; consult a specialist BEFORE handling this product.
EXPOSURE GUIDELINES: See section 2
SECTION 9: PHYSICAL AND CHEMICAL PROPERTIES
PHYSICAL STATE AND APPEARANCE: Liquid
ODOR: Mild
BOILING POINT: 313 F
MELTING POINT: -121 F
VAPOR PRESSURE (mmHg):
2 mm hg
VAPOR DENSITY (AIR = 1): 4.4
SPECIFIC GRAVITY (H2O = 1): .9748
REACTIVITY IN WATER: None
SOLUBILITY IN WATER: Negligible
SECTION 10: STABILITY AND REACTIVITY
STABILITY: Stable
CONDITIONS TO AVOID (STABILITY): Heat, sparks and open flame
INCOMPATIBILITY (MATERIAL TO AVOID): Strong oxidizing agents
HAZARDOUS DECOMPOSITION OR BY-PRODUCTS: Burning may produce CO and CO2
HAZARDOUS POLYMERIZATION: Will not occur
CONDITIONS TO AVOID (POLYMERIZATION): None
SECTION 11: TOXICOLOGICAL INFORMATION
ETHYL ALCOHOL TOXICOLOGICAL INFORMATION: Oral rat LD50: 5800mg/kg; inhalation rat LC50: 16000 mg/l
DIACETONE ALCOHOL TOXICOLOGICAL INFORMATION: Oral rat LD50> 2000mg/kg; inhalation rat LC50 greater than near saturated
vapour concentration/ 1H, dermal rabbit LD50> 2000mg/kg
METHYL CARBITOL TOXICOLOGICAL INFORMATION: Oral rat LD50: 2370 mg/kg; inhalation rat LC50: 1500 ppm/7H; skin rabbit LD50:
1280 mg/kg.
CELLOSOLVE ACETATE TOXICOLOGICAL INFORMATION: Acute Toxicity – Ingestion; LD50, Rat 1,600 - 7,250 mg/kg
LD50, Mouse 2,830 - 3,200 mg/kg. Skin Absorption; LD50, Rabbit 1,535 mg/kg. Repeated Dose Toxicity - In animals, effects have been
reported on the following organs: Kidney.
BUTYL CARBITOL TOXICOLOGICAL INFORMATION:
Oral LD-50:(rat) 7,292 mg/kg
Oral LD-50:(mouse) 2,406 mg/kg
Dermal LD-50: ( rabbit) 2,764 mg/kg
Skin Irritation (rabbit) slight
Skin Irritation (guinea pig) slight
Eye Irritation (rabbit) moderate
Effects of chronic exposure: Skin and eye irritant. Injury to blood cells, liver and kidneys.
SECTION 12: ECOLOGICAL INFORMATION
ENVIRONMENTAL TOXICITY
ETHYL ALCOHOL:
Fish:Fathead Minnow 96 hr. LC 50: 15300 mg/l
CELLOSOLVE ACETATE:
Fish Acute & Prolonged Toxicity
LC50, fathead minnow (Pimephales promelas): 5 - 44 mg/l
LC50, rainbow trout (Oncorhynchus mykiss), 96 h: 20 - 40 mg/l
LC50, golden orfe (Leuciscus idus), 48 h: 80 mg/l
Aquatic Invertebrate Acute Toxicity
LC50, water flea Daphnia magna, static, 48 h: 142 mg/l
EC50, water flea Daphnia magna, 48 h, immobilization: 37 - 180 mg/l
Aquatic Plant Toxicity
EC50, green alga Selenastrum capricornutum, biomass growth inhibition, 72 h: 520 mg/l
EC50, alga Scenedesmus sp., Growth inhibition (cell density reduction), 72 h: > 500 mg/l
Toxicity to Micro-organisms
IC50; activated sludge, respiration inhibition, 30 min: 900 mg/l
EC50; bacteria, Growth inhibition (cell density reduction), 18 h: 2,800 mg/l
BUTYL CARBITOL:
Oxygen Demand Data:
BOD-5: 250 mg/g
COD (Chemical Oxygen Demand):: 2,080 mg/g
Acute Aquatic Effects Data:
24 h LC-50 (goldfish): 2700 mg/l
96 h LC-50 (bluegill sunfish): 1300 mg/l
METHYL CARBITOL:
The LC50/96-hour values for fish are over 100 mg/l. This material is not expected to be toxic to aquatic life.
SECTION 13: DISPOSAL CONSIDERATIONS
WASTE DISPOSAL METHOD: Whatever cannot be saved for recovery or recycling should be handled as hazardous waste and sent to a
RCRA approved incinerator or disposed in a RCRA approved waste facility. Processing, use or contamination of this product may change the
waste management options. State and local disposal regulations may differ from federal disposal regulations. The user of this material has
the responsibility to dispose of container and unused contents in accordance with federal, state and local requirements.
SECTION 14: TRANSPORT INFORMATION
Refer to the following when using the below information and reshipping Inks and Thinners:
FLASH POINT 73 – 149 (HAZARDOUS BY GROUND IN 5 GALLON CONTAINER)
FLASHPOINT UNDER 73 (HAZARDOUS BY GROUND IN QUART OR LARGER CONTAINER)
AND FLASHPOINT 149 OR UNDER (HAZARDOUS BY AIR IN ANY UNIT OF MEASURE)
If size deems shipment hazardous, below markings are required
U.S. DEPARTMENT OF TRANSPORTATION (LAND, D.O.T.)
PROPER SHIPPING NAME: Printing Ink
HAZARD CLASS: 3
ID NUMBER: 1210
PACKING GROUP: III
WATER TRANSPORTATION (WATER, I.M.O.)
PROPER SHIPPING NAME: Printing Ink
HAZARD CLASS: 3
ID NUMBER: 1993
PACKING GROUP: III
AIR TRANSPORTATION (AIR, I.C.A.O.)
PROPER SHIPPING NAME: Printing Ink
HAZARD CLASS: 3
ID NUMBER: 1210
PACKING GROUP: III
SECTION 15: REGULATORY INFORMATION
U.S. FEDERAL REGULATIONS:
TSCA (TOXIC SUBSTANCE CONTROL ACT):
Butyl Carbitol
Ethyl Alcohol
Methyl Carbitol
Cellosolve Acetate
112-34-5
64-17-5
111-77-3
109-86-4
SARA TITLE III (SUPERFUND AMENDMENTS AND REAUTHORIZATION ACT): No chemicals subject to SARA 302 Reporting
311/312 HAZARD CATEGORIES: "Fire Hazard", "Immediate Accute Health Hazard", "Flammable Liquid"
313 REPORTABLE INGREDIENTS:
Butyl Carbitol, Cellosolve Acetate and Methyl Carbitol are subject to reporting requirements of SARA Title III, Section 313 of the Emergency
Planning Community Right to Know Act of 1986 and of 40 CFR 372. This product is in compliance with the EPA TSCA inventory.
STATE REGULATIONS: California Safe Drinking Water Act (Prop 65) Listing: "WARNING: This product contains a chemical known to the
State of California to cause cancer and/or birth defects or other reproductive harm "
SECTION 16: OTHER INFORMATION
OTHER INFORMATION: The hazards listed on this MSDS are taken from the MSDS for each of the ingredients in this mixture. In
most cases, the maximum form of hazard is represented here. The TLV's represent the conditions under which it is believed that
nearly all workers may be repeatedly exposed day after day without adverse effect . It must be remembered that each individual
reacts differently and some may experience discomfort while others do not. This MSDS is presented so that each individual will
have the information to deal safely with the use of this product. All material's TSCA listed.
PREPARATION INFORMATION: Prepared by Specialty Ink Company, Inc.
DATE PREPARED: March 17, 2010
This MSDS supercedes all previously dated MSDS for this product.
DISCLAIMER: As the conditions or methods of use are beyond our control, we do not assume any responsibility and expressly
disclaim all liability for any use of this material. Information contained heein is given in good faith and is believed to be true and
accurate. All statements or suggestions are made without any warranty, expressed or implied, regarding the accuracy of the
information, the hazards connected with the use of the material or results to be obtained from the use thereof.