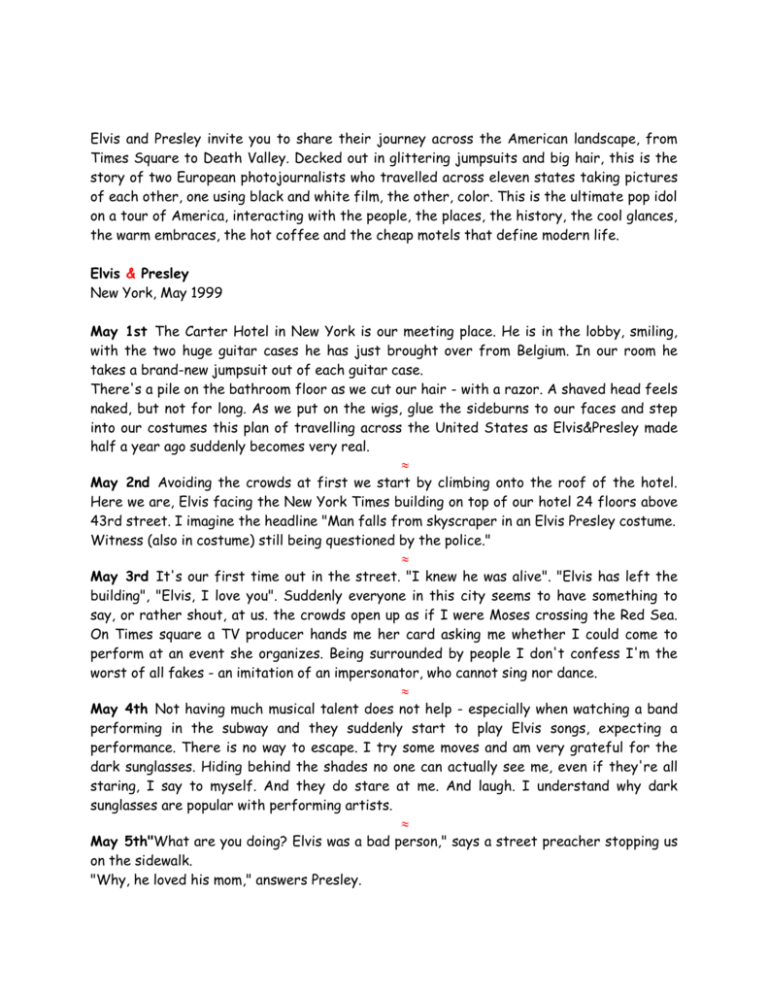 Elvis and Presley invite you to share their journey across the American landscape, from
Times Square to Death Valley. Decked out in glittering jumpsuits and big hair, this is the
story of two European photojournalists who travelled across eleven states taking pictures
of each other, one using black and white film, the other, color. This is the ultimate pop idol
on a tour of America, interacting with the people, the places, the history, the cool glances,
the warm embraces, the hot coffee and the cheap motels that define modern life.
Elvis & Presley
New York, May 1999
May 1st The Carter Hotel in New York is our meeting place. He is in the lobby, smiling,
with the two huge guitar cases he has just brought over from Belgium. In our room he
takes a brand-new jumpsuit out of each guitar case.
There's a pile on the bathroom floor as we cut our hair - with a razor. A shaved head feels
naked, but not for long. As we put on the wigs, glue the sideburns to our faces and step
into our costumes this plan of travelling across the United States as Elvis&Presley made
half a year ago suddenly becomes very real.

May 2nd Avoiding the crowds at first we start by climbing onto the roof of the hotel.
Here we are, Elvis facing the New York Times building on top of our hotel 24 floors above
43rd street. I imagine the headline "Man falls from skyscraper in an Elvis Presley costume.
Witness (also in costume) still being questioned by the police."

May 3rd It's our first time out in the street. "I knew he was alive". "Elvis has left the
building", "Elvis, I love you". Suddenly everyone in this city seems to have something to
say, or rather shout, at us. the crowds open up as if I were Moses crossing the Red Sea.
On Times square a TV producer hands me her card asking me whether I could come to
perform at an event she organizes. Being surrounded by people I don't confess I'm the
worst of all fakes - an imitation of an impersonator, who cannot sing nor dance.

May 4th Not having much musical talent does not help - especially when watching a band
performing in the subway and they suddenly start to play Elvis songs, expecting a
performance. There is no way to escape. I try some moves and am very grateful for the
dark sunglasses. Hiding behind the shades no one can actually see me, even if they're all
staring, I say to myself. And they do stare at me. And laugh. I understand why dark
sunglasses are popular with performing artists.

May 5th"What are you doing? Elvis was a bad person," says a street preacher stopping us
on the sidewalk.
"Why, he loved his mom," answers Presley.
"He was on drugs," shouts the priest.
"But he said thank you very nicely," tries to argue Presley, but the priest is not listening.
"You cannot imitate bad person," shouts the priest, this time using his megaphone.
"You should imitate Jesus Christ!"
Thank you. We're going to keep that in mind for the next time.

May 7tu Touring the city in an open double-decker bus we are greeted with enthusiasm by
the tour operator. The tourists, however, totally ignore us.
Upon entering the Staten Island Ferry Terminal "ELVIS HAS ENTERED THE BUILDING"
sounds through the PA system. The captain of the ferry turns out to be an Elvis fan and
sends a steward to take us up to the bridge.
Returning late at night to Manhattan we lose each other in the subway. Elvis jumps out just
before the doors close and Iam stuck inside. There I am one of the richest men of this
century without a single cent in my pockets, for the simple fact that this suit does not
have any pockets. Riding a subway train in a while jumpsuit totally broke while Elvis has all
our cash stuffed in his cowboy boots.

May 8th On our last night in New York we go out dancing in a Soho nightclub. Instead of
having to wait in line and pay our entrance fee we are asked in immediately - by the
manager. Inside the outfit turns out to be a success as well. Girls come up to us, dancing
and flirting. It's too bad we cannot really see them in the low lit nightclub wearing our
sunglasses.

May 9th It's time to leave New York and head out south. We fill the guitar cases with
films, cameras and spare underwear and board a bus, direction Nashville.
"Thank you for driving Greyhound. And thank you for being with us, Elvis. God bless you."
The girl at the ticket counter has the eyes of Priscilla.
Stopping in Cleveland, Ohio, we get rather unfriendly stares. A little black boy walks by
and says "Mama, he looks live Elvis" when his mother quickly pulls him away. A young Amish
woman seems to be terrified, but I don't know whether it's the glitter costume or
Presley's camera.
Cincinnati, Fort Knox we have been sitting in this bus for nearly 20 hours and will be
arriving in Nashville in another two. My back is hurting. My head atches. Sleeping with a
wig glued to your head is no pleasure. "Why are you taking a Greyhound instead of your
airplane?" someone asks. Good point.
Upon seeing the 17 concrete teepees of the "Wigwam Village Hotel" in Cave City, Kentucky,
we have the driver stop the bus and get out. "But you paid to stay on till Nashville," the
driver protests "And there's nothing here." But 21 hours on the bus were enough, I'd
rather sleep in a wigwam than in a Greyhound.

May 10th The next morning we sit by the road on our guitar cases, sticking a cardboard
sign out that says MEMPHIS. 3 hours later, sweating in our costumes in the sun, still at
the same place, we realize this might not have beeen such a good idea. People drive by,
stop, stare blankly, say nothing and drive on. Others drive several times around us, staring.
Someone pretended to run us over, only to pull back at the last second.
A life insurance salesman in a white Cadillac finally gives us a ride. Cruising on the white
leather seats listening to his country music collection we come for once close to what the
King would have approved of as transport. Before dropping us off he takes us out for
lunch. Going for a couple of drinks in Nashville later that night, we get invited on stage in
the bars we enter. We decline, admitting we look better we sound. If you can't sing
wearing an Elvis costume, you better leave this towwn. We left.

May 12th Memphis, Tenessee. Our Graceland is a grubby motel well-known by poor
musicians and cheap prostitutes. Soon an army of kids of families living here follows us
around enywhere. A hooker-in-residence calls us up several times in the night, trying to cut
a deal with Presley by offering him reductions, "because he means so much for the city".

May 14th We take a trip to Holly Springs, Mississippi, to the house of Paul McLoud. This
man has dedicated the last 42 years of his life to collecting everything he can find about
Elvis. His house, called Graceland too, is stuffed with Elvis memorabilia. There is not one
square inch of free wall space - not even on the ceiling.
He is trying to record and archive every mention of Elvis in the media. In a room full of
magazine cutouts 3 television sets with video recorders are on 24 hours a day in order not
to miss the King's appearance on screen.
He also gives tours around his house day and night - which we are doing now.
Showing us pictures of Elvis as a kid, and his own son when he was small, whom he named
Elvis Aaron Presley McLoud, we enthusiastically agree on how similar they look - even if
the only thing they have in common is a hat on their head. Ther's a picture of him wearing
an Elvis costume in a stretch limo next to a sourly smiling Priscilla-lookalike. When asked
about his wife he tells us, "Well, she said: 'It's Elvis or me' And I had to say: 'I'm sorry,
honey'. She left."
He takes pictures of all the visitors coming to see Graceland too. The project is to cover
the entire Chinese wall with these pictures, of which he already has an entire room full.
After a singing and shaking demonstration, and concluding with a handful of Elvis
anecdotes he insists he would glady give his own life to bring the King back to life.

May 15th We get very mixed reactions on our visit to the real Graceland in Memphis.
Some scream and want to pose with us, others chase us with their cameras throgh the
garden of Elvis. A German lady inside Graceland walks by and comments "die sehen ja
schreck-lich aus" (they look dreadful). Maybe it's the costumes, where ketchup and coffee
stains have become a part of our outfit. A small boy asks his dad: "Is this Elvis?" and his
father says: "Yes, son, on a bad hair day."
In a laundromat we met Loulou. She's 85 years old and remembers the golden days of Elvis
very well. She took my hand, closed her eyes and dreamt about the past. I hope her son
whom she is living with is not going to suspect Alzheimer's when she comes home telling
him she met Elvis and his twin brother, I better send her the picture.

May 17th Never danced so sensually with a lady that could be my mother. She's the
waitress of the Mexican restaurant in Tucumcari, New Mexico. I felt like a baby in her
arms between her enormous breasts.
"Elvis was a good boy, and I am sure that you are too," she whispered in my ear. Her
husband was sitting at the table, smiling.
Late at night we enter a bar in the small town of Las Vegas, New Mexico. "Elvis you fuck,
do you think I don't Know who tou are," Yells a Mexican transvestite as I go to the bar to
order a whiskey. Indian ladies come up to me and ask me for a dance. I'm not a great
dancer but I see everybody else stumbling around it does not seem to matter much. The
ladies keep feeding the jukebox and pass me around while the transvestite keeps yelling
"Elvis you fucker" and drinks my whiskey. My closest fan starts licking my ear. Maybe it's
time to leave. on the parking lot the Mexican transvestite gets very emotional - "Elvis, you
fuck, take care of yourself."

May 18th The next day we look pretty miserable. We sober up in a hot spring but our wigs
definitely took a beating yesterday. We decide we cannot go on looking like this. Pedro
welcomes us to his barbershop, making his other customers wait. One hour and half a can
of hairspray later our wigs look like new. Pedro refuses payment as he says it has been an
honour to serve the King in his barbershop.

May 19th Upon entering the Cafè Frontier on old Route 66 in Arizona six heads turn and
the place falls silent. The atmosphere is somewhat icy, as the same six locals seem to hang
out here every night, and two guys in white jumpsuits are rather uncommon. Presley has
the good idea of buying a round of drinks for the bar and the atmosphere loosens up. The
jukebox is fed, and people strat dancing. After many more drinks a very fat young Indian
woman with a cute face introduces herself as Mignon - "You know, like the filet mignon".
Her friend wrestles Presley on the dance floor. When we leave they ask if they could come
for a drink in our motel room. There we sit on the beds, watching Jerry Springer. I finally
throw them out as Presley starts preparing himself to sleep in the truck.

May 21st Screaming and photographing tourists make us feel more like Mickey Mouse in
Disneyland than Elvis Presley in Las Vegas. "I love you," "I knew he was alive," "Elvis has
left the building," sounds all a little too familiar by now. "Elvis needs a dry cleaner." There
was a new one. Travelling through the desert and various fast-food joints marked our
costumes, unwashed for 3 weeks. We are both longing to take them off.
Jimmi le Boef, a real Elvis impersonator, invites us to join him on stage at his concert. We
decline, telling him we came to see his show, not ours. He says he's honored by our
presence.
In the Glitter Gilch topless bar a stripper performs to "Suspicious Minds" and comes up to
Presley asking if he wants a lapdance. We have to admit we're broke and cannot afford a
close encounter. She gazes at us in disbelief; "Why are you in Vegas if you don't have any
money?

May 22nd Early morning in Death Valley we take our costumes off, for the last time. As
we walk through the airport in Vegas wearing plain clothes to catch a flight back to New
York it feels strange not hearing anyone saying, "I love you".