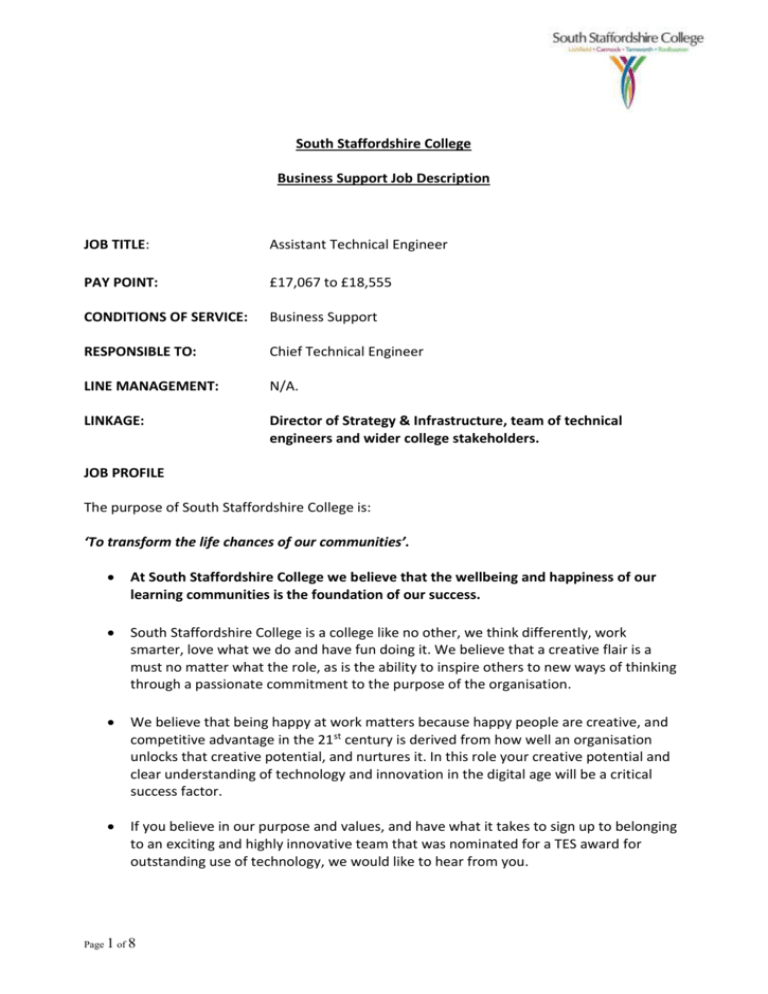 South Staffordshire College
Business Support Job Description
JOB TITLE:
Assistant Technical Engineer
PAY POINT:
£17,067 to £18,555
CONDITIONS OF SERVICE:
Business Support
RESPONSIBLE TO:
Chief Technical Engineer
LINE MANAGEMENT:
N/A.
LINKAGE:
Director of Strategy & Infrastructure, team of technical
engineers and wider college stakeholders.
JOB PROFILE
The purpose of South Staffordshire College is:
'To transform the life chances of our communities'.

At South Staffordshire College we believe that the wellbeing and happiness of our
learning communities is the foundation of our success.

South Staffordshire College is a college like no other, we think differently, work
smarter, love what we do and have fun doing it. We believe that a creative flair is a
must no matter what the role, as is the ability to inspire others to new ways of thinking
through a passionate commitment to the purpose of the organisation.

We believe that being happy at work matters because happy people are creative, and
competitive advantage in the 21st century is derived from how well an organisation
unlocks that creative potential, and nurtures it. In this role your creative potential and
clear understanding of technology and innovation in the digital age will be a critical
success factor.

If you believe in our purpose and values, and have what it takes to sign up to belonging
to an exciting and highly innovative team that was nominated for a TES award for
outstanding use of technology, we would like to hear from you.
Page 1 of 8

The Assistant Technical Engineer role at South Staffordshire College provides an
opportunity to harness the best technologies to support innovation in our business
operations and curriculum delivery.

The College is seeking an outstanding candidate with a strong demonstrable
understanding of using MS Windows desktop and server operating systems, TCP/IP
networking, diagnosing faults and MS Office installation and operation amongst wider
technical skills.

Innovation is in our DNA, we nurture a learning culture where quirky is good and where
people can thrive.
Our Core Principles:Togetherness - Respect and value all those we come into contact with
Standards - Consistently deliver the highest quality in all that we do
Sustainability - Promote the protection of our environment in our business activities
Customer Care - Put learners and customers at the heart of everything we do
Scope of Responsibilities
Assistant Technical Engineers are responsible for a wide range of responsibilities including the
general maintenance of defined computer, network and audio-visual equipment and for the
resolution of identified technical problems, as well as undertaking general tasks which will
promote the use of ICT across the curriculum.
Specific Responsibilities
Specific Roles and responsibilities for the post will include, but are not limited to the following:
Desktop and Application Support
● Install, maintain and upgrade desktop hardware (including peripherals) and software.
● Be aware of the limitations and the appropriate use of hardware and OS.
Server and Network Support
● Install, support and maintain the network infrastructure. (Including monitoring of
network performance.)
● Install, maintain and upgrade (hardware and software) of file, print and web servers,
and caches.
● Create and maintain user accounts and user permissions.
Health and safety
● Be aware of specific health and safety issues relating to ICT.
● Implement relevant precautions and routines.
Configuration and Installation
● Follow a defined process to manage configurations and changes to IT equipment,
designed to support service provision.
● Appropriately test changes to systems.
● Perform audits of software (including licences), hardware, IT usage and IT infrastructure
Page 2 of 8
● Maintain accurate records in terms of identification and configuration.
Continuity, Maintenance and Security
● Minimise the impact on the IT service of a serious disaster by completing maintenance
tasks (including performing backups, implementing virus protection and securing ICT
systems).
Support Request Management
● Deal with support requests; analyse and determine appropriate response to requests.
● Manage support resource while considering the wider service context.
Internal Support Arrangements and External Contracts
● Work within the context of a negotiated service level.
● Monitor external support services and contracts.
● Maintain awareness of warranties, support contracts and contact details.
● Ensure warranties are appropriately used.
Communication Skills
● Be able to effectively communicate (verbally and in writing) technical information at an
appropriate level, and in a suitable style, having assessed the audience.
Strategy and Planning
● Support technology and innovation in line with the college's 2025 Vision.
General Organisational Responsibilities
For all posts at the College there is a corporate objective of ensuring post holders have an
understanding of organisational priorities and the nature of the College in relation to its
business.
All support staff and academic staff contribute to the success of the organisation and as such
post holders will be provided with information about the College from their induction as a new
employee and during their period of employment through issue of a range of staff
communication facilities including the use of the intranet.
The following is an indication of the corporate areas and activities the College would like all
postholders to have an awareness of. Some activities will be more specifically relevant to
some roles than others.
Our DNA
Our values and guiding principles form the character of our college. Our commitment to the
highest standards in everything we do will be a beacon of sustainability for aspiring
communities.
We recognise the power of networks and strive to be an exemplary, open and social
organisation.
Page 3 of 8
1
Key Awareness in relation to:
Governance and Management
You will:
● Be aware of the strategic planning processes and specifically the 2025 Vision within
the College as set by the Board.
Academic and Business Development
We are committed to providing an outstanding experience for our learners and
measure our success by their success.
You will:
● Be aware of the academic and vocational provision and business development of
the College.
● Be aware of the development of technology to facilitate new methods of teaching
and learning.
● Support and be aware of the development of student support processes and
procedures that ensure that all learners have effective tutorial support.
Quality Management
Through commitment to achieving world-class standards we will create a high
performance culture underpinned by an ethos of ownership and continuous
improvement.
You will:
● Be aware of corporate strategies, systems, policies and procedures.
Human Resources
The College believes that future success is reliant upon the creativity, commitment
and passion of its staff.
You will:
● Be aware of the College's commitment to the creation of a culture that encourages
debate, rewards innovation and fosters inclusiveness and productive team working.
● We will recognise the success of our people and will celebrate their achievements.
Our staff and learners will belong to a community of passionate advocates who love
what they do.
Physical and Financial Resource Management
In celebrating our heritage we recognise the importance of sustaining it for the
future.
You will:
● Be aware of the development of the Financial Memorandum and the College's
Financial Regulations and Procedures.
● Be aware of the development of the College Estate Strategy to ensure the
accommodation meets the evolving needs of learners.
Page 4 of 8
● Be aware of the effective management of risk through the implementation and
monitoring of related policies and procedures.
● Support the College in the implementation of health, safety and security policies,
strategies and mechanisms which meet legislative and other best practice
requirements and which provide a welcoming and safe learning environment in all
College premises and campuses.
2
External Links and Partnerships
We will be known for our connectivity with local, regional, national and international
businesses.
You will:
● Be aware of the College's commitment to strengthen supportive partnerships and
alliances with local communities, stakeholders, other education providers,
employers, professional bodies and appropriate Government departments.
● Be able to support the College in its commitment to develop a dynamic, innovative
and entrepreneurial culture.
Marketing and Recruitment of students
We will pioneer ways to enable our communities to exploit new opportunities from living in a
connected world.
You will:
● Contribute and support the College's marketing activities.
● Support the College in its enrolment process.
3
Support for Students
Our learners will be sought after for their positive and enterprising attitude, creativity, digital
confidence and ability to exercise good judgement.
You will:
 Be aware of the range services available for supporting learners' financial, personal
and emotional needs, and lines of referral.
 Be aware of the additional learning support provision available to support individual
learners' needs and lines of referral.
4
Sustainable Development
Our communities are the custodians of our heritage and are its advocates for the
future. Our courage, belief, ambition, purpose, principles and values will help secure
the wellbeing and happiness of our communities for future generations.
All post holders are encouraged to contribute through their roles to improving the
environment, for the College, our stakeholders and the wider community. Details of
policy, information and the staff development supporting the policy on environmental
sustainability will be promoted through the website and various College communication
channels
Page 5 of 8
5
Other Duties
● To support where appropriate the preparation for and during the inspection period.
● To undertake such other duties as your Line Manager may, from time to time,
determine in consultation with the post holder to ensure the continued existence,
viability and progress of the College.
This specification is current at August 2014 and is representative of the range of specific
duties/responsibilities expected of the post. The duties and responsibilities are neither static
nor exhaustive and are liable to variation to reflect any future changes required of this post, as
determined by your Line Manager.
The general organisational responsibilities may change from time to time to reflect
organisational developments and/or further education related issues.
Page 6 of 8
Assistant Technical Engineer Person Specification
Essential
Desirable
Qualifications
●
3 GCSE passes at Grade C or
above to include English and
Maths
●
●
Experience
●
At least 12 months prior
experience working in a peoplecentred IT role.
●
Knowledge
●
Experience with MS Windows
desktop and server operating
systems.
Basic Understanding of TCP/IP
networking
Knowledge of PC hardware with
experience of diagnosing
problems
MS Office installation and
operating
Excellent communications and
interpersonal skills
●
●
●
●
●
●
●
●
●
●
●
Personal Attributes
● Ability to work in a team.
●
● Personal warmth, openness and
sensitivity.
● Highly motivated to personal and
team achievement and able to
work on their own initiative.
● Company loyalty.
● Innovative and creative.
Skills
● Ability to use logic and
information to achieve goals.
● Effective use of business tools
and IT (this may be desirable for
some posts)
● Able to prioritise work to ensure
Page 7 of 8
A related qualification at Level 4.
Professional qualifications in
specific subject areas. For
example Cisco CCNA, Microsoft
MCSE
Three years prior experience in
an IT support role dealing with
one or more of the key systems
in use at the College
Advanced experience with
current MS Windows Desktop
Operating Systems
Experience with other desktop
operating systems such as Linux,
BSD or
Mac OS X
Advanced knowledge of and
experience in networking
hardware and protocols.
Experience with server operating
systems.
Experience of programming
desktop and server systems,
including web servers
Experience of IP telephony
systems.
Effective in problem solving
Safeguarding
●
●
●
●
Page 8 of 8
achievement of targets.
DBS clearance
Motivation to work in an
environment with children and
young people.
Ability to form personal
boundaries in an environment
with young people and
vulnerable adults.
To be sensitive, and to apply
yourself appropriately, in an
education environment.
● Emotional resilience in working
with challenging behaviours.
● Willingness to use authority and
maintain discipline in an
educational environment.