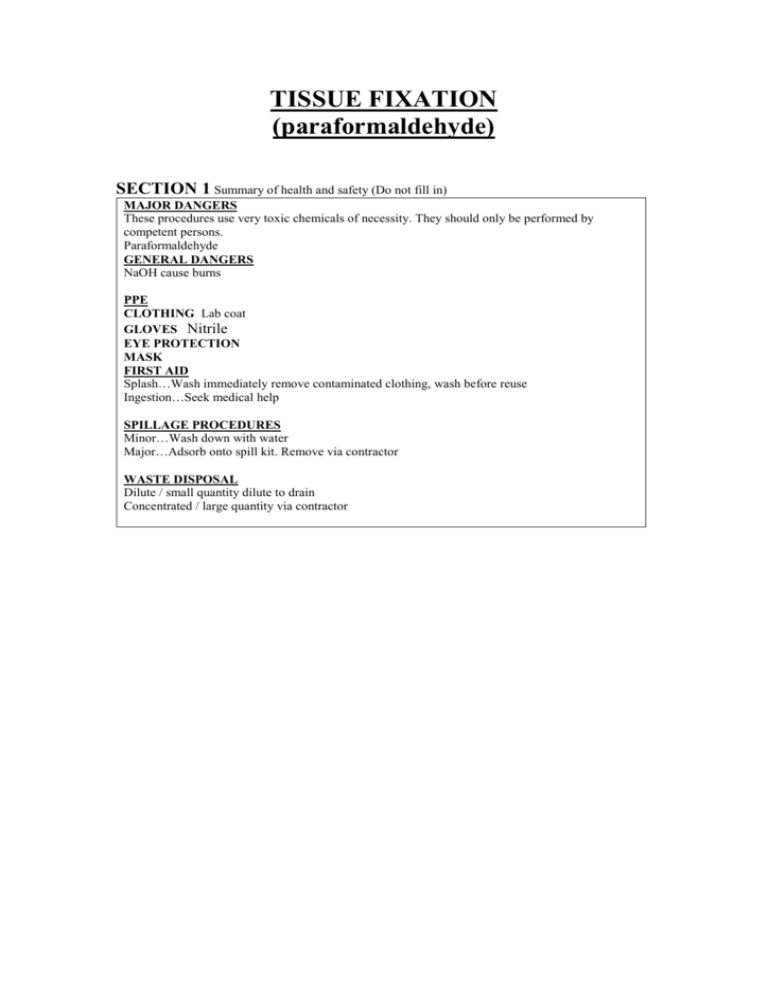 TISSUE FIXATION
(paraformaldehyde)
SECTION 1 Summary of health and safety (Do not fill in)
MAJOR DANGERS
These procedures use very toxic chemicals of necessity. They should only be performed by
competent persons.
Paraformaldehyde
GENERAL DANGERS
NaOH cause burns
PPE
CLOTHING Lab coat
GLOVES Nitrile
EYE PROTECTION
MASK
FIRST AID
Splash…Wash immediately remove contaminated clothing, wash before reuse
Ingestion…Seek medical help
SPILLAGE PROCEDURES
Minor…Wash down with water
Major…Adsorb onto spill kit. Remove via contractor
WASTE DISPOSAL
Dilute / small quantity dilute to drain
Concentrated / large quantity via contractor
SECTION 2
Cat No.
S 8045 (s)
LIST ALL RELEVENT CHEMICALS ( ALL VERY TOXIC, TOXIC, HARMFUL OR IRRITANT)
CHEMICAL
MAX QTY (1)
STATE (2)
PROCESS (3)
R PHRASE
TOTAL
Stock Solution
Sodium Hydroxide
B
2
A
1
C
3 35
M 6M=GLP
A
B
A
1
2
1
A
C
A
1
3
1
A
C
B
1 35
3 11-45-46-23-21/22-42/43
2 22
M 1M=GLP
X 18X
M 2M=GLP
Working Solutions
S 8045 (s)
P 6148 (s)
22290 (m)
1M Sodium Hydroxide
Paraformaldehyde
Saturated Picric Acid
Notes
1) MAX QTY
2) STATE
A..<1gm (ml) B…1-100gm (ml) C…>100gm (ml)
A..dense solid, non volatile liquid
B..dusty solid, volatile liquid
C..powder, highly volatile liquid, aerosol, fume, gas or substance adsorbed through skin
3) PROCESS
A.. Predominantly closed ie operator not exposed (eg stoppered vessel)
B..partially closed (eg a conical flask)
C..open ie operator exposed to chemical (eg weighing out into a weighing boat)
4) Do NOT fill in the thin columns or the TOTAL column.
NB. The list of catalogue numbers represents the usual items used , but may be replaced in practice by equivalent alternatives from a variety of suppliers
((s) – Sigma, (r) – Roche, (bd) – Becton Dickinson, (i) – Invitrogen, (m) - VWR International, (p) - Promega )
SECTION3 DESCRIBE PROCEDURE
Fixation of Tissue
Formaldehyde fixative (freshly made from Paraformaldehyde – required particularly for
immunofluorescence) is used in varying concentrations upto 4% to fix biological material for a
variety of techniques (light & electron microscopy)
1. Chemicals:
Paraformaldehyde
0.1M phosphate buffer saline pH 7.2-7.6(Oxoid - Dulbecco "A" PBS tablets Cat. No.
BR14a )
1M NaOH solution (Stock = 40gm/100ml)
Saturated Solution Picric Acid (option for Zambonis Fixative)
2. Fixative preparation: (per 100ml) example 2% paraformaldeyde Solution in PBS
1) Heat 30ml of distilled water (in conical flask) in microwave oven to near boiling point
and then transfer onto magnetic stirrer in the fume cupboard.
2) 2g paraformaldehyde are weighed in a weighing boat on chemical balance in the
laboratory, (this cannot be performed in the fume hood due to the air flow blowing the
light powder about) and added to the distilled water in the fume hood.
3) After stirring for 5 minutes add 1 drop of 1M NaOH to clear the solution. Add 1
phosphate buffered saline tablet, dissolve and make up to 100ml with distilled water.
Variation: Zamboni's fixative. (2% paraformaldehyde in PBS with picric acid)
Preparation as above with the addition of 200µl of a saturated solution of Picric acid
after step 3
3. Method:
Material to be fixed is place into the fixative solution in a closed container (bottle/flask)
for required amount of time.
The fixative is then poured off and disposed down the fume cupboard sink and replaced
with PBS buffer.
The material is then ready for further processing as required.
4. Waste
Small quantities of fixative solution may be disposed down the fume hood sink, greatly
diluted with cold running water.