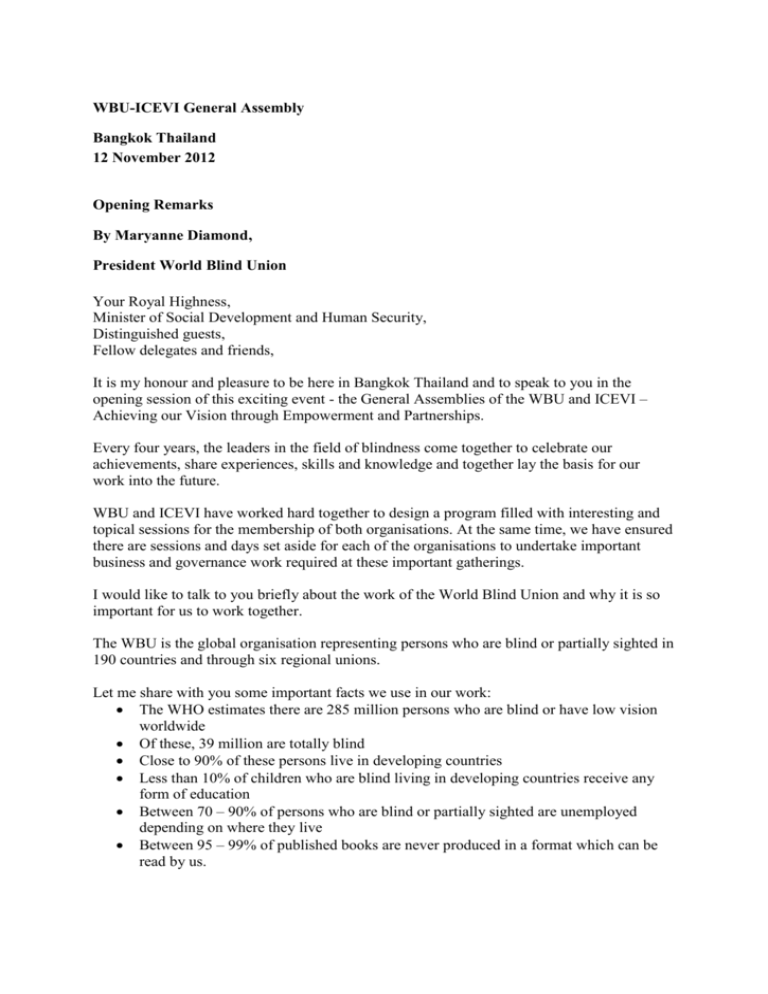 WBU-ICEVI General Assembly
Bangkok Thailand
12 November 2012
Opening Remarks
By Maryanne Diamond,
President World Blind Union
Your Royal Highness,
Minister of Social Development and Human Security,
Distinguished guests,
Fellow delegates and friends,
It is my honour and pleasure to be here in Bangkok Thailand and to speak to you in the
opening session of this exciting event - the General Assemblies of the WBU and ICEVI –
Achieving our Vision through Empowerment and Partnerships.
Every four years, the leaders in the field of blindness come together to celebrate our
achievements, share experiences, skills and knowledge and together lay the basis for our
work into the future.
WBU and ICEVI have worked hard together to design a program filled with interesting and
topical sessions for the membership of both organisations. At the same time, we have ensured
there are sessions and days set aside for each of the organisations to undertake important
business and governance work required at these important gatherings.
I would like to talk to you briefly about the work of the World Blind Union and why it is so
important for us to work together.
The WBU is the global organisation representing persons who are blind or partially sighted in
190 countries and through six regional unions.
Let me share with you some important facts we use in our work:
 The WHO estimates there are 285 million persons who are blind or have low vision
worldwide
 Of these, 39 million are totally blind
 Close to 90% of these persons live in developing countries
 Less than 10% of children who are blind living in developing countries receive any
form of education
 Between 70 – 90% of persons who are blind or partially sighted are unemployed
depending on where they live
 Between 95 – 99% of published books are never produced in a format which can be
read by us.
Our work consists of 3 high level priorities: representation, capacity building and information
sharing.
Representation includes our work with the United Nations and its agencies, human rights,
access (that is information and environmental), technology and our work to support our
members take part in their countries'work to have the UNCRPD implemented and monitored.
Capacity Building includes employment, working to establish organisations of the blind in all
countries, braille (access, affordability, codes, production, education and more), including our
various population groups in all our work - women, children, youth, older persons and
persons who have low vision.
Information sharing includes ensuring the WBU has a relevant, up-to-date useable website
when contacted by members and the broader community, building and fostering partnerships
with other organisations and working with the various language groups within our
membership to ensure they are included in all our work.
Some of our major initiatives include:
The Right to Read Campaign
A major focus is the work at the World Intellectual Property Organization (WIPO) for a
treaty which would allow books produced in an alternate format under exceptions to national
copyright law to be shared with persons who are blind in other countries which current
copyright law does not allow.
The Right to Work Campaign
The first stage is the development of a global Employment Resource Bank which will be
launched this month in the first instance here in Bangkok with a formal launch in Canada on
30 November. It will consist of good practice employment programs, case studies and stories
of successfully employed people who are blind, good practice mentoring and peer support
programs in employment and micro credit programs which are accessible and inclusive of
persons who are blind.
The UNCRPD Toolkit
This is an extensive publication which will assist our members to take part in the monitoring
groups established at the national level working to have governments sign, ratify, implement
and monitor the Convention. The CRPD is something all of us should make it our business to
study and to use. It is an excellent advocacy tool and one extremely relevant to all of our
work.
Educators play an important role in the lives of persons who are blind or partially sighted.
They, along with parents,play an important role in the influencing of our children in selfbelief, confidence and expectations. At the same time, we as persons who are blind have a
responsibility to ensure that we are willing and available as role models and that we
determine and take responsibility for our decisions and lives. What a powerful combination
working together!
WBU is committed to continuing our work closely with ICEVI and IAPB as a member of the
Vision Alliance. Come along to our booth in the exhibition hall to find out more about this
important collaboration.
Before I finish, I would like to let you know about a very important conference to be held in
Melbourne, Australia in March 2014. It is the 11th International Conference on Low Vision.
In the exhibition hall you will find a booth where you can even register.
I wish all you a wonderful General Assembly and look forward to meeting many of you in
the formal and informal sessions over the coming days.
Thank you.