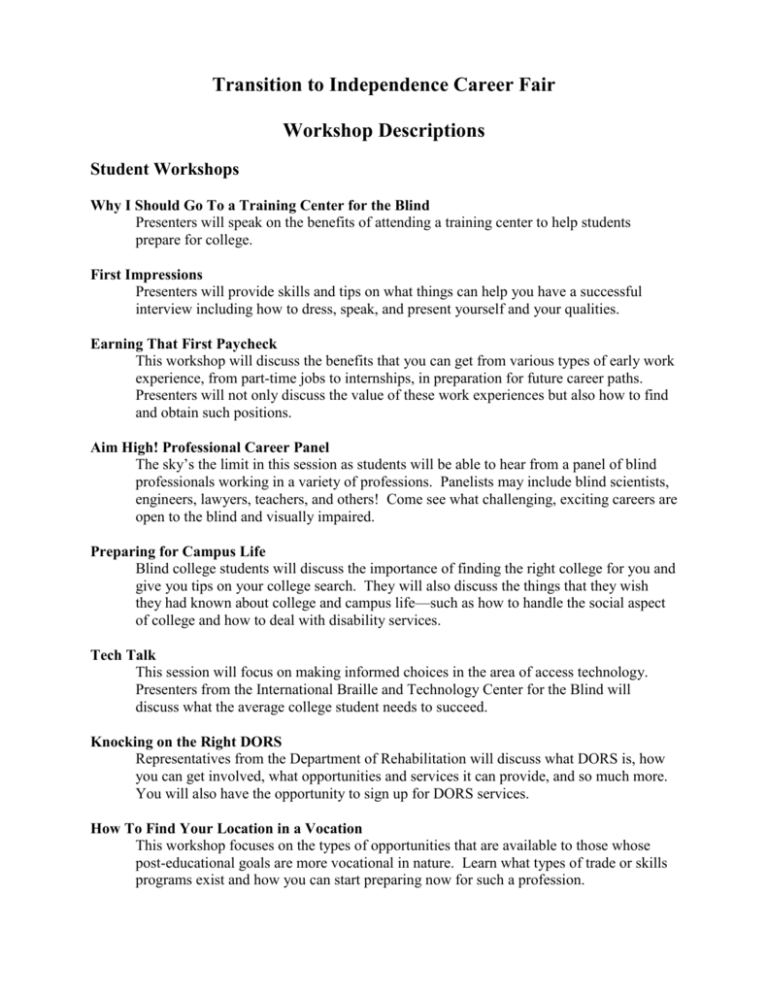 Transition to Independence Career Fair
Workshop Descriptions
Student Workshops
Why I Should Go To a Training Center for the Blind
Presenters will speak on the benefits of attending a training center to help students
prepare for college.
First Impressions
Presenters will provide skills and tips on what things can help you have a successful
interview including how to dress, speak, and present yourself and your qualities.
Earning That First Paycheck
This workshop will discuss the benefits that you can get from various types of early work
experience, from part-time jobs to internships, in preparation for future career paths.
Presenters will not only discuss the value of these work experiences but also how to find
and obtain such positions.
Aim High! Professional Career Panel
The sky's the limit in this session as students will be able to hear from a panel of blind
professionals working in a variety of professions. Panelists may include blind scientists,
engineers, lawyers, teachers, and others! Come see what challenging, exciting careers are
open to the blind and visually impaired.
Preparing for Campus Life
Blind college students will discuss the importance of finding the right college for you and
give you tips on your college search. They will also discuss the things that they wish
they had known about college and campus life—such as how to handle the social aspect
of college and how to deal with disability services.
Tech Talk
This session will focus on making informed choices in the area of access technology.
Presenters from the International Braille and Technology Center for the Blind will
discuss what the average college student needs to succeed.
Knocking on the Right DORS
Representatives from the Department of Rehabilitation will discuss what DORS is, how
you can get involved, what opportunities and services it can provide, and so much more.
You will also have the opportunity to sign up for DORS services.
How To Find Your Location in a Vocation
This workshop focuses on the types of opportunities that are available to those whose
post-educational goals are more vocational in nature. Learn what types of trade or skills
programs exist and how you can start preparing now for such a profession.
Communication—From the Classroom to the Boardroom
This interactive workshop will focus on various types of communication, from
conversing with your professors to giving a class presentation to running a meeting.
Alternative techniques will be discussed, as well as how to present yourself.
How To Say "I Can"
This workshop focuses on the importance of self-advocacy. Knowing who to ask (and
how to ask) plays a vital role in your future success. Learn more about your rights as a
blind person—and about how to insist on having those rights!
Jobs Break-outs
Separate presentations focusing on jobs in the following areas:
Law Enforcement
Government Jobs
Medical and Human Services
Trade Jobs
STEM Jobs
Education
Entertainment, Media, and Marketing
General Jobs Bank
Mock Interview
This is a great opportunity to go through a one-on-one interview and receive feedback on
your performance. You will receive a "job description" as well as "company
information" to help you prepare.
Parent and Teacher Workshops
While parents and teachers are encouraged to attend our other workshops with their students, the
following sessions will specifically focus on them and what they can do to help their students.
Great Expectations
As guides to students charting their own course, you will discuss new ideas for fostering
high expectations and increasing the level of motivation among your students. Topics
will include promoting age-appropriate expectations and how to avoid pitfalls of
unknowingly short-changing students with a lack of exposure and experience.
Transitioning to Independence—College and Career
Learn more about the transition planning process and how to develop an effective
transition plan. The difference between entitlement and eligibility will also be discussed.
Learn how to empower your student(s) by increasing their role in transition and lessening
the parent/teacher role.
Transitioning to Independence—Life Skills
This workshop focuses on what you can do at home to prepare your child to live a fully
independent life. From household chores to money matters, learn how to start your child
down the road to independence.