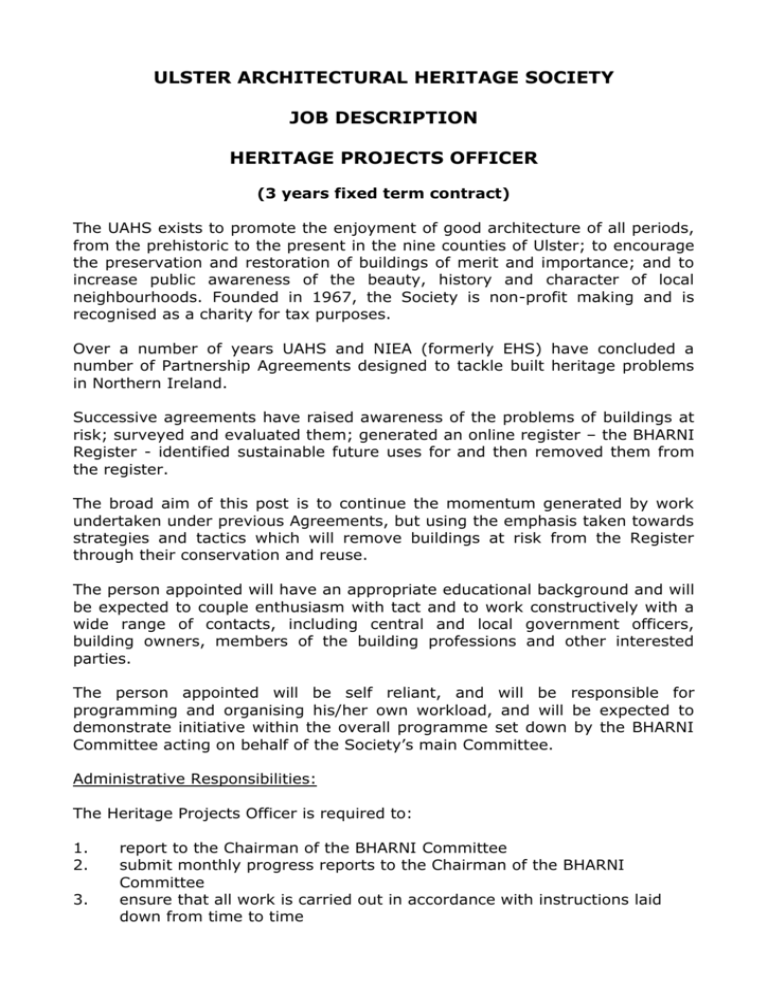 ULSTER ARCHITECTURAL HERITAGE SOCIETY
JOB DESCRIPTION
HERITAGE PROJECTS OFFICER
(3 years fixed term contract)
The UAHS exists to promote the enjoyment of good architecture of all periods,
from the prehistoric to the present in the nine counties of Ulster; to encourage
the preservation and restoration of buildings of merit and importance; and to
increase public awareness of the beauty, history and character of local
neighbourhoods. Founded in 1967, the Society is non-profit making and is
recognised as a charity for tax purposes.
Over a number of years UAHS and NIEA (formerly EHS) have concluded a
number of Partnership Agreements designed to tackle built heritage problems
in Northern Ireland.
Successive agreements have raised awareness of the problems of buildings at
risk; surveyed and evaluated them; generated an online register – the BHARNI
Register - identified sustainable future uses for and then removed them from
the register.
The broad aim of this post is to continue the momentum generated by work
undertaken under previous Agreements, but using the emphasis taken towards
strategies and tactics which will remove buildings at risk from the Register
through their conservation and reuse.
The person appointed will have an appropriate educational background and will
be expected to couple enthusiasm with tact and to work constructively with a
wide range of contacts, including central and local government officers,
building owners, members of the building professions and other interested
parties.
The person appointed will be self reliant, and will be responsible for
programming and organising his/her own workload, and will be expected to
demonstrate initiative within the overall programme set down by the BHARNI
Committee acting on behalf of the Society's main Committee.
Administrative Responsibilities:
The Heritage Projects Officer is required to:
1.
2.
3.
report to the Chairman of the BHARNI Committee
submit monthly progress reports to the Chairman of the BHARNI
Committee
ensure that all work is carried out in accordance with instructions laid
down from time to time
4.
5.
6.
7.
8.
operate within allocated budgets
agree with the Treasurer of the Society, before any liability, expense or
commitment in excess of these budgets is incurred
assist the Treasurer to prepare regular reports to NIEA as required under
the Partnership Agreement
maintain and organise the allocated work station and respond promptly
to all instructions, correspondence and queries
manage any short-term staff and volunteers.
Buildings at Risk:
The Heritage Projects Officer is required to:
1.
2.
3.
4.
5.
6.
7.
8.
9.
10.
11.
broker the successful conservation of listed buildings at risk using
arrange of mechanisms tailored to individual cases
develop the use of "options appraisals" in more complex cases
update the on-line register in a timely manner
work with NIEA, Planning Service and their statutory agencies
select and assess appropriate buildings according to agreed architectural
and historical criteria, as appropriate
visit, photograph, describe and record buildings, as appropriate
research building histories from a variety of available sources as required
maintain a list of prospective restoring purchasers and disseminate
information as appropriate
source and compile case studies, working with architects, owners etc
handle public relations queries and work with the media
undertake supporting activities which may include: advice about VAT as
it applies to built heritage; updating the Skills Directory; highlighting
successful restorations; promoting the opportunities for finding support;
responding to or promoting media opportunities to spotlight BHARNI
issues.
Other Duties:
The Heritage Projects Officer will be required to undertake such other duties as
may be approved by the BHARNI Committee and which fall within the general
ambit of the post and as set out in the Partnership Agreement between NIEA
and UAHS.