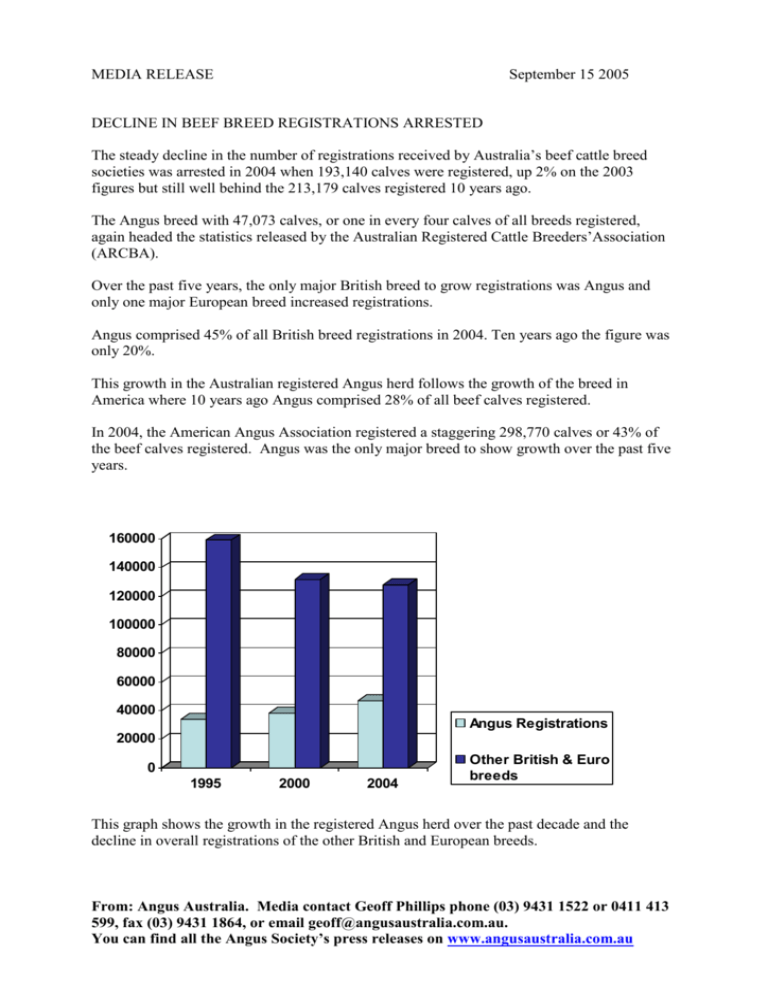 MEDIA RELEASE
September 15 2005
DECLINE IN BEEF BREED REGISTRATIONS ARRESTED
The steady decline in the number of registrations received by Australia's beef cattle breed
societies was arrested in 2004 when 193,140 calves were registered, up 2% on the 2003
figures but still well behind the 213,179 calves registered 10 years ago.
The Angus breed with 47,073 calves, or one in every four calves of all breeds registered,
again headed the statistics released by the Australian Registered Cattle Breeders'Association
(ARCBA).
Over the past five years, the only major British breed to grow registrations was Angus and
only one major European breed increased registrations.
Angus comprised 45% of all British breed registrations in 2004. Ten years ago the figure was
only 20%.
This growth in the Australian registered Angus herd follows the growth of the breed in
America where 10 years ago Angus comprised 28% of all beef calves registered.
In 2004, the American Angus Association registered a staggering 298,770 calves or 43% of
the beef calves registered. Angus was the only major breed to show growth over the past five
years.
160000
140000
120000
100000
80000
60000
40000
Angus Registrations
20000
0
1995
2000
2004
Other British & Euro
breeds
This graph shows the growth in the registered Angus herd over the past decade and the
decline in overall registrations of the other British and European breeds.
From: Angus Australia. Media contact Geoff Phillips phone (03) 9431 1522 or 0411 413
599, fax (03) 9431 1864, or email geoff@angusaustralia.com.au.
You can find all the Angus Society's press releases on www.angusaustralia.com.au
NOTE: Angus Australia has agreed to comply with an ARCBA Code of Practice which
precludes breeds from using other breeds' individual registration figures in media releases.
The Code of Practice requires ARCBA to post these significant industry breed trend figures
on the ARCBA website. ARCBA can be contacted on (02) 6773 3555.