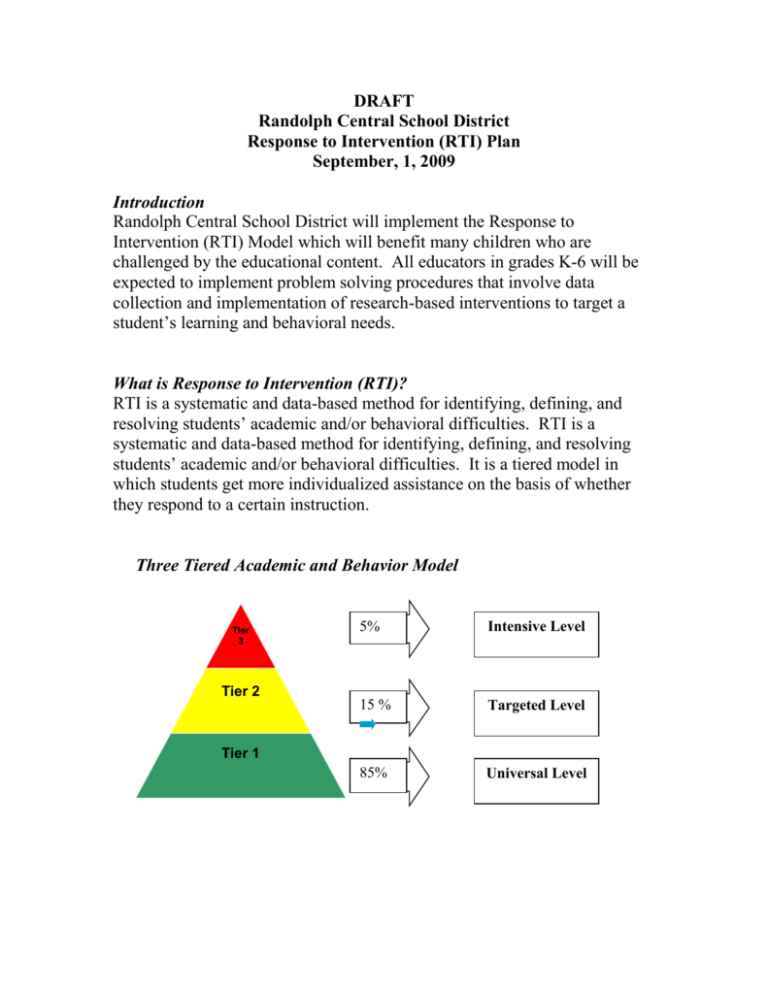 DRAFT
Randolph Central School District
Response to Intervention (RTI) Plan
September, 1, 2009
Introduction
Randolph Central School District will implement the Response to
Intervention (RTI) Model which will benefit many children who are
challenged by the educational content. All educators in grades K-6 will be
expected to implement problem solving procedures that involve data
collection and implementation of research-based interventions to target a
student's learning and behavioral needs.
What is Response to Intervention (RTI)?
RTI is a systematic and data-based method for identifying, defining, and
resolving students' academic and/or behavioral difficulties. RTI is a
systematic and data-based method for identifying, defining, and resolving
students' academic and/or behavioral difficulties. It is a tiered model in
which students get more individualized assistance on the basis of whether
they respond to a certain instruction.
Three Tiered Academic and Behavior Model
Tier
3
5%
Intensive Level
15 %
Targeted Level
85%
Universal Level
Tier 2
Tier 1
Tier 1 UNIVERSAL, CORE INSTRUCTION
All students in the general education classroom are provided with
scientifically-based, high quality instruction, differentiated to meet their
needs. Students are screened regularly to identify struggling learners.
Tier 2 TAREGETED, SUPPLEMENTAL INSTRUCTION
Students who are not making adequate progress in the core curriculum are
provided with supplemental instruction matched to their needs on the basis
of levels of performance.
Tier 3 INTENSIVE, INDIVIDUALIZED INSTRUCTION
Students receive individualized, intensive interventions that target the
students' skill deficits. A possible comprehensive evaluation can take place
at this level.
RTI/ Child Study Team
The referring teacher will contact the child's parents and complete a parent
interview (Appendix I) before an initial CST meeting. The Randolph
Elementary Child Study Team will review the CST referral form (Appendix
II) which consists of student data provided from the referring teacher. The
role of the CST Team during CST meetings will be to analyze student data,
collaborate on research-based strategies and interventions to target the
student's academic and/or behavior concerns and to mentor/coach teachers
with effective practices in the classroom.
The Child Study/RTI problem solving team meetings will be co-chaired by
the school psychologist and school counselor. The CST/RTI Team also
consists of a Spec. Education teacher, AIS/Title I Reading teachers (3),
Curriculum Coordinator, Director of Pupil Personnel, School Counselor,
Speech Pathologist, School Psychologist and elementary teachers (2).
Data Collection
Universal Screening
Each student in Grades Prek-6 will be screened to identify areas of concern.
The following screenings are administered in the beginning of the school
year:
ELA
 Dial 3 (Prek)
 DIBELS (K-4)
 RIGBY Running Records (K-5)
 Houghton Mifflin Running Records (K-5)
Math
 TEMA-3 (K-1)
 Mclass Math-(K-3)
 Key Math (2-6)
Benchmarking and Progress Monitoring
In order to track a student's progress in a specific skill area, benchmark
assessments and progress monitoring tools will be used:
 DIBELS (Progress Monitoring)
Twice a month for level Red
Once a month for level yellow
Three times a year for level green
 RIGBY Running Records (at least 3 times per year)
 Houghton Mifflin Running Records (optional)
 Houghton Mifflin Integrated Theme tests (per thematic unit)
 Read 180 (Grades 5-6 special education and AIS students)
 Waterford Lab (Prek-3)
 Woodcock-Johnson Comprehension and Fluency (Grades 5-6)
Assessments
DIBELS (K-4)
Terra Nova (K-2)
NYS ELA and Math Assessments (Grades 3-6)
Math
Mclass (K-3)
Curriculum-Based Measurements (CBM)
Implementation Timeline
From September 2004-June 2009, Reading First was implemented in Grades
K-3 along with components taking place in Grades 4 for transitional
purposes. Starting September 2009, a Reading First Model will continue to
be followed in Grades K-4 with the implementation of the same components
as during the grant period. Grades 5 and 6 will begin the RTI process in
September 2009, using the same model and some components as Grades K-4.
September 2004- June 2009
 DIBELS benchmark assessments and progress monitoring
 Mclass data collection system to track and evaluate progress
 Adoption of Houghton-Mifflin Reading Series, K-4
 RIGBY Running Records, K-4
 90 Minute Reading block incorporating the 5 components of reading
 Child Study Team monthly meetings
 Waterford, K-3
September 2008-present
 Positive Behavior and Supports (PBIS), K-6
 Capturing Kids' Hearts, 5-6
September 2009
In addition to all components above:
 Houghton-Mifflin Reading, K-5
 RIGBY Running Records, K-5
 Read 180, Grades 5-6
 Waterford, Prek-4
 Step-Up to Writing Refresher trainings and implementation
 Curriculum –Based Measurements for math, reading, writing
 Mclass Math, K-3
 Child Study/RTI Problem Solving Team, mentor/coaching model,
application of research-based interventions
 Response to Intervention library and resource center
 RTI Professional development opportunities
Evaluation
 Data collection of % increase or decrease in skill areas over a period
of time
 Data collection of effectiveness of prescribed interventions
 Annual faculty/staff survey
TIERED
INSTRUCTION
Tier 1
Core
Instructional
Curriculum
READING
90 minutes
daily
-NYS ELA
Core Guides,
-Houghton
Mifflin
Reading Series
(K-5)
-DIBELS
-Steck-Vaughn
Elements of
Reading
(vocab.) (K-4)
Tier 2
Supplemental
small group
instruction
MATH
WRITING
60 minutes
daily
-Step up to
Writing
-Houghton
Mifflin Math
-CBM
(targeted skill
areas)
-Thoughtful
Classroom
-hands-on
manipulative
kits
30 Minutes
AIS/Title I
-MClass Math
-Study Island
-Positive
Behavior and
Supports
(PBIS)
-PBIS reward
coupons
-parent teacher
conferences
-Office
discipline
referral (minor
offense)
-Mclass Math
(K-3)
-Study Island
-Soar to
Success (Title
I)
-Writing
CBMs)
-consultant
services to all
students
- Waterford
30 minutes
AIS or Title I
-Writer's
Workshop
BEHAVIOR
30 minutes
AIS Title I
-Supplemental
writing
materials
targeting skill
-Behavior
Plans and
report cards
-counseling
-Office
-Read 180
(Gr.5/6 AIS,
Spec. Ed)
-NYS
Supplemental
skills based
materials (AIS)
Tier 3
Intensive
Individualized
Instruction
-CBM Math
area
-NYS
supplemental
skills based
materials
-
30-40 minutes
-Glass Analysis Touch Math
- Starting Over
-CBMs with
increased
frequency
-CBMs with
increased
frequency and
possible
individualized
service from a
specialist
discipline
referral (minor
w/ staff
handled)
-Functional
Behavioral
Assessment
(FBA)
-1 on 1
counseling
-Possible
Outside
Counseling
-Office
Discipline
referral (major
w/
administrator
action)
Special Education Eligibility
The special education referral process will consist of the RTI problemsolving model. Students will be classified learning disabled based on
documentation of how well they respond to scientific, research-based
interventions as part of the evaluation procedure. The discrepancy modelIQ and academic testing will not be the sole distinguisher of a learning
disability as of September 2009.