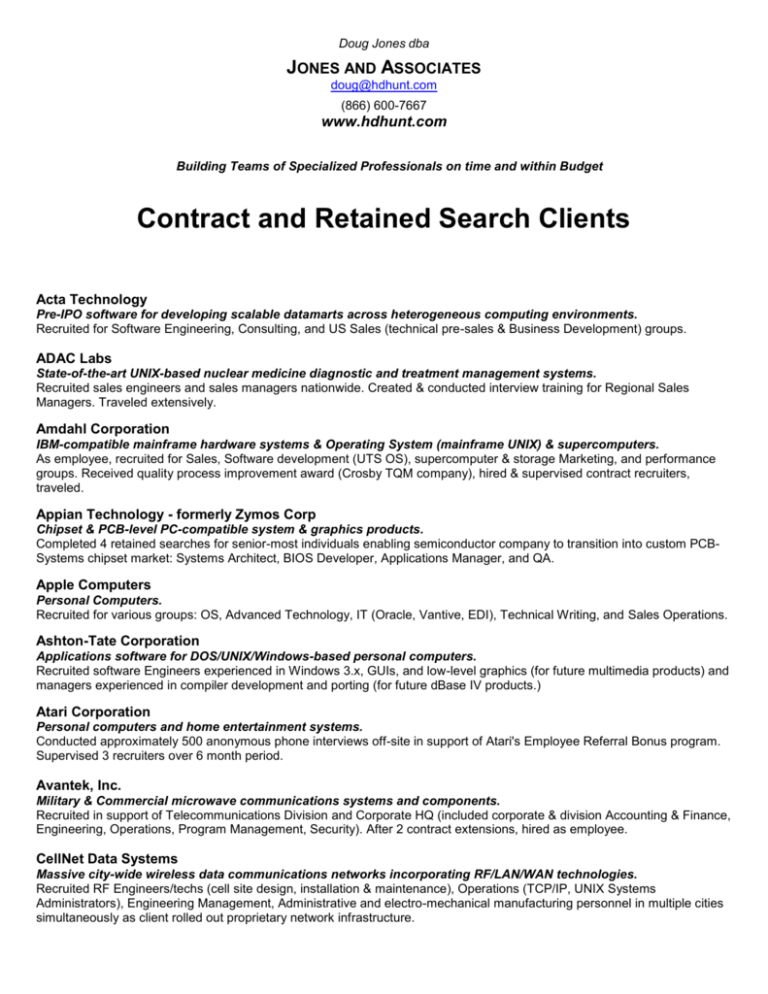 Doug Jones dba
JONES AND ASSOCIATES
doug@hdhunt.com
(866) 600-7667
www.hdhunt.com
Building Teams of Specialized Professionals on time and within Budget
Contract and Retained Search Clients
Acta Technology
Pre-IPO software for developing scalable datamarts across heterogeneous computing environments.
Recruited for Software Engineering, Consulting, and US Sales (technical pre-sales & Business Development) groups.
ADAC Labs
State-of-the-art UNIX-based nuclear medicine diagnostic and treatment management systems.
Recruited sales engineers and sales managers nationwide. Created & conducted interview training for Regional Sales
Managers. Traveled extensively.
Amdahl Corporation
IBM-compatible mainframe hardware systems & Operating System (mainframe UNIX) & supercomputers.
As employee, recruited for Sales, Software development (UTS OS), supercomputer & storage Marketing, and performance
groups. Received quality process improvement award (Crosby TQM company), hired & supervised contract recruiters,
traveled.
Appian Technology - formerly Zymos Corp
Chipset & PCB-level PC-compatible system & graphics products.
Completed 4 retained searches for senior-most individuals enabling semiconductor company to transition into custom PCBSystems chipset market: Systems Architect, BIOS Developer, Applications Manager, and QA.
Apple Computers
Personal Computers.
Recruited for various groups: OS, Advanced Technology, IT (Oracle, Vantive, EDI), Technical Writing, and Sales Operations.
Ashton-Tate Corporation
Applications software for DOS/UNIX/Windows-based personal computers.
Recruited software Engineers experienced in Windows 3.x, GUIs, and low-level graphics (for future multimedia products) and
managers experienced in compiler development and porting (for future dBase IV products.)
Atari Corporation
Personal computers and home entertainment systems.
Conducted approximately 500 anonymous phone interviews off-site in support of Atari's Employee Referral Bonus program.
Supervised 3 recruiters over 6 month period.
Avantek, Inc.
Military & Commercial microwave communications systems and components.
Recruited in support of Telecommunications Division and Corporate HQ (included corporate & division Accounting & Finance,
Engineering, Operations, Program Management, Security). After 2 contract extensions, hired as employee.
CellNet Data Systems
Massive city-wide wireless data communications networks incorporating RF/LAN/WAN technologies.
Recruited RF Engineers/techs (cell site design, installation & maintenance), Operations (TCP/IP, UNIX Systems
Administrators), Engineering Management, Administrative and electro-mechanical manufacturing personnel in multiple cities
simultaneously as client rolled out proprietary network infrastructure.
Page 2
Jones and Associates Client List
Chips & Technologies
First-ever Custom and standard chipsets for IBM-compatible personal computers.
As company's first recruiter, hired all disciplines: Engineering, Marketing, Administrative. Set-up Employment procedures and
files, created award-winning print ad campaign and Employee Referral Bonus Plan. Headcount doubled in 8 months.
Computer Task Group - CTG
Des Moines branch office of national contract IT programming services company.
As Staffing Manager, recruited mainframe programmers for time & material and project assignments. Hired 24 contractors in
6 months: significantly improved margins & skill levels, helped improve retention rate, converted many regular employees to
contracting.
Context Integration
Pre-IPO consultancy delivering industrial-strength B2B web solutions.
Responsible for high-profile South San Francisco & Los Angeles practices: hired Consultants, Technology Managers &
Architects, Business Analysts, Project Managers, Client Managers, Practice Director. Hired 32 professionals in 5 months.
Continuum
Advanced solid state lasers for research and medical applications.
Tasked to create new medical laser business unit. Recruited all levels, including Engineering (management & individual
contributors), Marketing, and Operations, enabling client to add new technologies and enter new market.
Hercules Computer Technology
Award-winning Graphics accelerator PCBs for PCs running Windows, OS/2, DOS.
Recruited for all positions at all levels, particularly Engineering, Sales, Operations, Finance. Also consulted to President.
Hewlett-Packard Laboratories
Advanced research for RISC/UNIX-based distributed computer systems.
Recruited initial group of systems architects (compilers, operating systems, networking, CPU hardware) to design HP's
distributed computer systems of the 21st century. Completed assignment 4 months ahead of schedule.
IBM/ROLM Telecommunications
Voice/data communications systems.
Generated names and made initial contacts for software development searches in advance of project initiation.
Informix Software, Inc
High-end database software for OLTP, Datawarehouse & Web/E-Commerce markets.
Recruited key Engineers (Architect, managers & developers), Marketeers (Director, Product Managers, Product Marketing
Managers), & Consultants for new Datawarehouse & Web/E-Commerce divisions. Helped rebuild Employment processes.
Inso Corporation/PDM Division (formerly Sherpa Systems)
Industry-leading web-based PDM product, SherpaWorks.
Prior to major re-organization, conducted retained search for Director of SQA for this complex software product.
Integrated Device Technologies - IDT
Semiconductors, particularly RISC mP.
Generated candidates and made initial anonymous contacts for highly confidential VP & GM-level searches.
IntelliCorp
Pre-IPO client-server Object Oriented CASE/BPR software (UNIX, MS-Windows based).
Recruited for all positions, particularly Software Development, SQA, Training, Support, Sales, Applications and Consulting.
Page 3
Jones and Associates Client List
ITT Information Systems
IBM-compatible personal computers.
From stealth stage to product launch, Recruited Marketeers and Hardware & Software Engineers for this division within ITT.
Kabira Technologies, Inc.
Pre-IPO makers of the world's fastest transaction switch for real-time services.
Responsible for all employment activities for all disciplines: nationwide Sales and Pre-Sales, Consulting, Marketing, software
development, SQA, tech writing. Contract spanned Company re-launch, HQ relocation and significant re-organizations.
KnowledgeWare Inc - KWI
GUI-oriented client/server CASE products - Windows, OS/2, Mac, & UNIX-based.
Built teams to port OS/2 product to UNIX & Windows. Hired senior-level developers & SQA. Framed 10 offers in 5 weeks.
Mediacom Communications Corporation
Des Moines, IA location of World's 8th largest cable provider - VoIP, VOD/digital video, high speed internet services.
Recruited technical management & individual technical contributors for new digital video service roll-outs and for maintaining
& troubleshooting network problems.
MDL Information Systems
Industry-standard multi-platformed software used by Chemists& Scientists to create new molecules & chemicals.
Conducted successful retained search assignment for Corporate Director of SQA. Formerly named Molecular Design Ltd.
National Advanced Systems/NSC
IBM-compatible mainframe computer software & services.
Recruited Marketing, Sales, and Technical Support professionals nationally & internationally.
Network General Corporation
DOS/Windows/UNIX-based network management software, including The Sniffer.
Recruited for Program Management, Engineering and Technical Support groups for TCP/IP-oriented LAN products.
Novalux, Inc.
Pre-IPO semiconductor laser component developer with patented VCSEL technology for fiber optics applications.
Recruited for unique GaAs-based diode pump laser and InP-based transmitter product families. Populated all parts of
company, particularly laser Product Development, semiconductor Operations, and Advanced R&D organizations. Contributed
significantly to developing Employment infrastructure. Helped grow population from 80 to 160 in 6 months.
Novell, Inc
Internet Commerce Division Software to enable commercial activity via the Internet/WWW.
Recruited architects, developers, Marketeers and others in support of this newly formed Division. ICD represents Novell's
new strategic direction in the post-WordPerfect/QuattroPro era. Focus was on both productizing existing technologies (often
with development partners) as well as developing new functionality to enable commerce on the internet.
PlaceWare
Pre-IPO Xerox PARC spin-off developing proprietary web-based collaboration software.
Conducted successful search for technical pre-sales product evangelist for this start-up.
Puma Technology
Pre-IPO RF/Wireless communications enabling PC-PC & PC-cable connectivity.
Generated names and made initial contacts to Engineers (GUI & BIOS) for this early stage start-up.
Page 4
Jones and Associates Client List
Ridge Computers
Pre-IPO first commercial RISC-based/UNIX-compatible supermini computer systems.
Initially Human Resources Manager then retained as contractor after RIF to recruit architect to lead custom chip version of
proprietary RISC CPU board. Successfully completed assignment on time to meet critical development schedule.
Silicon Valley Internet Partners (now Viant)
Pre-IPO combining strategic consulting & internet implementation.
Recruited both strategic business process Consultants (from Big 6) & web implementers (JAVA/HTML/OOPS).
Sun Microsystems
UNIX-based workstations & various systems-level software products.
Recruited Engineers and Marketeers for hardware systems, CASE, AI, compiler, data base, and GUI products in support of
two divisions (Software Products and Government Systems) over 11+ month assignment.
Tandem Computers (purchased by Compaq and then by Hewlett-Packard)
High-end NT Servers and cross-platform middleware software & tools.
First assignment: NT Systems Development Group; worked directly for Cupertino-based Director of Hardware Engineering,
successfully met aggressive hiring goals by growing organization from 1 to 25 people in 4+ months. Continued to recruit and
hire during purchase by Compaq Computers.
Second assignment: Tektonic Software; recruited initial Product Managers and Consultants for this start-up within
Compaq/Tandem productizing proprietary middleware software products & development tools.
Yahoo!
Premier internet search engine and web application developer.
Sourced engineers to develop Search Engine Optimization (SEO) capabilities.