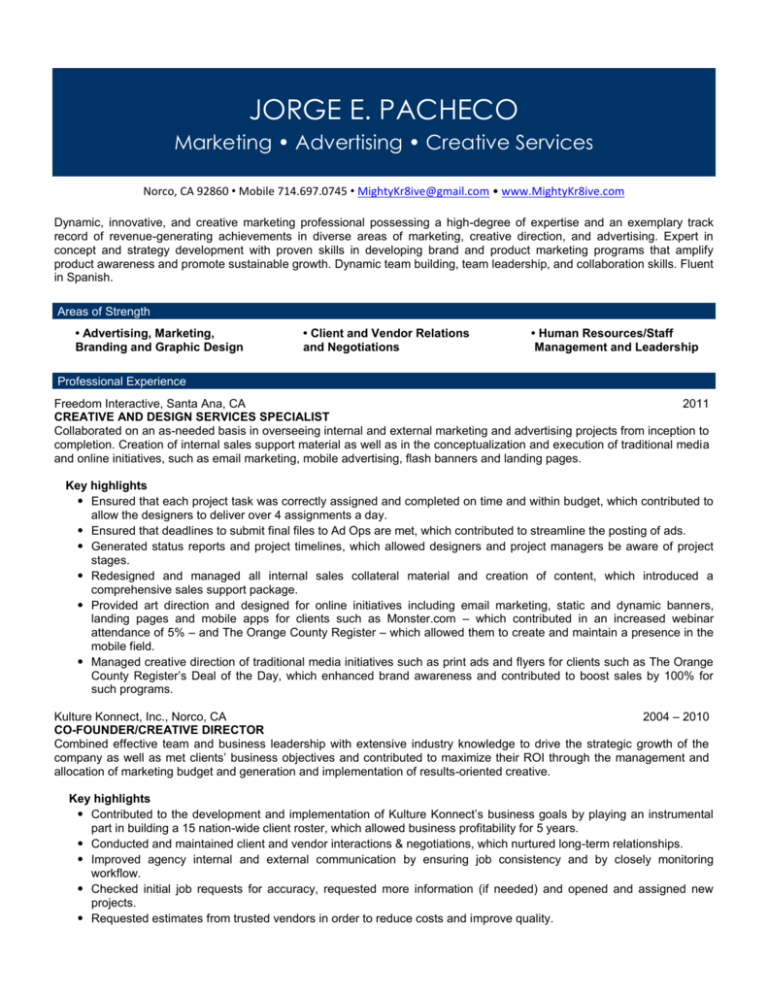 JORGE E. PACHECO
Marketing • Advertising • Creative Services
Norco, CA 92860 • Mobile 714.697.0745 • MightyKr8ive@gmail.com • www.MightyKr8ive.com
Dynamic, innovative, and creative marketing professional possessing a high-degree of expertise and an exemplary track
record of revenue-generating achievements in diverse areas of marketing, creative direction, and advertising. Expert in
concept and strategy development with proven skills in developing brand and product marketing programs that amplify
product awareness and promote sustainable growth. Dynamic team building, team leadership, and collaboration skills. Fluent
in Spanish.
Areas of Strength
• Advertising, Marketing,
Branding and Graphic Design
• Client and Vendor Relations
and Negotiations
• Human Resources/Staff
Management and Leadership
Professional Experience
Freedom Interactive, Santa Ana, CA
2011
CREATIVE AND DESIGN SERVICES SPECIALIST
Collaborated on an as-needed basis in overseeing internal and external marketing and advertising projects from inception to
completion. Creation of internal sales support material as well as in the conceptualization and execution of traditional media
and online initiatives, such as email marketing, mobile advertising, flash banners and landing pages.
Key highlights
• Ensured that each project task was correctly assigned and completed on time and within budget, which contributed to
allow the designers to deliver over 4 assignments a day.
• Ensured that deadlines to submit final files to Ad Ops are met, which contributed to streamline the posting of ads.
• Generated status reports and project timelines, which allowed designers and project managers be aware of project
stages.
• Redesigned and managed all internal sales collateral material and creation of content, which introduced a
comprehensive sales support package.
• Provided art direction and designed for online initiatives including email marketing, static and dynamic banners,
landing pages and mobile apps for clients such as Monster.com – which contributed in an increased webinar
attendance of 5% – and The Orange County Register – which allowed them to create and maintain a presence in the
mobile field.
• Managed creative direction of traditional media initiatives such as print ads and flyers for clients such as The Orange
County Register's Deal of the Day, which enhanced brand awareness and contributed to boost sales by 100% for
such programs.
Kulture Konnect, Inc., Norco, CA
2004 – 2010
CO-FOUNDER/CREATIVE DIRECTOR
Combined effective team and business leadership with extensive industry knowledge to drive the strategic growth of the
company as well as met clients' business objectives and contributed to maximize their ROI through the management and
allocation of marketing budget and generation and implementation of results-oriented creative.
Key highlights
• Contributed to the development and implementation of Kulture Konnect's business goals by playing an instrumental
part in building a 15 nation-wide client roster, which allowed business profitability for 5 years.
• Conducted and maintained client and vendor interactions & negotiations, which nurtured long-term relationships.
• Improved agency internal and external communication by ensuring job consistency and by closely monitoring
workflow.
• Checked initial job requests for accuracy, requested more information (if needed) and opened and assigned new
projects.
• Requested estimates from trusted vendors in order to reduce costs and improve quality.
Jorge Pacheco, continued
• Established project timelines, which allowed to recognize "crisis" or "rush" jobs as well as stalled jobs in order to move
them forward and stay in budget.
• Maintained internal and external continuity of all parties involved in order to obtain sign-offs moving in and out of the
agency.
• Dealt with vendors in order to deliver or receive materials on time and within budget.
• Pinpointed technological needs to keep all equipment and software current, which enhanced company efficiency.
• Revitalized brands such as Blue Ribbon Design Build and Fuzio Restaurants, which generated brand recognition for
the Construction Company and contributed to increased foot traffic for the restaurant chain of 25%.
• Led the development and implementation of in-budget marketing plans and creative for brands such as Shari's, which
contributed to raised sales of 10%.
• Rejuvenated online presence of companies such as imageTech Marketing by developing and implementing an ecommerce site and email marketing campaign, which contributed to increased sales of 10%.
• Recipient of multiple industry awards including 2010 Summit Awards - Bronze Award (Website Redesign), 2009
Communicator Awards - Three Platinum Awards (Rebranding Campaigns), 2008 Communicator Awards - Platinum
Award (Sales Collateral Systems), 2008 Marcom Awards - Gold Award (Rebranding Campaign), and 2007 Marcom
Awards – Gold Award (Brand Identity).
Freedom Communications, Santa Ana, CA
2010
CREATIVE SERVICES CONSULTANT - FREELANCE
Contracted to leverage design and marketing expertise in creating online and print advertising concepts to promote the
company's iPhone app, which was customized for all newspapers and broadcast stations owned by the company; and
provided creative support for all internal marketing and sales support materials.
Key highlights
• Contributed to increase iPhone app brand recognition for all newspapers and broadcast stations through creative
direction and design for The Orange County Register iPhone app, resulting in over 60,000 downloads.
• Contributed with art direction and developed visual look for different sales support materials.
CycleWorld, Newport Beach, CA
2010
ASSISTANT ART DIRECTOR - FREELANCE
Worked closely with the Chief Editor on the layout and design of this industry-leading magazine. Collaborated in the design
of email marketing campaigns.
Key highlights
• Collaborated on the design of 100+ pages monthly magazine and brought a fresh sense of design to the magazine,
which resulted in a 10% productivity increase.
Hunter Barth Advertising, Newport Beach, CA
2005 – 2008
ART DIRECTOR
Reporting directly to CEO, directed all creative processes, which originated the conceptualization and development of
innovative advertising campaigns for global and local industry leaders Sharp, John Robert Powers and O'Connor Hospital.
Supervised and trained 3 employees.
Key highlights
• Advised senior management on salaries and wages for creative staff members.
• Participated in all client presentations as a bridge between the client and the creative department and garnered client
requests for personal input on creative initiatives, which added value to agency's credibility.
• Enforced adherence to workflow processes and deadlines, which allowed on-time and in-budget job delivery.
• Worked with admin when necessary to obtain POs as well as worked with outside media to obtain extensions when
necessary.
• Ensured all incoming requests contain necessary information, which increased designers' effectiveness and
efficiency.
• Communicated job status during weekly meetings to all team members, and re-distributed or re-assigned jobs
depending on workflow.
• Expedited and prioritized rush projects accordingly and helped move stalled projects forward.
Jorge Pacheco, continued
• Updated files assets and client art files categorization system and implemented file labeling system, which doubled
designers' productivity.
• Implemented a new method to organize and lead informative and brainstorming creative meetings with designers and
account managers, which resulted in shorter, to-the-point meetings, maximizing creativity and production time.
• Supervised all creative processes for all graphics, advertising and marketing initiatives for companies such as
Coordinated Business Systems, which contributed to boost sales by 15% and reduced advertising expenses by 5%.
• Art directed the creation of all Co-op sales collateral material for Sharp USA in the office technology sector, which was
embraced by clients and translated into accelerated new business.
• Managed brand development for companies such as iPOP by John Robert Powers and Veritas, which exceeded
attendance expectations for the first one and created a market presence in several gyms (including 24 Hour Fitness)
for the second one.
• Art directed the conceptualization of print and TV advertising initiatives for companies such as O'Connor Hospitals,
Fairhaven Memorial and Duplo USA, which contributed to increased seminar attendance for O'Connor Hospitals by
625% and increased business for Fairhaven Memorial by Santa Ana and Mission Viejo location by 5%.
Strada Properties/Coldwell Banker Previews International, Newport Beach, CA
2004 – 2005
GRAPHIC DESIGNER
Utilized graphic design knowledge to design eye-catching sales support marketing material for real estate agents.
Key highlights
• Assisted in creating visual layout for mailers, flyers, brochures, calendars and print ads while maintaining brand
integrity.
• Updated the corporate website, which became more search-engine-friendly because of the constant content updates.
• Contributed to the streamlining of the graphic design process, which increased productivity by 50%.
Concept 7 Family & Support Agency, Laguna Niguel, CA
OFFICE ADMINISTRATOR/GRAPHIC DESIGNER
Multi-faceted position creating marketing material while executing contractual documents.
2002 – 2004
Key highlights
• Introduced and spearheaded a foster parent recruiting campaign that included creating a series of posters and a
direct mail campaign, which increased enrollment by 15%.
• Implemented an information management system for effective maintenance and retrieval of all archived documents,
which improved document archiving and retrieval by 50%.
Stomp, Inc., Costa Mesa, CA
CUSTOMER SERVICE MANAGER
Optimized the client experience by directing all customer service strategies and supervising support staff.
2000 – 2002
Key highlights
• Achieved staff turnaround of zero and increased productivity by 20%.
• Reduced customer complaints by 30% through development and implementation of customer service standards,
increasing employee effectiveness and and streamlined reports.
• Oversaw rebate redemption program, authorized customer returns and implemented a return-validity program, which
made return rates decrease by 15%.
Education
MBA WITH EMPHASIS IN MARKETING, TUI University, Cypress, CA, April 2012
BACHELOR OF SCIENCE IN GRAPHIC DESIGN, The Art Institute of California-OC Santa Ana, CA
ARCHITECTURE PROGRAM, Universidad de San Buenaventura Cali, Colombia
TECHNOLOGIES: Photoshop, Illustrator, InDesign, Dreamweaver, Quark Xpress, Microsoft Word, Excel, FileMaker,
ProWorkFlow.