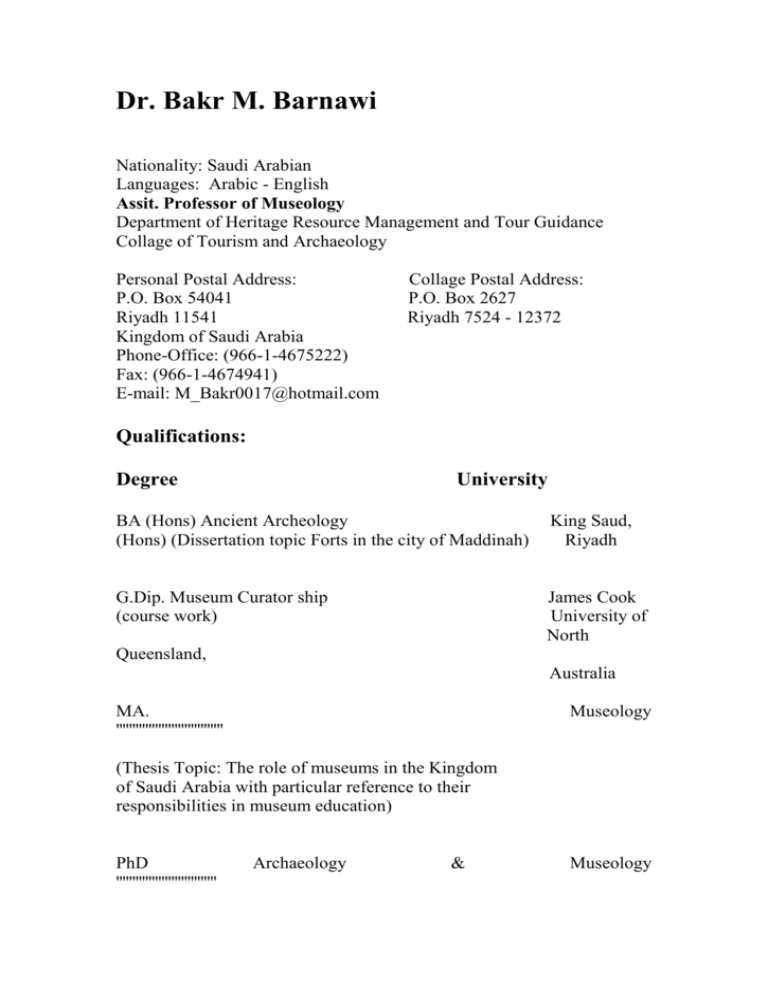 Dr. Bakr M. Barnawi
Nationality: Saudi Arabian
Languages: Arabic - English
Assit. Professor of Museology
Department of Heritage Resource Management and Tour Guidance
Collage of Tourism and Archaeology
Personal Postal Address:
P.O. Box 54041
Riyadh 11541
Kingdom of Saudi Arabia
Phone-Office: (966-1-4675222)
Fax: (966-1-4674941)
E-mail: M_Bakr0017@hotmail.com
Collage Postal Address:
P.O. Box 2627
Riyadh 7524 - 12372
Qualifications:
Degree
University
BA (Hons) Ancient Archeology
(Hons) (Dissertation topic Forts in the city of Maddinah)
King Saud,
Riyadh
G.Dip. Museum Curator ship
(course work)
James Cook
University of
North
Queensland,
Australia
MA.
'''''''''''''''''''''''''''''''''
Museology
(Thesis Topic: The role of museums in the Kingdom
of Saudi Arabia with particular reference to their
responsibilities in museum education)
PhD
'''''''''''''''''''''''''''''''
Archaeology
&
Museology
(Thesis Topic: Archaeology museum in the Arab
World: its history, its objective and its role)
Interests
My research interest in the field of museum studies can be broadly
categorized
under the heading " Museum and Community", more specifically my
interests include :
Museum education
Museum and contemporary issues
Museum and cultural tourism
The development of museums in the Saudi Arabian society
The phenomena and values of museum
Professional Fields
(i) Museology:
museum management, museum
development in the Kingdom of Saudi
Arabia,
museums in the Arab world.
(ii)Tour Guidance:
(iii)Cultural Heritage: Heritage management
Research Participation
Participated in the Archaeological excavation of Qaryate Al-Fau, a preIslamic site
southwest of the City of Riyadh, Kingdom of Saudi Arabia 1981.
Participated in the Archaeological excavation at Al-Rabadhah, an Islamic
site, some
200 km to the south-east of the City of Maddinah (fifth season) 1982
Participated in the Third International Symposium on studies in the
History of the Arabian Peninsula, Faculty of Arts, King Saud University
1982.
Participated in Museum and Archaeology Research in the Department of
Archaeology
and Museology - King Saud University 1982 - 1983.
Participated in Al-Fau Research Project, Department of Archaeology and
Museology
1982 – 1983.
Participated in the excavation work at the site of Al-Rabadhah (sixth
season) 1983.
Memberships of Scientific Societies and Organizations
ICOM (International Council of Museums, Paris)
ICOM Australia
ICOM Arab
British Museum Association
The Saudi Society for Archaeological Studies
The History and Archaeology Society – GCC Countries
Museum and Events Exhibitions Participation
"North Queensland Pottery"
This exhibition was part of
the Graduate Diploma
Course,
Material
Cultural
Unit
,
James
Cook
University1986
"Stone Tools"
Material Cultural Unit,
James Cook University
1986
Participated in setting up the
Exhibition "Ethnography and Art
Of Oceania"
University Gallery, State
Administration Building
Townsville 1987
King Saud University Exhibition Wing
Annual National Folk Culture Festival in Al-Jinadiriyah in Riyadh City.
King Saud University Exhibitions (University Weeks and Community).
King Saud University Exhibition- in the celebration of the university's 50
years of establishment 2006.
Publications
Published articles:
Article on Museum (In Arabic) published in Student Magazine of the
King Saud University,
Riyadh 1980
Archaeology museums and cultural tourism, Al-Riyadh Newspaper,
no.13101, 2004
The Saudi Arabian museums: a culture, Ahwal Almarefa Magazine,
no.42, 2007
Educational programs in the national museums – Riyadh – a
recommendation
guide to educational activities in the Museum 1998
Unpublished Studies
The Social Life of Saudi Arabian People (unpublished articles) 1984
The Sharp Edge: A brief look at stone tools, Material Cultural Unit,
James Cook
University 1986
The Spearthrower: An examination of the collection of spearthrowers in
the
Material Cultural Unit, James Cook University 1986
Museum Education: It's importance and it's role 1998
Archaeology Museums in Saudi Arabia and Museum Education 1998
Current Research Activities
I am currently writing a Muselocgical Glossary (English – Arabic)
expected to be ready
for publication in 12 – 18 months. I am also working on a project entitled
Guidelines for
Disaster Management Planning: for museums in Saudi Arabia.
Studies under publication
Private Museums in Saudi Arabia: Their role and importance.
Museums and the contemporary visitor
An Analysis Study on the National Museum Visitors – Riyadh City
Museum in the Arab World: The understanding – a case study (Saudi
Arabia)
Archeological taxonomy and its importance
Academic and Administration Responsibilities
Teaching both undergraduate and postgraduate students.
The collage supervisor of the Student Affairs Unit.
Supervision of the Collage Student Committee (social and cultural
activities).
Member of different Committees within the Department, the collage and
the university.
Courses
HERT 101
HERT 151
HERT 201
HERT 301
HERT 353
HERT 354
HERT 402
HERT 451
HERT 452
HERT 371
HERT 374
HERT 471
Currently Teaching (First Semester) – September 8 –
December 16, 2007
HERT 151
Principles of Tour Guidance
HERT 201
Cultural Tourism
HERT 301
Introduction to Museology
Current Research Students
I am currently tutoring a research student with her M.A thesis plan (the
thesis
topic: The Saudi Arabian museums and disabled people - experimental
study)
Dept. of Archaeology.