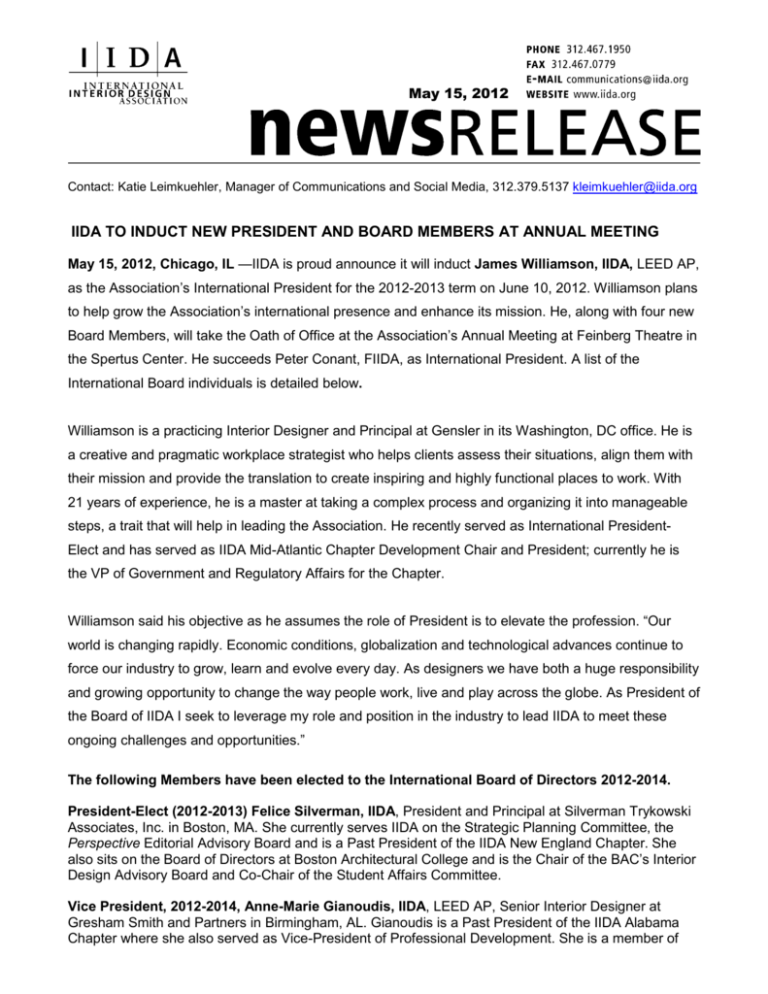 May 15, 2012
Contact: Katie Leimkuehler, Manager of Communications and Social Media, 312.379.5137 kleimkuehler@iida.org
IIDA TO INDUCT NEW PRESIDENT AND BOARD MEMBERS AT ANNUAL MEETING
May 15, 2012, Chicago, IL —IIDA is proud announce it will induct James Williamson, IIDA, LEED AP,
as the Association's International President for the 2012-2013 term on June 10, 2012. Williamson plans
to help grow the Association's international presence and enhance its mission. He, along with four new
Board Members, will take the Oath of Office at the Association's Annual Meeting at Feinberg Theatre in
the Spertus Center. He succeeds Peter Conant, FIIDA, as International President. A list of the
International Board individuals is detailed below.
Williamson is a practicing Interior Designer and Principal at Gensler in its Washington, DC office. He is
a creative and pragmatic workplace strategist who helps clients assess their situations, align them with
their mission and provide the translation to create inspiring and highly functional places to work. With
21 years of experience, he is a master at taking a complex process and organizing it into manageable
steps, a trait that will help in leading the Association. He recently served as International PresidentElect and has served as IIDA Mid-Atlantic Chapter Development Chair and President; currently he is
the VP of Government and Regulatory Affairs for the Chapter.
Williamson said his objective as he assumes the role of President is to elevate the profession. "Our
world is changing rapidly. Economic conditions, globalization and technological advances continue to
force our industry to grow, learn and evolve every day. As designers we have both a huge responsibility
and growing opportunity to change the way people work, live and play across the globe. As President of
the Board of IIDA I seek to leverage my role and position in the industry to lead IIDA to meet these
ongoing challenges and opportunities."
The following Members have been elected to the International Board of Directors 2012-2014.
President-Elect (2012-2013) Felice Silverman, IIDA, President and Principal at Silverman Trykowski
Associates, Inc. in Boston, MA. She currently serves IIDA on the Strategic Planning Committee, the
Perspective Editorial Advisory Board and is a Past President of the IIDA New England Chapter. She
also sits on the Board of Directors at Boston Architectural College and is the Chair of the BAC's Interior
Design Advisory Board and Co-Chair of the Student Affairs Committee.
Vice President, 2012-2014, Anne-Marie Gianoudis, IIDA, LEED AP, Senior Interior Designer at
Gresham Smith and Partners in Birmingham, AL. Gianoudis is a Past President of the IIDA Alabama
Chapter where she also served as Vice-President of Professional Development. She is a member of
May 8, 2012
|2
the Alabama Interior Design Coalition and is currently a member of the Board of Trustees for the IIDA
Foundation.
Vice President, 2012-2014, Rob Moylan, IIDA, LEED ID+C, Assoc. AIA, Principal at SmithGroupJJR
in Washington, DC. Moylan has nearly two decades of experience in interior architectural design with a
particular focus on sustainability. He has served as the Sustainability Forum Advisor for IIDA, as a juror
for the IIDA Student Sustainable Design Competition and as a moderator for the Sustainability Forum
during Neocon.
Vice President, 2012-2014, Stacy Reed, IIDA, LEED AP, ID+C, is an Interior Designer and Project
Manager at Gensler in Austin, TX. Reed is Past President of the IIDA Texas/Oklahoma Chapter, where
she also served as City Center Director for the Austin City Center. She is also a Member of the Texas
Association of Interior Design.
In addition, Julio Braga, IIDA, Design Principal at IA Interior Architects in New York, NY, has been
appointed Vice President, for 2012 – 2013. During the course of his 25-year career, he has won
numerous awards including IIDA's Global Excellence Award, Interior Design magazine's "Best of the
Year" award, CoreNet CA Chapter Innovation award and IIDA NY Chapter Lester Dundee award.
The newly elected Board Members join these Board Members serving through 2013.
Vice President, Viveca Bissonnette, FIIDA, Assoc. AIA, CID, LEED AP, Vice President and Design
Principal at Hollander Design Group in San Diego, CA. She is a member of both Perspective Magazine
and Interiors and Sources magazine Editorial Advisory Boards. She is also a director on the board of
the San Diego Architectural Foundation and a member of the Art Institute of San Diego's Program
Advisory Council.
Vice President, Susanne Molina, IIDA, CID, LEED AP, ID+C, Director at Klawiter & Associates in Los
Angeles, CA. She is actively engaged in IIDA, USGBC, and the USC Architectural Guild. She has been
active in the IIDA Southern California Chapter, serving in many positions including President, Vice
President of Government & Regulatory Affairs, and Event Chair for Calibre and Leaders Breakfast.
Vice President, Enrique Reyes, Industry IIDA, Director of Global Alliances at Milliken Carpet in
Spartanburg, SC. He has 17 years' experience in international business management and currently is
leading Milliken Floor Covering Division's International Business strategy and he is responsible for the
marketing and sales organizations in Europe, Asia, the Middle East and Latin America.
Executive Vice President/CEO IIDA Headquarters, Cheryl S. Durst, Hon. FIIDA, LEED AP, in
Chicago, IL. Durst is responsible for guiding the efforts of the 12,000-Member Association. She is a
past Executive Board Member of the Chicago Chapter of the U.S. Green Buildings Council and was
named an Honorary Member of the IIDA College Fellows for her accomplishments within the
Association and the Interior Design Industry.
###
About International Interior Design Association
The International Interior Design Association (IIDA) is a professional networking and educational association with more than
12,000 Members practicing worldwide in more than 50 countries. IIDA is committed to enhancing the quality of life through
excellence in Interior Design and advancing Interior Design through knowledge, value and community. IIDA advocates for
Interior Design excellence; nurtures a global Interior Design community; maintains high educational standards; and supports
its Members and the Profession with visionary leadership. For more than 38 years, IIDA has helped reveal new Design talent
through a variety of education initiatives and Interior Design/Architecture competitions honoring local talent, including the
Interior Design Competition, Global Excellence Awards and HD Product Design Competition. www.iida.org.