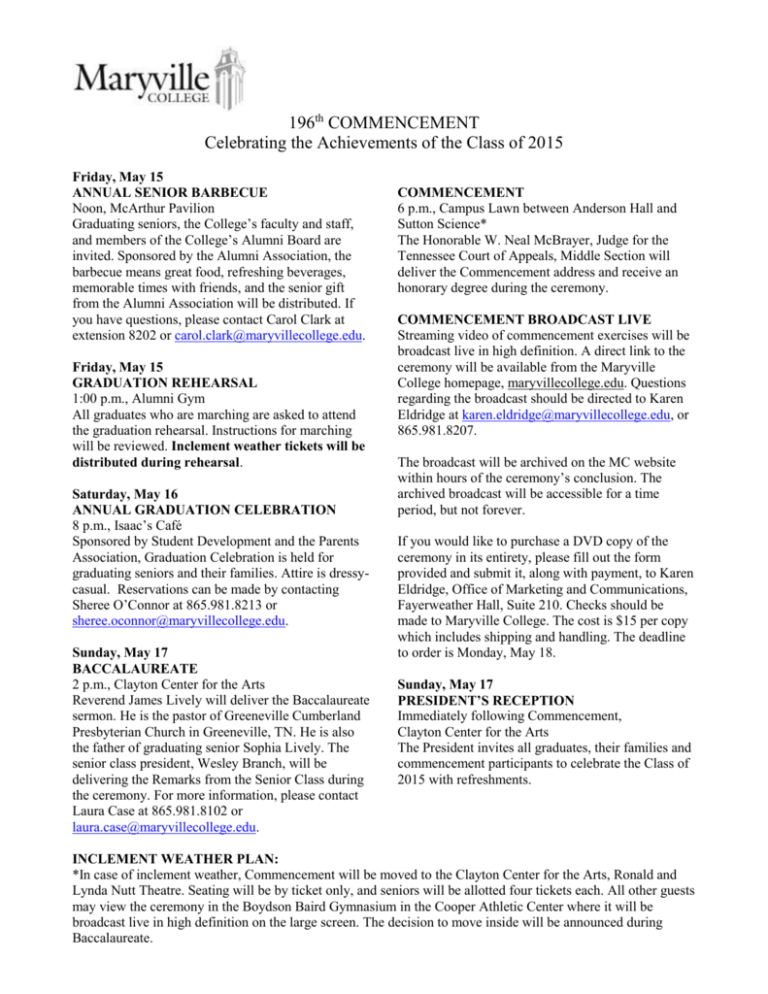 196th COMMENCEMENT
Celebrating the Achievements of the Class of 2015
Friday, May 15
ANNUAL SENIOR BARBECUE
Noon, McArthur Pavilion
Graduating seniors, the College's faculty and staff,
and members of the College's Alumni Board are
invited. Sponsored by the Alumni Association, the
barbecue means great food, refreshing beverages,
memorable times with friends, and the senior gift
from the Alumni Association will be distributed. If
you have questions, please contact Carol Clark at
extension 8202 or carol.clark@maryvillecollege.edu.
Friday, May 15
GRADUATION REHEARSAL
1:00 p.m., Alumni Gym
All graduates who are marching are asked to attend
the graduation rehearsal. Instructions for marching
will be reviewed. Inclement weather tickets will be
distributed during rehearsal.
Saturday, May 16
ANNUAL GRADUATION CELEBRATION
8 p.m., Isaac's Café
Sponsored by Student Development and the Parents
Association, Graduation Celebration is held for
graduating seniors and their families. Attire is dressycasual. Reservations can be made by contacting
Sheree O'Connor at 865.981.8213 or
sheree.oconnor@maryvillecollege.edu.
Sunday, May 17
BACCALAUREATE
2 p.m., Clayton Center for the Arts
Reverend James Lively will deliver the Baccalaureate
sermon. He is the pastor of Greeneville Cumberland
Presbyterian Church in Greeneville, TN. He is also
the father of graduating senior Sophia Lively. The
senior class president, Wesley Branch, will be
delivering the Remarks from the Senior Class during
the ceremony. For more information, please contact
Laura Case at 865.981.8102 or
laura.case@maryvillecollege.edu.
COMMENCEMENT
6 p.m., Campus Lawn between Anderson Hall and
Sutton Science*
The Honorable W. Neal McBrayer, Judge for the
Tennessee Court of Appeals, Middle Section will
deliver the Commencement address and receive an
honorary degree during the ceremony.
COMMENCEMENT BROADCAST LIVE
Streaming video of commencement exercises will be
broadcast live in high definition. A direct link to the
ceremony will be available from the Maryville
College homepage, maryvillecollege.edu. Questions
regarding the broadcast should be directed to Karen
Eldridge at karen.eldridge@maryvillecollege.edu, or
865.981.8207.
The broadcast will be archived on the MC website
within hours of the ceremony's conclusion. The
archived broadcast will be accessible for a time
period, but not forever.
If you would like to purchase a DVD copy of the
ceremony in its entirety, please fill out the form
provided and submit it, along with payment, to Karen
Eldridge, Office of Marketing and Communications,
Fayerweather Hall, Suite 210. Checks should be
made to Maryville College. The cost is $15 per copy
which includes shipping and handling. The deadline
to order is Monday, May 18.
Sunday, May 17
PRESIDENT'S RECEPTION
Immediately following Commencement,
Clayton Center for the Arts
The President invites all graduates, their families and
commencement participants to celebrate the Class of
2015 with refreshments.
INCLEMENT WEATHER PLAN:
*In case of inclement weather, Commencement will be moved to the Clayton Center for the Arts, Ronald and
Lynda Nutt Theatre. Seating will be by ticket only, and seniors will be allotted four tickets each. All other guests
may view the ceremony in the Boydson Baird Gymnasium in the Cooper Athletic Center where it will be
broadcast live in high definition on the large screen. The decision to move inside will be announced during
Baccalaureate.
Details for Students
BACCALAUREATE:
Graduates are to assemble in the Clayton Center for
the Arts, Lambert Recital Hall at 1:30 p.m. for the
Baccalaureate procession.
PHOTOGRAPHY:
PhotoPlay Studios will be taking photos of
graduating seniors at Commencement. Photos
available for purchase include shots of individual
graduates receiving their diplomas from the
president and a photo of the entire Class of 2015.
Pre-ordering is not necessary. Proofs of
the photos can be viewed online at
www.photoplaystudios.com, and will be available
for viewing by the afternoon of May 27th.
PhotoPlay Studios offers several packages ranging
in price from $14.95 to $29.95. Questions about
photography should be directed to the
photographers by calling 865.546.0977.
Class Photos: Graduates are to assemble at 4:30
p.m. in the Boydson Baird Gymnasium in the
Cooper Athletic Center for the Class of 2015 photo.
Individual Photos: We ask that parents and guests
refrain from coming forward for pictures during the
ceremony. A professional photographer from
PhotoPlay Studios of Knoxville will be capturing
individual photos of the president presenting the
graduate with his/her diploma.
COMMENCEMENT:
Graduates are to assemble at 5:00 p.m. in the
Alumni Gym for the Commencement procession. In
case of rain, assembly will take place in the
Lambert Recital Hall of the Clayton Center.
Length: Approximately one and a half hours.
Inclement Weather Tickets:
Inclement weather tickets will be distributed during
Graduation rehearsal on Friday. A photo ID will be
required to pick up tickets and they will need to
be signed for.
COMMENCE DAY DETAILS FOR STUDENTS
SPECIAL NEEDS
Indoor seating for Commencement: We are pleased
to provide a reserved area for family members and
guests with special seating needs. If you require
special accommodations, it is important that you
alert an usher. Unfortunately, this is a limited area,
so we cannot seat the entire family. We can only
accommodate one guest to be seated with a family
member in this section.
Wheelchair accessibility: During Baccalaureate and
for ticketed guests for Commencement, wheelchair
accessibility will be on the first floor of the Nutt
Auditorium (no access in the balcony). If
Commencement is moved indoors, overflow
wheelchair access to Cooper Athletic Center is
available from the front of Cooper and from the far
left (east) side of the building.
Auditory assistance: Accommodations for those
who are hearing impaired will be provided in the
form of a Sign Language interpreter. Please inform
the usher so that we can direct you to an area within
close proximity to the interpreter. We can only
accommodate one guest to be seated with a family
member in this section.
PARKING & SECURITY
Parking: Your state-issued disability placard is
required for special parking considerations.
Security: There will be heightened security for this
event. In the case of any emergency, please alert
security immediately at 865.981.8112.
BOOKSTORE
MC Tartan plaid hats and scarves, alumni T-shirts,
sweatshirts, bumper stickers and special diploma
frames are just a few great items that will help
publicize a graduation. Or check for items on the
bookstore's website at www.mctnbookstore.com.
There will be extended hours for the bookstore
during Commencement Weekend.
FURTHER INFORMATION
If you have any questions, please call Laura Case, Commencement Coordinator, at 865.981.8102 or
laura.case@maryvillecollege.edu. Additional information is also available at www.maryvillecollege.edu.