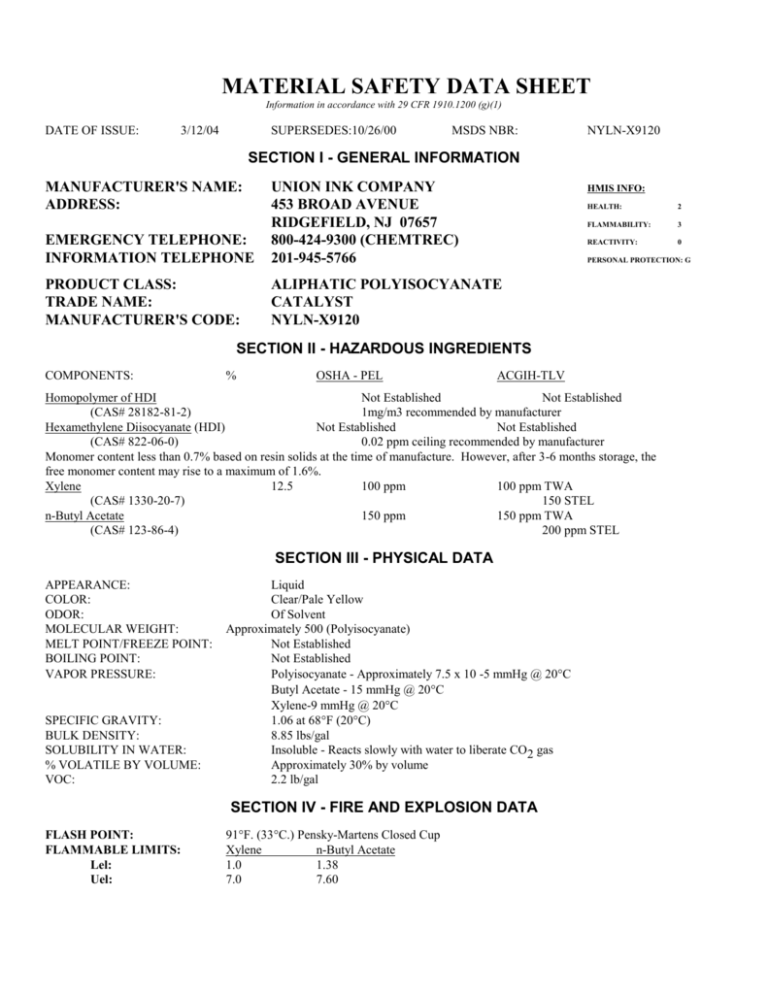 MATERIAL SAFETY DATA SHEET
Information in accordance with 29 CFR 1910.1200 (g)(1)
DATE OF ISSUE:
3/12/04
SUPERSEDES:10/26/00
MSDS NBR:
NYLN-X9120
SECTION I - GENERAL INFORMATION
MANUFACTURER'S NAME:
ADDRESS:
EMERGENCY TELEPHONE:
INFORMATION TELEPHONE
UNION INK COMPANY
453 BROAD AVENUE
RIDGEFIELD, NJ 07657
800-424-9300 (CHEMTREC)
201-945-5766
PRODUCT CLASS:
TRADE NAME:
MANUFACTURER'S CODE:
ALIPHATIC POLYISOCYANATE
CATALYST
NYLN-X9120
HMIS INFO:
HEALTH:
2
FLAMMABILITY:
3
REACTIVITY:
0
PERSONAL PROTECTION: G
SECTION II - HAZARDOUS INGREDIENTS
COMPONENTS:
%
OSHA - PEL
ACGIH-TLV
Homopolymer of HDI
Not Established
Not Established
(CAS# 28182-81-2)
1mg/m3 recommended by manufacturer
Hexamethylene Diisocyanate (HDI)
Not Established
Not Established
(CAS# 822-06-0)
0.02 ppm ceiling recommended by manufacturer
Monomer content less than 0.7% based on resin solids at the time of manufacture. However, after 3-6 months storage, the
free monomer content may rise to a maximum of 1.6%.
Xylene
12.5
100 ppm
100 ppm TWA
(CAS# 1330-20-7)
150 STEL
n-Butyl Acetate
150 ppm
150 ppm TWA
(CAS# 123-86-4)
200 ppm STEL
SECTION III - PHYSICAL DATA
APPEARANCE:
COLOR:
ODOR:
MOLECULAR WEIGHT:
MELT POINT/FREEZE POINT:
BOILING POINT:
VAPOR PRESSURE:
SPECIFIC GRAVITY:
BULK DENSITY:
SOLUBILITY IN WATER:
% VOLATILE BY VOLUME:
VOC:
Liquid
Clear/Pale Yellow
Of Solvent
Approximately 500 (Polyisocyanate)
Not Established
Not Established
Polyisocyanate - Approximately 7.5 x 10 -5 mmHg @ 20C
Butyl Acetate - 15 mmHg @ 20C
Xylene-9 mmHg @ 20C
1.06 at 68F (20C)
8.85 lbs/gal
Insoluble - Reacts slowly with water to liberate CO2 gas
Approximately 30% by volume
2.2 lb/gal
SECTION IV - FIRE AND EXPLOSION DATA
FLASH POINT:
FLAMMABLE LIMITS:
Lel:
Uel:
91F. (33C.) Pensky-Martens Closed Cup
Xylene
n-Butyl Acetate
1.0
1.38
7.0
7.60
PAGE 2 - NYLN-X9120
EXTINGUISHING MEDIA:
Dry chemical (e.g. monoammonium phosphate, potassium sulfate, and potassium chloride), carbon dioxide, high
expansion (proteinic) chemical foam, water spray for large fires.
UNUSUAL FIRE OR EXPLOSION HAZARDS/SPECIAL FIRE FIGHTING PROCEDURES:
Full emergency equipment with self-contained breathing apparatus and full protective clothing should be worn by fire
fighters. During a fire, HDI Vapors and other irritating, highly toxic gases may be generated by thermal decomposition
or combustion. (See Section VIII.) Isolate from heat, electrical equipment, sparks and open flame. Closed container may
explode when exposed to extreme heat or burst when contaminated with water (CO2 evolved). Solvent vapors may be
heavier than air. Stagnant air may cause vapors to build up and travel along the ground to an ignition source which may
result in a flash back to the source of the vapors.
SECTION V - HEALTH HAZARD DATA
PRIMARY ROUTE(S) OF EXPOSURE: Inhalation, Skin Contact, Eye Contact
HUMAN EFFECTS/SIGNS AND SYMPTOM OF OVEREXPOSURE
INHALATION:
Acute Exposure: HDI vapors or mist a concentrations above the suggested TLV can irritate (burning sensation) the mucous
membranes in the respiratory tract (nose, throat, lungs) causing runny Nose, sore throat, coughing chest discomfort, shortness
of breath and reduced lung function (breathing obstruction). Persons with a pre-existing, nonspecific bronchial
hyperreactivity can respond to concentrations below the TLV with similar symptoms as well as an asthma attack. Exposure
well above the TLV may lead to bronchitis, bronchial spasm and pulmonary edema (fluid in lungs), These effects are usually
reversible. Chemical or hypersensitive pneumonitis, with flu-like symptoms (e.g. fever, chills) has also been reported.
Butyl acetate and xylene vapors are irritating to the eyes, nose, throat and respiratory tract. Persons exposed to 200 ppm of
either solvent have experienced red, itchy eyes, dryness of the throat and tightness in the chest. The TLV for each of these
solvents is designed to protect against the irritation. Other possible symptoms of overexposure include: headache, nausea,
narcosis, fatigue and loss of appetite. Deliberately breathing concentrated solvent vapor (glue sniffing) can result in
permanent brain and nervous system damage or death.
Chronic Exposure: As a result of previous repeated overexposures or a single large dose, certain individuals will develop
isocyanate sensitization (chemical asthma) which will cause them to react to a later exposure to isocyanate at levels well
below the TLV. These symptoms which include: chest tightness, wheezing, cough, shortness of breath or asthmatic attack,
could be immediate or delayed up to several hours after exposure. Similar to many non-specific asthmatic responses, there
are reports that once sensitized an individual can experience these symptoms upon exposure to dust, cold air or other irritants.
This increased lung sensitivity can persist for weeks and in severe cases for several years. Chronic over-exposure to
isocyanates has also been reported to cause lung damage, including decrease in a lung function, which may be permanent.
Sensitization may be either temporary or permanent.
Chronic exposure to organic solvents has been associated with various neurotoxic effects including permanent brain and
nervous system damage. Symptoms include: loss of memory, loss of intellectual ability, and loss of coordination.
SKIN CONTACT:
Acute Exposure: Isocyanates react with skin protein and moisture and can cause irritation. Symptoms of skin irritation may
be reddening, swelling, rash, scaling or blistering. Some persons may develop skin sensitization from skin contact. Cured
material is difficult to remove.
Repeated or prolonged skin contact with butyl acetate and xylene can result in dry, defatted and cracked skin causing
increased susceptibility to infection. In addition, dermatitis and skin rash and redness may occur from skin contact. These
solvents can penetrate the skin causing effects similar to those identified under acute inhalation symptoms.
Chronic Exposure: Prolonged contact with the isocyanate can cause reddening, swelling, rash, scaling or blistering. In those
who have developed a skin sensitization, these symptoms can develop as a result of contact with very a small amounts of
liquid material or even as a result of vapor-only exposure.
Chronic skin exposure to solvents may cause effects similar to those identified under chronic inhalation effects.
PAGE 3 - NYLN-X9120
EYE CONTACT:
Acute Exposure: Liquid, aerosols or vapors of this product (isocyanate and solvents) are irritating and can cause tearing,
reddening and swelling accompanied by a stinging sensation and maybe a feeling like that of fine dust in the eyes.
Chronic Exposure: Prolonged vapor contact may cause eye clouding or conjunctivitus.
INGESTION:
Acute Exposure: Can result in irritation and possible corrosive action in the mouth, stomach tissue and digestive tract.
Vomiting may cause aspiration of the solvent resulting in chemical pneumonitis.
MEDICAL CONDITIONS AGGRAVATED BY EXPOSURE:
Asthma and any other respiratory disorders (bronchitis, emphysema, hyperreactivity) skin allergies, eczema.
CARCINOGENICITY:
NTP: Not Listed
IARC: Not Listed
OSHA: Not Listed
EXPOSURE LIMITS:
Not established for products as a whole. Refer to Section II for exposure limits of hazardous constituents. The Guide Level
of 1mg/m3 for the Homopolymer of HDI is an internal guide based on limited data. This is provided as a guide pending the
review of any future data.
SECTION VI - EMERGENCY & FIRST AID PROCEDURES
EYE CONTACT: Flush with clean, lukewarm water (low pressure) for at least 15 minutes, occasionally lifting eyelids. Obtain
medical attention.
SKIN CONTACT: Remove contaminated clothing. Wash affected areas thoroughly with soap and water. Wash contaminated
clothing thoroughly before reuse.
INHALATION: Move to an area free from risk of further exposure. Administer oxygen or artificial respiration as needed. Obtain
medical attention. Asthmatic type symptoms may develop and may be immediate or delayed up to several hours. Treatment is
essentially symptomatic.
INGESTION: DO NOT INDUCE VOMITING. DO NOT GIVE ANYTHING BY MOUTH TO AN UNCONSCIOUS PERSON.
Consult Physician.
NOTE TO PHYSICIAN: EYES: Stain for evidence of corneal injury. If cornea is burned, instill antibiotic/steroid preparation
frequently. Workplace vapors could produce reversible corneal epithelial edema impairing vision. SKIN: This product is a known
skin sensitizer. Treat symptomatically as for contact dermatitis or thermal burn. INGESTION: Treat symptomatically. There is no
specific antidote. Inducing vomiting is contraindicated because of the irritating nature of the product. INHALATION: This product is
a known pulmonary sensitizer. Treatment is essentially symptomatic. An individual having a dermal or pulmonary sensitization
reaction to this material must be removed from any further exposure to any isocyanate.
SECTION VII - EMPLOYEE PROTECTION RECOMMENDATIONS
Precautions must be taken so that persons handling NYLN-X9120 do not breathe the vapors or have it contact the eyes or skin. In
spray operations, protection must be afforded against exposure to both vapor and spray mist.
EYE PROTECTION: Safety glasses, splash goggles or face shield. Contact lenses should not be worn.
SKIN PROTECTION: Chemical resistant gloves. Cover as much of the exposed skin area as possible with appropriate clothing. If
skin creams are used, keep the area protected only by the cream to a minimum.
VENTILATION AND RESPIRATORY PROTECTION: Exhaust ventilation sufficient to keep the airborne concentrations of the
solvent, HDI and polyisocyanate below their respective TLV's must be utilized. Exhaust air may need to be cleaned by scrubbers or
filters to reduce environmental contamination. In addition a respirator that is recommended or approved for use in isocyanate
containing environments (air purifying or fresh air supplied) may be necessary. Consider type of application and environmental
concentrations. Observe OSHA regulations for respirator use (29 CFR 1910.134). In spray applications, when the airborne isocyanate
monomer concentrations are known to be below 0.2 ppm and if the polyisocyanate (polymeric, oligomer) concentrations are known to
be below 10 mg/m, a properly fitted air-purifying (combination organic vapor and particulate) respirator, proven by test to be effective
in isocyanate-containing spray paint environments, will provide sufficient protection. When the airborne isocyanate concentrations are
not known, or if either of the above guidelines is exceeded, or if spraying is performed in a confined space or area with limited
ventilation, the use of a positive pressure supplied air respirator is mandatory.
PAGE 4 - NYLN-X9120
Even during non-spray operations such as mixing, brush or roller application, etc., depending on the conditions (e.g. heating of
material or application to a hot substrate), it is possible to be exposed to airborne solvent or isocyanate vapors. Therefore, when
airborne concentrations during such non-spray operations exceed the suggested TLV of 0.02 ppm for isocyanate monomer, but are
below 0.2 ppm, at least an air purifying (organic vapor) respirator is required. If airborne concentrations are unknown or if they
exceed 0.2 ppm, for operations are performed in a confined space, a supplied air respirator must be worn. In addition, solvent
concentrations should be considered when determining the selection and use of a respirator.
Refer to Patty's Industrial Hygiene and Toxicology - Volume 1(3rd edition) Chapter 17 and Volume III (1st edition) Chapter 3-for
guidance concerning appropriate air sampling strategy to determine airborne concentrations.
OTHER: Safety showers and eyewash stations should be available. Educate and train employees in safe use of product. Follow all
label instructions.
SECTION VIII - REACTIVITY DATA
STABILITY: Stable under normal conditions POLYMERIZATION: May occur if in contact with moisture other materials which
react with isocyanates. May occur at temperatures over 400F. (204C.)
INCOMPATIBILITY
MATERIALS TO AVOID: Water, amines, strong bases, alcohols, metal compounds and surface active materials.
HAZARDOUS DECOMPOSITION PRODUCTS: By high heat and fire: carbon dioxide, carbon monoxide, oxides of nitrogen,
traces of HCN, HDI.
SECTION IX - SPILL OR LEAK PROCEDURES

STEPS TO BE TAKEN IN CASE MATERIAL IS RELEASED OR SPILLED:
Evacuate non-essential personnel. Remove all sources of ignition and ventilate area. Dike or impound spilled material and
control further spillage if feasible. Notify appropriate authorities if necessary. Cover the spill with sawdust, vermiculite,
Fuller's earth or other absorbent material. Pour decontamination solution over spill area and allow to react for at least 10
minutes. Collect material in open container and add further amounts of decontamination solution. Remove containers to a
safe place, cover loosely, and allow to stand for 24 to 48 hours. Wash down spill area with decontamination solutions.
Decontamination solutions: nonionic surfactant Union Carbide's Tergitol TMN-10 (20%) and water (80%); concentrated
ammonia (3-8%), detergent (2%) and water (90-95%). Respiratory protection is recommended during spill cleanup. (See
Respiratory Protection, Section VII.) CERCLA (SUPER FUND)
REPORTABLE QUANTITY: Xylene; 1000 lbs., Butyl; Acetate; 5000 lbs.
WASTE DISPOSAL METHOD: Waste must be disposed of in accordance with federal, state, and local environmental
control regulations. Incineration is the preferred method. Empty containers must be handled with care due to product residue
and flammable solvent vapor. Decontaminate containers prior to disposal. DO NOT HEAT OR CUT EMPTY
CONTAINER WITH ELECTRIC OR GAS TORCH. (See Sections IV and VIII)
SECTION X - SPECIAL PRECAUTIONS & STORAGE DATA
STORAGE TEMPERATURE
(MIN./MAX.):
32F. (0C.) / 122F. (50C.)
AVERAGE SHELF LIFE:
12 months @ 77F. (25C.)
SPECIAL SENSITIVITY
(HEAT, LIGHT, MOISTURE): If container is exposed to high heat, it can be pressurized and possible rupture explosively.
HDI reacts slowly with water to form CO2 gas. This gas can cause sealed containers to expand and possible rupture
explosively.
PRECAUTIONS TO BE TAKEN IN HANDLING AND STORING:
Keep away from heat, sparks and open flame. Ground containers during storage and transfer operations. Store in tightly
closed containers to prevent moisture contamination. Do not reseal if contamination is suspected. At maximum storage
temperatures noted, material may slowly polymerize without hazard. Ideal storage temperature range is 50-81F.
(10-27C). Avoid contact with skin and eyes. Employee education and training in the safe use and handling of this
compound are required under the OSHA Hazard Communication Standard.
PAGE 5 - NYLN-X9120
SECTION XI - SHIPPING DATE
D.O.T. SHIPPING NAME:
TECHNICAL SHIPPING NAME:
D.O.T. HAZARD CLASS:
UN/NA NO:
PRODUCT RQ:
D.O.T. LABELS REQUIRED:
D.O.T. PLACARDS:
PACKAGING GROUP:
Resin solution
Polyisocyanate, contains xylene and butylacetate
3
UN 1866
8,000 lbs.
Flammable Liquid
Flammable
PG III
SECTION XII - ANIMAL TOXICITY DATA
ACUTE -based on a similar product.
ORAL, LD50:
20g/kg (Rat)
INHALATION, LC50:
137-176 mg/m3 (Rat, 4H exposure)
EYE EFFECTS:
Moderate irritation (Rabbit)
SKIN EFFECTS:
Moderate irritation (Rabbit)
SENSITIZATION:
Skin sensitizer: Negative (Guinea Pigs)
SUBCUTANEOUS:
15.8 g/kg - Non-Lethal (Rabbit)
RESPIRATORY EFFECTS:
Sensory and pulmonary irritant (Mice)
OTHER
AMES TEST:
Negative (polyisocyanate)
SECTION XIII - FEDERAL REGULATORY INFORMATION
OSHA STATUS
This product is hazardous under the criteria of the Federal OSHA
Hazard
Communication Standard 29 CFR 1910.1200.
On TSCA Inventory
Xylene: 1000 lbs. Butyl Acetate: 5000 lbs.
TSCA STATUS
CERCLA REPORTABLE QUANTITY
SARA TITLE III:
SECTION 302 EXTREMELY
HAZARDOUS SUBSTANCES: None
SECTION 311/312
HAZARD CATEGORIES:
Immediate Health Hazard; Delayed Health Hazard; Fire Hazard;
Reactive Hazard.
SECTION 313
TOXIC CHEMICALS:
Xylene (CAS# 1330-20-7) 12.5%
RCRA STATUS:
When discarded in its purchased form, this product meets the criteria
of ignitability, and should be managed as a hazardous waste (EPA
Hazardous Waste Number D001). (40 CFR 261.20-24)
This information is furnished without warranty, expressed or implied, except that it is accurate to the best knowledge of Union
Ink. The data on this sheet relates to the specific material designated herein. Union Ink assumes no legal responsibility for
use or reliance upon these data.