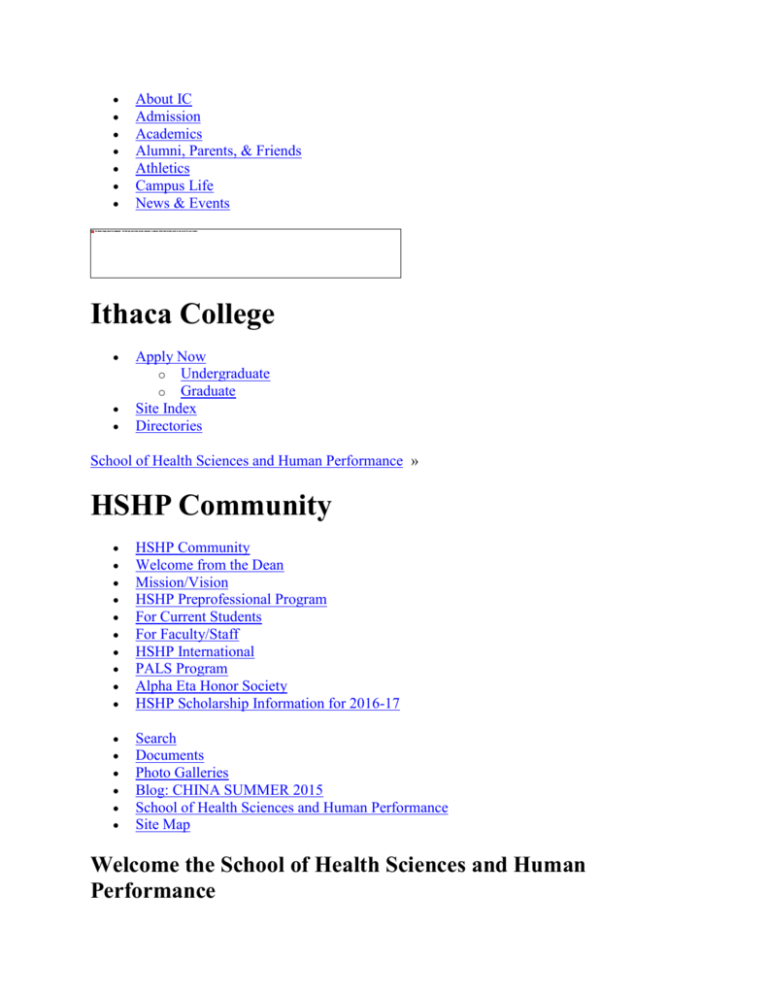 






About IC
Admission
Academics
Alumni, Parents, & Friends
Athletics
Campus Life
News & Events
Ithaca College



Apply Now
o Undergraduate
o Graduate
Site Index
Directories
School of Health Sciences and Human Performance »
HSHP Community










HSHP Community
Welcome from the Dean
Mission/Vision
HSHP Preprofessional Program
For Current Students
For Faculty/Staff
HSHP International
PALS Program
Alpha Eta Honor Society
HSHP Scholarship Information for 2016-17






Search
Documents
Photo Galleries
Blog: CHINA SUMMER 2015
School of Health Sciences and Human Performance
Site Map
Welcome the School of Health Sciences and Human
Performance
If you see yourself helping to rehabilitate people in a clinical setting, coaching athletes,
designing fitness programs, working in a sport organization, teaching health and physical
education, or working in the field of recreation, the School of Health Sciences and Human
Performance has the program that will prepare you for a rewarding career. Everywhere you turn
in Hill Center, the Center for Health Sciences and Smiddy Hall you will see our students learning
the skills that will be needed to become successful.
HSHP Hallmarks





Experiential Learning
The importance of experiential learning is demonstrated by our affiliation with
approximately 1,700 sites and organizations where our students complete fieldwork and
internships. Each year, approximately 650 HSHP students are placed at sites throughout
the US and abroad.
Multicultural Competency and Awareness
HSHP is committed to increasing diversity among faculty, staff, and students. There is an
ongoing effort to increase our learning community's cultural competency and awareness
of cultural differences.
Study Abroad
We encourage short and long-term study abroad. Opportunities exist for every student in
our school to take advantage of the numerous programs offered at the College.
Community Service
Faculty, staff and students in HSHP support many community activities and routinely
volunteer at all types of organizations and facilities in the area.
Research and Scholarship
Faculty work with students at both the undergraduate levels on research projects. Check
out the types of projects that have been completed recently.
Got a question? Send us an email!
5K for Kidneys - A Senior Leadership Project for a Cause
Jon LaChance '10 (Health Sci w/ Pre-Med Concentration) and Kim Jacobson '10 (Health Sci w/
Health Promotion Concentration), organized a local race on April 10 to raise awareness for
kidney disease. Learn more about the event by viewing the mini-documentary on U-Tube titled
5K for Kidneys: Jon and David LaChance fight family history of kidney disease that was
filmed and edited by Kathy Laluk '10 (Journalism). You can also read more about the event in
the article titled A course for a cause by Andrew Weiser '11 (Journalism).
School of Health Sciences and Human Performance · Ithaca College · Ithaca, NY
14850 · (607) 274-3237 · Full Directory Listing
953 Danby Road, Ithaca, NY 14850







Campus Map
Contact
Giving
myHome
Work at Ithaca
Privacy
Mobile Site
Created using the Ithaca College Web Profile Manager
© Copyright Ithaca College. All rights reserved; unauthorized use prohibited. All material on
this server is produced by our community but, except for designated pages, is neither approved
nor verified by Ithaca College.