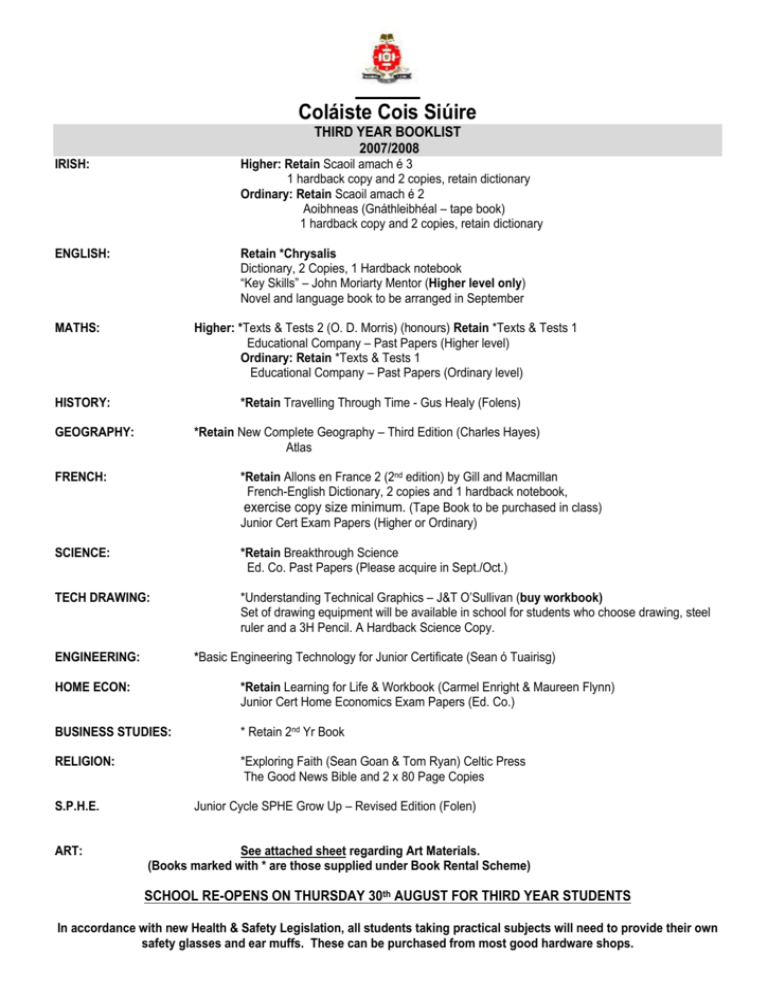 Coláiste Cois Siúire
THIRD YEAR BOOKLIST
2007/2008
IRISH:
Higher: Retain Scaoil amach é 3
1 hardback copy and 2 copies, retain dictionary
Ordinary: Retain Scaoil amach é 2
Aoibhneas (Gnáthleibhéal – tape book)
1 hardback copy and 2 copies, retain dictionary
ENGLISH:
Retain *Chrysalis
Dictionary, 2 Copies, 1 Hardback notebook
"Key Skills" – John Moriarty Mentor (Higher level only)
Novel and language book to be arranged in September
MATHS:
Higher: *Texts & Tests 2 (O. D. Morris) (honours) Retain *Texts & Tests 1
Educational Company – Past Papers (Higher level)
Ordinary: Retain *Texts & Tests 1
Educational Company – Past Papers (Ordinary level)
HISTORY:
*Retain Travelling Through Time - Gus Healy (Folens)
GEOGRAPHY:
*Retain New Complete Geography – Third Edition (Charles Hayes)
Atlas
FRENCH:
*Retain Allons en France 2 (2nd edition) by Gill and Macmillan
French-English Dictionary, 2 copies and 1 hardback notebook,
exercise copy size minimum. (Tape Book to be purchased in class)
Junior Cert Exam Papers (Higher or Ordinary)
SCIENCE:
*Retain Breakthrough Science
Ed. Co. Past Papers (Please acquire in Sept./Oct.)
TECH DRAWING:
*Understanding Technical Graphics – J&T O'Sullivan (buy workbook)
Set of drawing equipment will be available in school for students who choose drawing, steel
ruler and a 3H Pencil. A Hardback Science Copy.
ENGINEERING:
*Basic Engineering Technology for Junior Certificate (Sean ó Tuairisg)
HOME ECON:
*Retain Learning for Life & Workbook (Carmel Enright & Maureen Flynn)
Junior Cert Home Economics Exam Papers (Ed. Co.)
BUSINESS STUDIES:
* Retain 2nd Yr Book
RELIGION:
*Exploring Faith (Sean Goan & Tom Ryan) Celtic Press
The Good News Bible and 2 x 80 Page Copies
S.P.H.E.
ART:
Junior Cycle SPHE Grow Up – Revised Edition (Folen)
See attached sheet regarding Art Materials.
(Books marked with * are those supplied under Book Rental Scheme)
SCHOOL RE-OPENS ON THURSDAY 30th AUGUST FOR THIRD YEAR STUDENTS
In accordance with new Health & Safety Legislation, all students taking practical subjects will need to provide their own
safety glasses and ear muffs. These can be purchased from most good hardware shops.