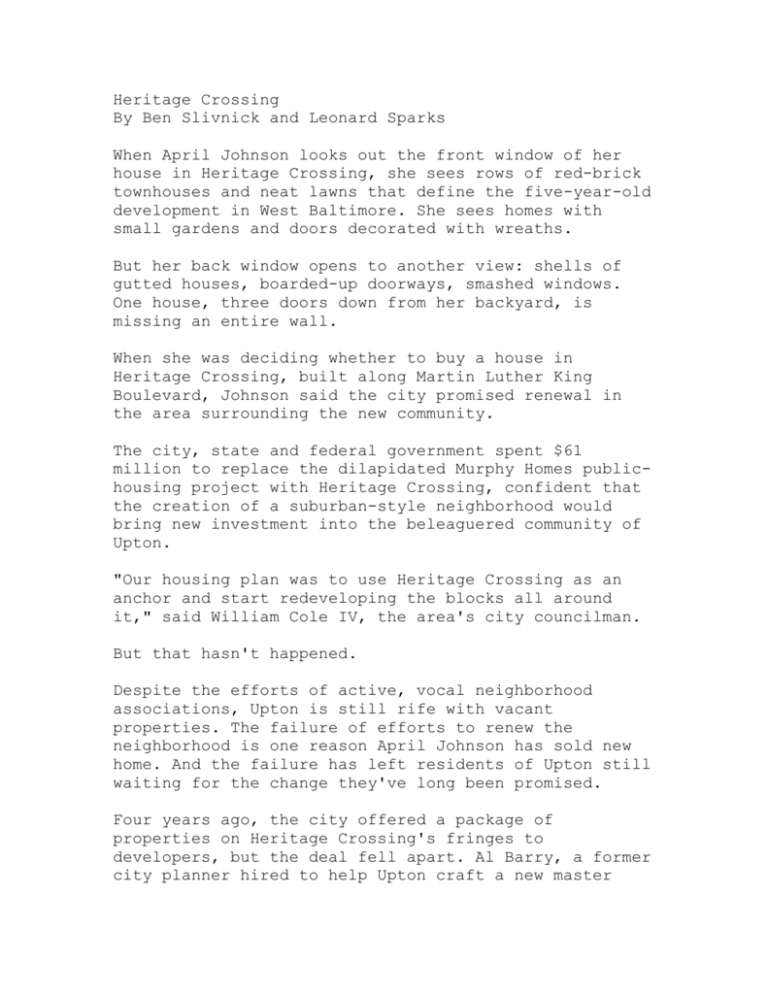 Heritage Crossing
By Ben Slivnick and Leonard Sparks
When April Johnson looks out the front window of her
house in Heritage Crossing, she sees rows of red-brick
townhouses and neat lawns that define the five-year-old
development in West Baltimore. She sees homes with
small gardens and doors decorated with wreaths.
But her back window opens to another view: shells of
gutted houses, boarded-up doorways, smashed windows.
One house, three doors down from her backyard, is
missing an entire wall.
When she was deciding whether to buy a house in
Heritage Crossing, built along Martin Luther King
Boulevard, Johnson said the city promised renewal in
the area surrounding the new community.
The city, state and federal government spent $61
million to replace the dilapidated Murphy Homes publichousing project with Heritage Crossing, confident that
the creation of a suburban-style neighborhood would
bring new investment into the beleaguered community of
Upton.
"Our housing plan was to use Heritage Crossing as an
anchor and start redeveloping the blocks all around
it," said William Cole IV, the area's city councilman.
But that hasn't happened.
Despite the efforts of active, vocal neighborhood
associations, Upton is still rife with vacant
properties. The failure of efforts to renew the
neighborhood is one reason April Johnson has sold new
home. And the failure has left residents of Upton still
waiting for the change they've long been promised.
Four years ago, the city offered a package of
properties on Heritage Crossing's fringes to
developers, but the deal fell apart. Al Barry, a former
city planner hired to help Upton craft a new master
plan in 2003, said Heritage Crossing's success partly
depends on the fate of those properties.
"I don't think Heritage Crossing and Upton will come
together until those buildings are completed," Barry
said. "Until that happens, it's always going to be a
source of complaints with the people who live in
Heritage Crossing."
The view that April Johnson detests is the neighborhood
Norma Green calls home.
Green lives on Brune Street, directly across from the
new construction of Heritage Crossing. But most of her
own block sits desolate. Looking north, most houses are
sealed behind weathered plywood.
At the northern corner of Green's street, a former
grocery sits shuttered, its ground-floor windows
covered by rusting grating. The house next to the store
has been vacant for 20 years, said Green, who heads the
Upton West Community Association.
"If you've ever lived next door to a vacant home, you
know you have higher heating costs because there's no
heat on either side of us," she said. "You have leaks.
You're fighting rodents."
These blocks of Upton are bleak. But longtime residents
remember times that were even worse.
When the city demolished the George B. Murphy Homes
projects in 1999 to make way for Heritage Crossing,
many residents cheered the end of the crime-ridden
public-housing high-rises that towered over the
intersection of Martin Luther King Boulevard and
Franklin Street.
"I can't even tell you how many calls of service to the
police were made to the Murphy Homes," said former City
Councilman Keiffer J. Mitchell Jr., whose district
included Upton. Ultimately, he said, the crime and
drugs from Murphy Homes spread into Upton, clearing out
almost entire blocks.
"For those buildings to go down was truly historic,"
Mitchell said. "It was the best thing that happened to
the city in a long time."
From the rubble of Murphy's 781 units rose the 260
townhouses of Heritage Crossing – 185 market-rate
houses, 75 rental units for public housing residents.
The redevelopment sprang from a nationwide philosophy
that concentrated poverty bred social problems and that
poor people could benefit from living in mixed-income
communities.
Most residents of this latest experiment in urban
housing believe it has worked. A University of Maryland
urban planning class conducted a study last spring
showing that 76 percent of Heritage Crossing residents
said it was a good place to live. The study also found
that 81 percent of residents said they feel at home in
the neighborhood.
"Everyone's friendly," said Rosetta Wright, a retired
postal worker who bought a home on Myrtle Avenue. "I
have everyone's phone number."
After living in various apartments around the city,
this is the first home Wright has ever owned and she
said maintaining it is important. She mows her lawn
once every two weeks and even takes care of the
neighbors' yards.
But some homeowners, like Dalia Doreste, have clashed
with their neighbors. Doreste said her car has been
vandalized and her mailbox and her light post had been
tagged with graffiti.
"I don't go to the park because I don't want trouble,"
Doreste said through an English translator. "I don't
feel comfortable sitting there at anytime — especially
not in summer."
Violent crime is rare in Heritage Crossing, but last
week a 14-year-old boy was murdered a few blocks away.
According to the University of Maryland report, 50
percent of public housing renters feel safe in the
neighborhood at night; 42 percent of homeowners agreed.
April Johnson said the vacant houses that loom on the
neighborhood's outskirts worry her particularly. She
said she doesn't let her daughter play outside because
of them, adding that they tarnish the atmosphere within
Heritage Crossing.
"It's fine on the inside, but nothing is happening on
the outside in terms of look," Johnson said. "Right
now, Heritage Crossing is sitting in the middle of
crap."
And there has been crime: A stolen car ended up on her
lawn after a police chase in the summer of the 2004. A
back-door window was shot out by a pellet gun.
Several times in the run up to buying the house,
Johnson said officials assured her the Upton houses
were going to be refurbished — when she signed the
contract, at the new homeowners classes, at homeowners
association meetings.
Indeed, according to a 1997 revitalization plan the
Housing Authority of Baltimore City wrote before
starting work on Heritage Crossing, "By demonstrating
to other developers that it is feasible to redevelop
obsolete and concentrated very low income housing into
more livable mixed income housing (the housing
authority) intends to spur further area development
geared to attractive, affordable housing."
But if renewal comes, it will be too late for April
Johnson.
She put her house on the market. Purchased for $87,000
five years ago, it sold for $175,000.
The terms of Johnson's mortgage prevent her collecting
all of her profit until 2013 – terms written to
encourage homeowners to stay in the neighborhood and
not flip the properties as they gained value.
"I knew what type of paperwork I signed when I got the
house. Those are the consequences of the decisions I
made."
Outside Heritage Crossing's borders, streets once
walked by such residents as Thurgood Marshall and Cab
Calloway sit decaying, lined by clusters of vacant
houses and overgrown lots where houses once stood.
In the early 1970s, Upton became one of several
Baltimore neighborhoods to begin a grand urban renewal
plan using millions of federal dollars. The plan
included 1,000 new residential units, parks and
playgrounds and a shopping mall with an adjacent
outdoor auditorium.
But the renewal effort eventually stalled, leaving
unfinished projects and empty lots in its wake.
Over the following decades, Upton saw little public or
private investment, while more popular neighborhoods
flourished, said Teresa Stephens, president of the
Upton Planning Committee.
"Neighborhoods that had a proximity to areas that were
revitalized quickly, like the Inner Harbor and the
waterfront areas, received a little bit more attention
as far as residential," she said, referring to such
communities as Canton and Federal Hill.
Eventually, a sense of complacency set in, Stephens
said, and Upton lost vocal advocates for federal money.
In 2005, the community unveiled a new master plan. It
calls for the creation of a mixed-income community by
rehabbing existing properties, some as affordable
housing. The plan also envisions green spaces and a
cultural tourism industry built around Upton's history.
Robert C. Embry Jr., president of the Abell Foundation
and a former Baltimore housing commissioner, says that
money is necessary to bring that plan to life.
"There are two ways of doing vacant houses," he said.
"One is rehabilitating them and selling them to
somebody for what it costs to rehabilitate. There isn't
a market there for that. That means that if you're
going to rehabilitate them, you need a subsidy."
But the economy has soured, discouraging private
developers and cutting into government programs that
provide incentives.
Hoping to build on Heritage Crossing, the city in 2004
solicited proposals to develop 72 properties to the
north and west of the development. The package includes
a whole block on Edmondson Avenue that was saved from
demolition after Upton residents protested a city plan
to create green space for Heritage Crossing.
Apex Baltimore LLC, an arm of a New York City-based
developer, won the development rights. The company
promised three- and four-bedroom houses with exposed
brick interiors, modern kitchen, landscaped rear yards
and off-street parking.
But earlier this year, the deal fell apart. Two blocks
from Green's house, on Edmondson Avenue, a "coming
soon" sign for the project hangs limply from the face
of a vacant building.
The Upton Planning Committee is working with the
housing department on a new proposal that will include
20 additional properties. This time, the community is
asking that the properties be split among several small
developers, said Charles Smith, a project coordinator
with the Housing Authority of Baltimore City assigned
to Upton.
"Right now, there's a lack of developers who have deep
enough pockets to do something that large," Smith said.
"There's a number of small developers who are working
over there."
Andrew Goodman is one of those small developers. Using
tax credits and their own capital, Goodman and his
father have renovated five houses on the odd-numbered
side of the 1200 block of Argyle Street and have nearly
finished three more.
"They were so bad that the roofs were in the basement,"
Goodman said. "These homes were rat-infested. There was
nobody living in them for quite some time."
The finished homes, all about 4,000 square feet, boast
hardwood floors, Jacuzzis, central air conditioning,
stainless-steel appliances and decks. Three have sold
for between $387,000 and $352,000, one to a real estate
agent from Georgetown and another to an employee of
Booz Allen Hamilton, the Washington D. C. consulting
firm, who lived in Virginia.
"Upton is not your Canton or your Federal Hill
neighborhood, but it has the same homes as Canton, but
just 100 times bigger," Goodman said.
A mile and a half from Upton, public and private
backers are investing $1.6 billion in the State Center
office center, which will be transformed into a mixeduse development complete with housing, restaurants and
an open plaza.
"There is this belief that if you have $1.6 billion in
investment a couple of blocks up and you have a really
bad stretch in the middle, that bad stretch is going to
have to improve," said Cole, the neighborhood's city
councilman. "You can't have $1.6 billion in investment
and not improve the surrounding area."
The community is also hoping to draw residents through
a variety of programs that promote city living to
middle-class blacks.
So the residents of Upton have reason to be optimistic.
Some believe that renewal is finally about to reach
them.
April Johnson is not waiting to see if that happens.
She would like to move closer to her job as an academic
advisor at McDaniel College in Westminster – and
preferably out of state.
She's leaving Heritage Crossing -- unhappy with the
city schools, with the fact that her daughter did not
have a yard to play in and with the vacant houses that
she confronted each day.
"You live and learn. That's my attitude," Johnson said.
"I'm just glad I'm getting out now.