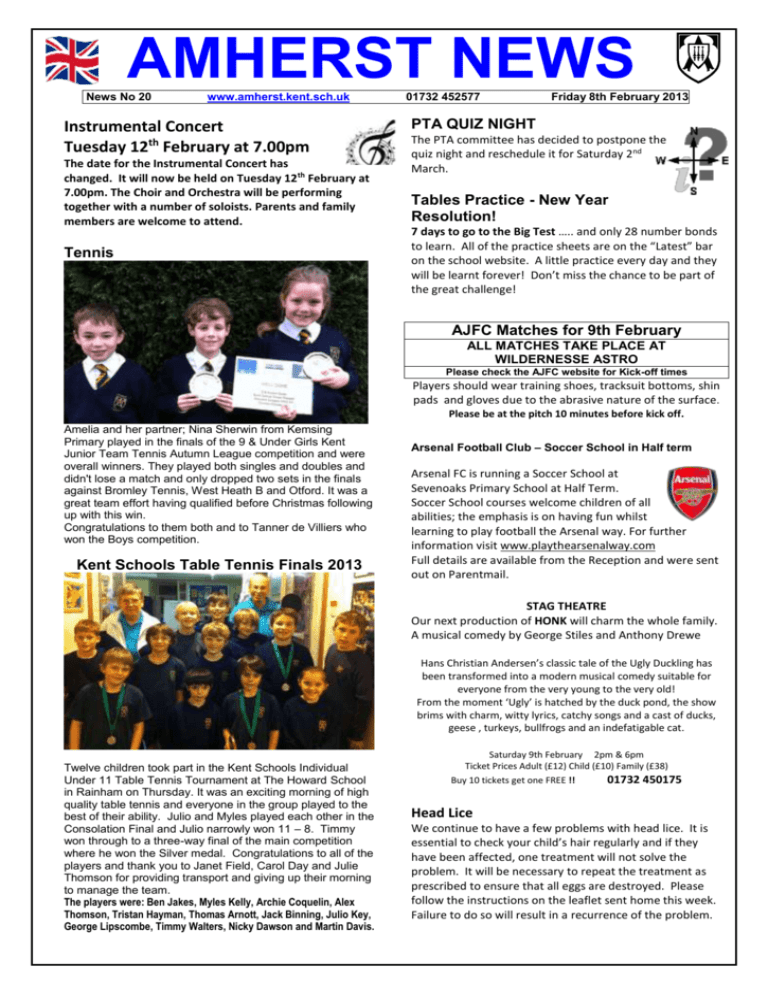 AMHERST NEWS
News No 20
www.amherst.kent.sch.uk
Instrumental Concert
Tuesday 12th February at 7.00pm
The date for the Instrumental Concert has
changed. It will now be held on Tuesday 12th February at
7.00pm. The Choir and Orchestra will be performing
together with a number of soloists. Parents and family
members are welcome to attend.
Tennis
01732 452577
Friday 8th February 2013
PTA QUIZ NIGHT
The PTA committee has decided to postpone the
quiz night and reschedule it for Saturday 2nd
March.
Tables Practice - New Year
Resolution!
7 days to go to the Big Test ….. and only 28 number bonds
to learn. All of the practice sheets are on the "Latest" bar
on the school website. A little practice every day and they
will be learnt forever! Don't miss the chance to be part of
the great challenge!
AJFC Matches for 9th February
ALL MATCHES TAKE PLACE AT
WILDERNESSE ASTRO
Please check the AJFC website for Kick-off times
Players should wear training shoes, tracksuit bottoms, shin
pads and gloves due to the abrasive nature of the surface.
Please be at the pitch 10 minutes before kick off.
Amelia and her partner; Nina Sherwin from Kemsing
Primary played in the finals of the 9 & Under Girls Kent
Junior Team Tennis Autumn League competition and were
overall winners. They played both singles and doubles and
didn't lose a match and only dropped two sets in the finals
against Bromley Tennis, West Heath B and Otford. It was a
great team effort having qualified before Christmas following
up with this win.
Congratulations to them both and to Tanner de Villiers who
won the Boys competition.
Kent Schools Table Tennis Finals 2013
Arsenal Football Club – Soccer School in Half term
Arsenal FC is running a Soccer School at
Sevenoaks Primary School at Half Term.
Soccer School courses welcome children of all
abilities; the emphasis is on having fun whilst
learning to play football the Arsenal way. For further
information visit www.playthearsenalway.com
Full details are available from the Reception and were sent
out on Parentmail.
STAG THEATRE
Our next production of HONK will charm the whole family.
A musical comedy by George Stiles and Anthony Drewe
Hans Christian Andersen's classic tale of the Ugly Duckling has
been transformed into a modern musical comedy suitable for
everyone from the very young to the very old!
From the moment 'Ugly' is hatched by the duck pond, the show
brims with charm, witty lyrics, catchy songs and a cast of ducks,
geese , turkeys, bullfrogs and an indefatigable cat.
Twelve children took part in the Kent Schools Individual
Under 11 Table Tennis Tournament at The Howard School
in Rainham on Thursday. It was an exciting morning of high
quality table tennis and everyone in the group played to the
best of their ability. Julio and Myles played each other in the
Consolation Final and Julio narrowly won 11 – 8. Timmy
won through to a three-way final of the main competition
where he won the Silver medal. Congratulations to all of the
players and thank you to Janet Field, Carol Day and Julie
Thomson for providing transport and giving up their morning
to manage the team.
The players were: Ben Jakes, Myles Kelly, Archie Coquelin, Alex
Thomson, Tristan Hayman, Thomas Arnott, Jack Binning, Julio Key,
George Lipscombe, Timmy Walters, Nicky Dawson and Martin Davis.
Saturday 9th February 2pm & 6pm
Ticket Prices Adult (£12) Child (£10) Family (£38)
Buy 10 tickets get one FREE !!
01732 450175
Head Lice
We continue to have a few problems with head lice. It is
essential to check your child's hair regularly and if they
have been affected, one treatment will not solve the
problem. It will be necessary to repeat the treatment as
prescribed to ensure that all eggs are destroyed. Please
follow the instructions on the leaflet sent home this week.
Failure to do so will result in a recurrence of the problem.