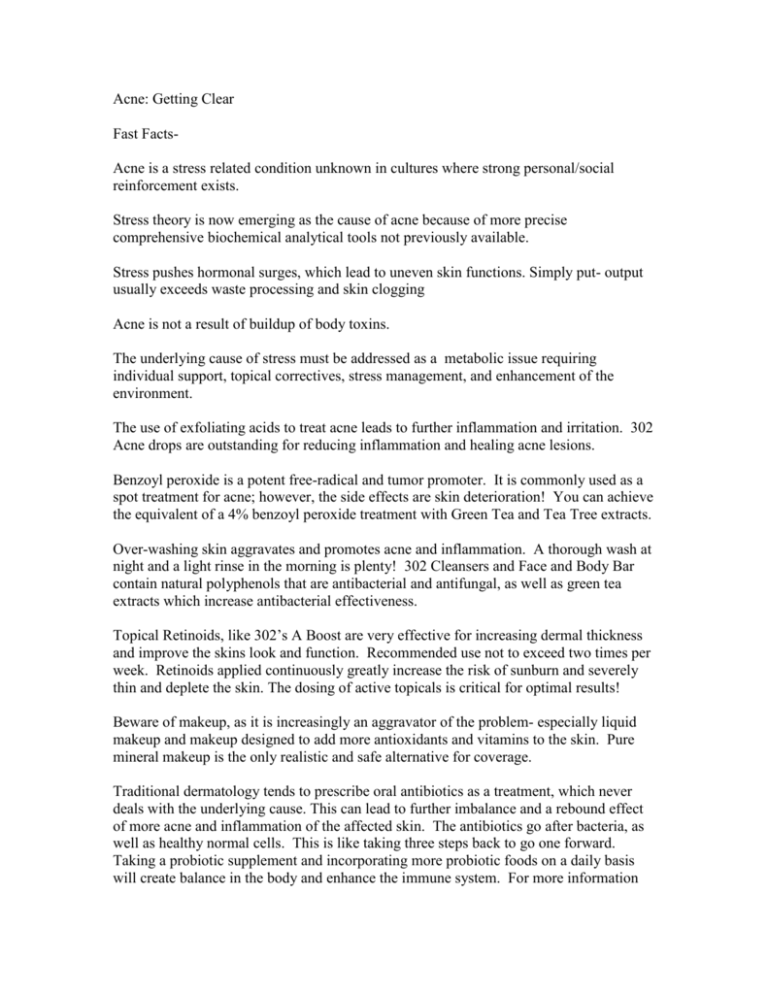 Acne: Getting Clear
Fast FactsAcne is a stress related condition unknown in cultures where strong personal/social
reinforcement exists.
Stress theory is now emerging as the cause of acne because of more precise
comprehensive biochemical analytical tools not previously available.
Stress pushes hormonal surges, which lead to uneven skin functions. Simply put- output
usually exceeds waste processing and skin clogging
Acne is not a result of buildup of body toxins.
The underlying cause of stress must be addressed as a metabolic issue requiring
individual support, topical correctives, stress management, and enhancement of the
environment.
The use of exfoliating acids to treat acne leads to further inflammation and irritation. 302
Acne drops are outstanding for reducing inflammation and healing acne lesions.
Benzoyl peroxide is a potent free-radical and tumor promoter. It is commonly used as a
spot treatment for acne; however, the side effects are skin deterioration! You can achieve
the equivalent of a 4% benzoyl peroxide treatment with Green Tea and Tea Tree extracts.
Over-washing skin aggravates and promotes acne and inflammation. A thorough wash at
night and a light rinse in the morning is plenty! 302 Cleansers and Face and Body Bar
contain natural polyphenols that are antibacterial and antifungal, as well as green tea
extracts which increase antibacterial effectiveness.
Topical Retinoids, like 302's A Boost are very effective for increasing dermal thickness
and improve the skins look and function. Recommended use not to exceed two times per
week. Retinoids applied continuously greatly increase the risk of sunburn and severely
thin and deplete the skin. The dosing of active topicals is critical for optimal results!
Beware of makeup, as it is increasingly an aggravator of the problem- especially liquid
makeup and makeup designed to add more antioxidants and vitamins to the skin. Pure
mineral makeup is the only realistic and safe alternative for coverage.
Traditional dermatology tends to prescribe oral antibiotics as a treatment, which never
deals with the underlying cause. This can lead to further imbalance and a rebound effect
of more acne and inflammation of the affected skin. The antibiotics go after bacteria, as
well as healthy normal cells. This is like taking three steps back to go one forward.
Taking a probiotic supplement and incorporating more probiotic foods on a daily basis
will create balance in the body and enhance the immune system. For more information
on incorporating probiotics into your diet you may visit www.bodyecologydiet.com or
schedule a consultation with me.
The Holistic Biological Model for treating AcneThink renormalizing the tissues through enhancing the skins environment, a whole-foods
balanced diet, and a practical stress reduction program that can be successfully integrated
(yoga, dance, meditation, walking, singing, deep breathing, creative visualization) Make
water (preferably structured, alkalized, and ionized) water your cleansing drink of choice.
For active and effective topicals for the treatment of acne, nothing is better than 302
Skincare products.
302 Skincare Program for homecare:
Face and Body Bar or Acne CleanserAlternate using the cleansers for a thorough cleaning at night or only once per day.
302 Acne DropsTo be used at night on clean skin after cleansing.
Calming MistUse as needed for calming irritation and moisture, great for irritated skin.
For more resistant cases please consult with Brenda.
The key here is less is best!! If you must use makeup make it a pure mineral makeup that
won't aggravate the skin.
Come in as often as possible for a deep cleansing and normalizing facial to facilitate the
healing process.