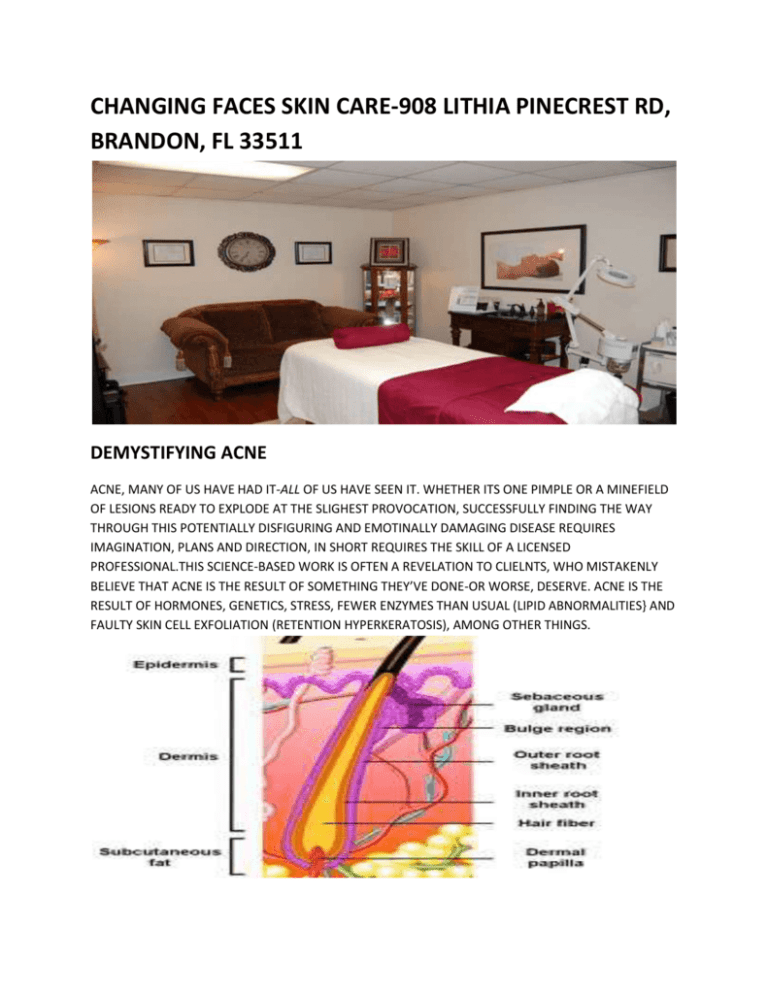 CHANGING FACES SKIN CARE-908 LITHIA PINECREST RD,
BRANDON, FL 33511
DEMYSTIFYING ACNE
ACNE, MANY OF US HAVE HAD IT-ALL OF US HAVE SEEN IT. WHETHER ITS ONE PIMPLE OR A MINEFIELD
OF LESIONS READY TO EXPLODE AT THE SLIGHEST PROVOCATION, SUCCESSFULLY FINDING THE WAY
THROUGH THIS POTENTIALLY DISFIGURING AND EMOTINALLY DAMAGING DISEASE REQUIRES
IMAGINATION, PLANS AND DIRECTION, IN SHORT REQUIRES THE SKILL OF A LICENSED
PROFESSIONAL.THIS SCIENCE-BASED WORK IS OFTEN A REVELATION TO CLIELNTS, WHO MISTAKENLY
BELIEVE THAT ACNE IS THE RESULT OF SOMETHING THEY'VE DONE-OR WORSE, DESERVE. ACNE IS THE
RESULT OF HORMONES, GENETICS, STRESS, FEWER ENZYMES THAN USUAL (LIPID ABNORMALITIES} AND
FAULTY SKIN CELL EXFOLIATION (RETENTION HYPERKERATOSIS), AMONG OTHER THINGS.
THE ROLE OF THE ESTHETICIAN
AT 'CHANGING FACES SKIN CARE' WE DESIGN INDIVIDUAL IN HOUSE TREATMENT PLANS.
WE EXPLAIN AND EDUCATE ON THE IMPORTANCE OF TWICE DAILY HOME CARE REGIMEN.
WE EDUCATE THE CLIENT OF KERATINIZATION, EXTRACTION AND HEALING PROGRAM TO PROMOTE
SKIN CELL TURN OVER AND STRESS THE IMPORTANCE OF WEEKLY VISITS TO ADDRESS CHANGES OF THE
HEALING SKIN.
WE STRONGLY ENCOURAGE A NONE 'PICKING PROTOCOL' PICKING IS A HUGE PART OF WHY THE SKIN
SCARS.
WE RECOMMEND STEADY CONSISTENT TREATMENTS USING PROVEN INGREDIENTS FOR CLEARING,
EXFOLIATING, OIL DRYING, WATER-HYDRATING, HEALING AND/OR PIGMENTATION RELIEF AHA LACTIC
AND GLYCOLIC ACIDS (GM COLLIN DERMAL RENEWAL) & BHA GM COLLIN SALICYLIC ACID AND GM
COLLIN DARK SPOT REMOVER (BRIGHTENING SERUM) ETC.
WE USE HIGH FREQUENCY TECHNOLOGY WHICH CAUSES A 'SPARK GAP' OF OXYGEN TO ENTER
DIRECTLY INTO THE PORES WHICH HELPS TO 'DRY' UP THE ACNE LESION.
WE ENCOURAGE OUR CLIENTS TO STAY COMPLIANT TO AID HEALING. WE EDUCATE THE IMPORTANCE
OF HAND WASHING, PILLOW CASE AND CELL PHONE HYGIENE.
WE EDUCATE AND ENCOURAGE CLIELNTS ON GOOD NUTRIENTION AND SKIN SUPPORTING
SUPPLEMENTS.
WE AT 'CHANGING FACES SKIN CARE' HAVE A DIRECT REFERRAL SOURCE TO A LOCAL DERMATOLOGY
OFFICE RECOGNIZING THAT MEDICAL HELP AND ASTHETICS DO WORK SIDE BY SIDE (WE KNOW WHEN
TO RECOMMEND ANTIBIOTICS)
WE OFFER EMPATHY, TIME AND ATTENTION…WE BELIEVE IN OFFERING A HOLISTIC PRACTICE TO OUR
CLIENTS ROAD TO WELLNESS.
ANYONE WHO SUFFERS FROM SEVERE CYSTIC ACNE WITH TEXTURAL CHANGES AND/OR SCARRING MAY
BE A CANDIDATE FOR ISOTRETINOIN (ACCUTANCE) AN ORAL MEDICATION THAT CAN CURE ACNE. THIS
IS A VERY SERIOUS MEDICATION WITH POTENTIALLY HARMFUL SIDE EFFECTS SO IT SHOULD ONLY BE
USED BY THOSE WHO HAVE TRIED ALL OTHER FORMS OF TRADITIONAL ACNE MEDICATION WITHOUT
SUCCESS.