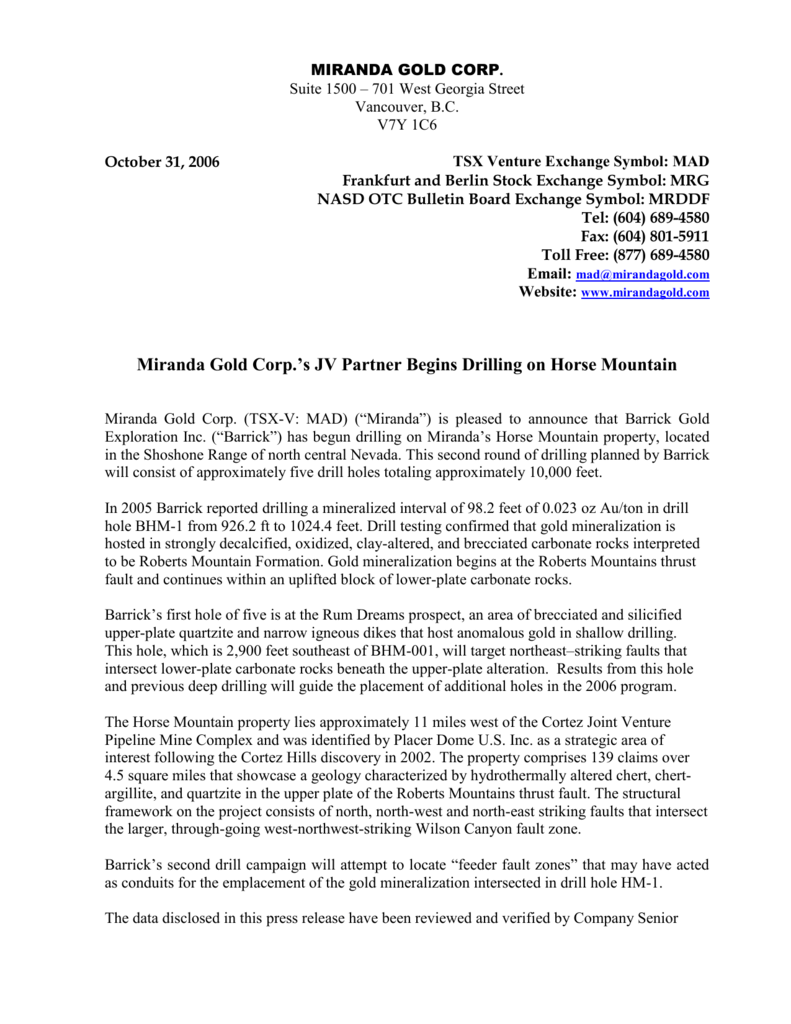 MIRANDA GOLD CORP.
Suite 1500 – 701 West Georgia Street
Vancouver, B.C.
V7Y 1C6
October 31, 2006
TSX Venture Exchange Symbol: MAD
Frankfurt and Berlin Stock Exchange Symbol: MRG
NASD OTC Bulletin Board Exchange Symbol: MRDDF
Tel: (604) 689-4580
Fax: (604) 801-5911
Toll Free: (877) 689-4580
Email: [email protected]
Website: www.mirandagold.com
Miranda Gold Corp.'s JV Partner Begins Drilling on Horse Mountain
Miranda Gold Corp. (TSX-V: MAD) ("Miranda") is pleased to announce that Barrick Gold
Exploration Inc. ("Barrick") has begun drilling on Miranda's Horse Mountain property, located
in the Shoshone Range of north central Nevada. This second round of drilling planned by Barrick
will consist of approximately five drill holes totaling approximately 10,000 feet.
In 2005 Barrick reported drilling a mineralized interval of 98.2 feet of 0.023 oz Au/ton in drill
hole BHM-1 from 926.2 ft to 1024.4 feet. Drill testing confirmed that gold mineralization is
hosted in strongly decalcified, oxidized, clay-altered, and brecciated carbonate rocks interpreted
to be Roberts Mountain Formation. Gold mineralization begins at the Roberts Mountains thrust
fault and continues within an uplifted block of lower-plate carbonate rocks.
Barrick's first hole of five is at the Rum Dreams prospect, an area of brecciated and silicified
upper-plate quartzite and narrow igneous dikes that host anomalous gold in shallow drilling.
This hole, which is 2,900 feet southeast of BHM-001, will target northeast–striking faults that
intersect lower-plate carbonate rocks beneath the upper-plate alteration. Results from this hole
and previous deep drilling will guide the placement of additional holes in the 2006 program.
The Horse Mountain property lies approximately 11 miles west of the Cortez Joint Venture
Pipeline Mine Complex and was identified by Placer Dome U.S. Inc. as a strategic area of
interest following the Cortez Hills discovery in 2002. The property comprises 139 claims over
4.5 square miles that showcase a geology characterized by hydrothermally altered chert, chertargillite, and quartzite in the upper plate of the Roberts Mountains thrust fault. The structural
framework on the project consists of north, north-west and north-east striking faults that intersect
the larger, through-going west-northwest-striking Wilson Canyon fault zone.
Barrick's second drill campaign will attempt to locate "feeder fault zones" that may have acted
as conduits for the emplacement of the gold mineralization intersected in drill hole HM-1.
The data disclosed in this press release have been reviewed and verified by Company Senior
Geologist Steven Koehler, P. Geo., BSc. Geology and Qualified Person as defined by National
Instrument 43-101.
Company profile
Miranda Gold Corp. is a gold exploration company active in Nevada and whose emphasis is on
generating gold exploration projects within the Battle Mountain-Eureka and Cortez Trends.
Miranda performs its own grass roots exploration and then employs a joint venture business
model on its projects in order to maximize exposure to discovery while minimizing exploration
risk. Miranda has ongoing partnerships with Newcrest Resources Inc., Barrick Gold Exploration
Inc., Agnico-Eagle (USA) Ltd., the Cortez Joint Venture, the Buckhorn Joint Venture, Romarco
Minerals Inc., and Golden Aria Corp.
ON BEHALF OF THE BOARD
"Kenneth Cunningham"
Kenneth Cunningham
President and CEO
For more information visit the Company's web site at www.mirandagold.com or contact Fiona
Grant, Investor Relations Coordinator 1-877-689-4580.
The TSX Venture Exchange neither agrees nor disagrees with the information contained herein.
This news release may contain information about adjacent properties on which we have no right
to explore or mine. We advise U.S. investors that the SEC's mining guidelines strictly prohibit
information of this type in documents filed with the SEC. U.S. investors are cautioned that
mineral deposits on adjacent properties are not indicative of mineral deposits on our properties.
This news release may contain forward-looking statements including but not limited to comments
regarding the timing and content of upcoming work programs, geological interpretations,
receipt of property titles, potential mineral recovery processes, etc. Forward-looking statements
address future events and conditions and therefore involve inherent risks and uncertainties.
Actual results may differ materially from those currently anticipated in such statements.